News
100 years ago in Spokane: Who's really from Washington? In 1920, not many
Fri., Oct. 2, 2020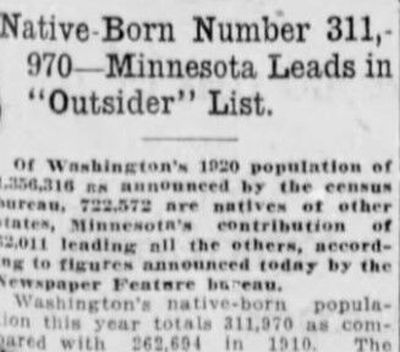 The 1920 census revealed that fewer than a quarter of Washington's residents were actually born in Washington.
A total of 311,970 of Washington's 1,356,316 residents were born in the state.
Most of Washington's residents came from the northern tier of states. Minnesotans led the way at 62,011. The "west-north-central" region, which included Minnesota, contributed more residents than any other region, followed closely by the "east-north-central" region, which included Wisconsin and Michigan, among other states.
In other census news: In Idaho, Lewiston overtook Coeur d'Alene as the leading "metropolis of northern Idaho," the Spokane Daily Chronicle wrote.
Coeur d'Alene slipped into second place with a population of 6,473, about 101 residents behind Lewiston. Coeur d'Alene's population dropped 11 percent from 1910. Wallace came in at 2,816, which was a decline of about 6 percent. Both of these declines were probably because the mining industry was no longer at its peak.
Sandpoint came in at 2,876, Harrison at 674 and Post Falls at 576.
From the narcotics beat: The Spokane Daily Chronicle editorial page advocated stricter narcotics laws, and said that "since the demise of liquor, the 'dope fiend' has become a more frequent visitor to the courts."
The paper said that city and county officials had become "alarmed at the spread of the drug habit."
Local journalism is essential.
Give directly to The Spokesman-Review's Northwest Passages community forums series -- which helps to offset the costs of several reporter and editor positions at the newspaper -- by using the easy options below. Gifts processed in this system are not tax deductible, but are predominately used to help meet the local financial requirements needed to receive national matching-grant funds.
Subscribe to the Coronavirus newsletter
Get the day's latest Coronavirus news delivered to your inbox by subscribing to our newsletter.
---