News
After case of mistaken identity, Spokane County prosecutors decline to charge new suspect in deadly brawl
Oct. 2, 2020 Updated Fri., Oct. 2, 2020 at 7:35 p.m.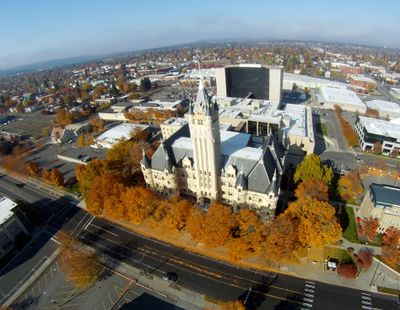 Months after a case of mistaken identity led detectives to arrest the wrong man, the Spokane County Sheriff's Office says it has identified a new suspect in a deadly brawl outside a Spokane Valley bar – but prosecutors have declined to file charges and the case is closed.
The fight occurred in a parking lot outside Ichabod's East, 12116 E. Sprague Ave., shortly after the bar closed in the early hours of Dec. 29. The victim, Daniel Jarman, a 40-year-old Army veteran and father of two, died of head injuries five days later.
Two women who had accompanied Jarman while frequenting bars that night initially pointed detectives to a 38-year-old Spokane Valley tattoo artist, who was arrested and charged with first-degree assault while Jarman remained alive in a hospital.
The tattoo artist spent 13 days in jail before posting a $150,000 bond and later having the charge permanently dismissed.
In a news release Friday, the sheriff's office said Detective Marc Melville obtained DNA evidence and new witness testimony that positively identified another man as Jarman's assailant.
"It is not known why this new witness did not come forward despite several requests for assistance, knowing the wrong person was mistakenly identified by witnesses and arrested in this case," the sheriff's office said.
Melville asked prosecutors to file a second-degree manslaughter charge against the man late last month, but they declined. The sheriff's office did not disclose the name of the new suspect.
"After reviewing all the evidence, the prosecutor's office declined the request because the new evidence does not make it clear if the suspect acted in self-defense when the heated argument quickly escalated into a physical and fatal altercation," the sheriff's office said. "At this time, unless additional information is received, the investigation into this fatal encounter is closed."
Local journalism is essential.
Give directly to The Spokesman-Review's Northwest Passages community forums series -- which helps to offset the costs of several reporter and editor positions at the newspaper -- by using the easy options below. Gifts processed in this system are not tax deductible, but are predominately used to help meet the local financial requirements needed to receive national matching-grant funds.
Subscribe now to get breaking news alerts in your email inbox
Get breaking news delivered to your inbox as it happens.
---