Bloomsday mounts mailing effort to deliver finisher T-shirts after virtual race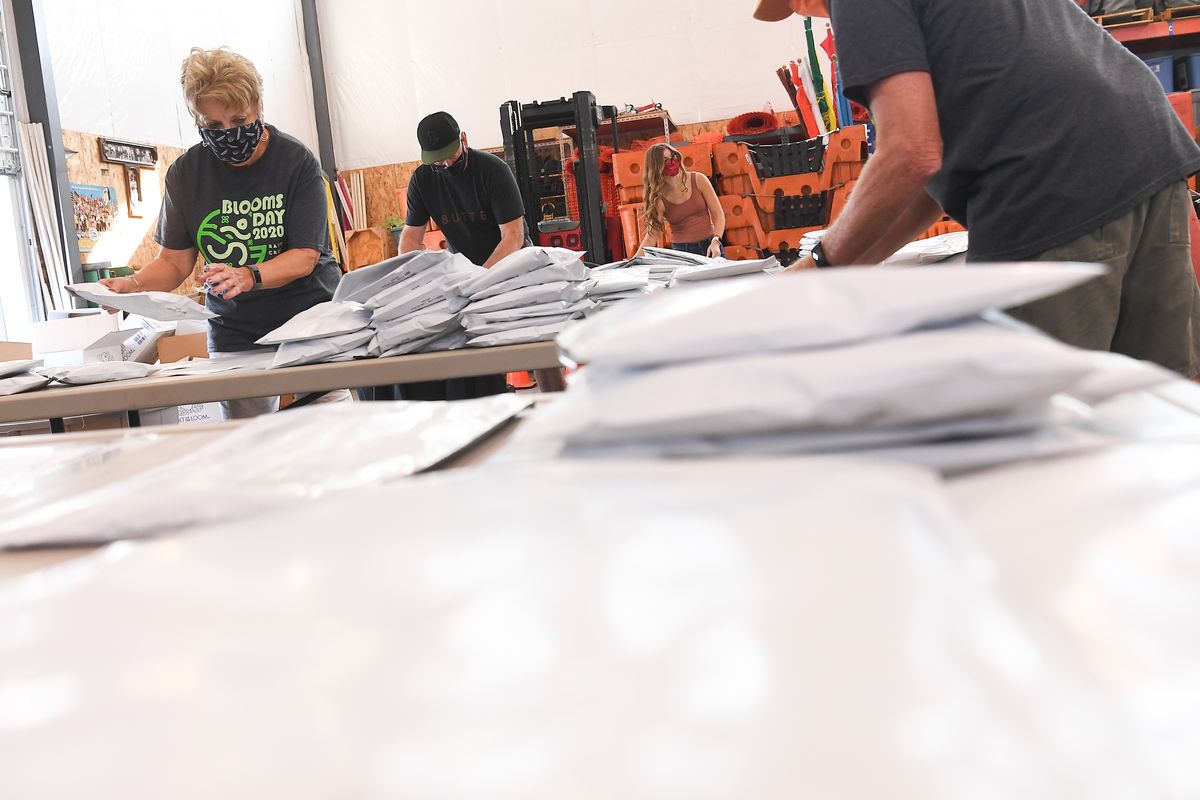 Getting a Bloomsday finisher T-shirt is an important annual tradition for many in the Inland Northwest and this year is no different, even though the pandemic shut down the annual event and forced a virtual one instead.
Volunteers recently gathered at the Bloomsday office in West Central, spending days packing and labeling T-shirts for shipment around the globe.
"We packed up 23,000 of them," said Jon Neill, Bloomsday race director. "We're moving a lot of cotton."
For the virtual Bloomsday road race, people were asked to map out and complete a 7.46-mile course anywhere in the world, record their time and then submit it. People who registered were mailed an official Bloomsday race bib to wear while they walked or ran. More than 22,700 people completed the event , Neill said.
There were already 16,000 people registered in March for the race, which had always been held on the first Sunday in May. When the virtual race was announced and registration was reopened, Neill said he was astonished by the response.
"The registrations just kept coming in," he said. "It was amazing. It was just a community expression of devotion to Bloomsday."
There are some people who make it a point to participate every year and get their T-shirt, Neill said. "Bloomsday is such a tradition," he said.
Even though the physical race was canceled, a couple of hundred people still ran the official course on the first Sunday in May. Neill said he wasn't surprised.
"I just know there's so many diehards," he said. "The first Sunday in May is your tradition. We knew there would be people on the course that day. It was fun to see."
Many of the entrants in the virtual race were local, but Neill said he's not sure of the exact number. Usually about 70% of finishers come from the Inland Northwest. But this year, there were also Bloomsdays run in Australia, New Zealand, China, Canada, Japan, Kenya and all across Europe.
Last week, thousands of T-shirts were placed in plastic shipping envelopes and then sorted into bins based on size. A large room was filled with the type of carts used to transport laundry in hotels and other facilities, all filled to the brim with packaged T-shirts. On Friday and Saturday, volunteers put shipping labels on them and sorted them by ZIP code before taking them to the post office.
Patti Bailey, who normally organizes the volunteers who run the pre-race trade show and check-in, was helping the shipping effort. She's been volunteering since 1987 and usually looks forward to seeing her fellow volunteers every year.
Though there were only about 20 masked volunteers labeling and sorting shipping envelopes on Friday, Bailey said it was nice to see them.
"It's been fun," she said. "It's almost like a feeling of normalcy. You get to see people and work together."
Debbie Long, a member of the Central Valley School District board of directors, has been a Bloomsday volunteer since 2007. She said she was pleased to be able to help with the shipping.
"This is kind of cool," she said as she affixed shipping labels. "We're seeing them from everywhere. That's what's so cool."
It wasn't uncommon for Long and other volunteers to see the names of people they knew on the shipping labels. Volunteer Judy Colenso said she addressed a T-shirt to Bloomsday founder Don Kardong.
"I sent him a note," she said. "I said 'Congrats, Don. You're always a winner.' "
Neill said there's no way to know the final cost of shipping all the T-shirts until they see how many fail to arrive via bulk mail and have to be resent via first class mail.
"We don't know until the process is done," he said. "Our fingers and toes are crossed that all these shirts make it to their destinations as intended."
There was also the cost to mail all the race bibs and buy the plastic shipping envelopes. But Neill said he was reluctant to disclose how much organizers have spent.
"It's kind of been our history that we don't talk about expenses," he said.
The Lilac Bloomsday Association, the nonprofit that runs the race, reported race expenses totaling $440,000 on their tax filings in 2018, the most recent year for which data was available. Those expenses would have covered the 2018 race.
The T-shirts should begin to arrive at local addresses this week, Neill said, but he asked race finishers to be patient:
"It's a lot of mail, and it's going to take some time to process."
---