News > Idaho
U.S. Sen. Jim Risch faces three challengers in November election
UPDATED: Thu., Oct. 8, 2020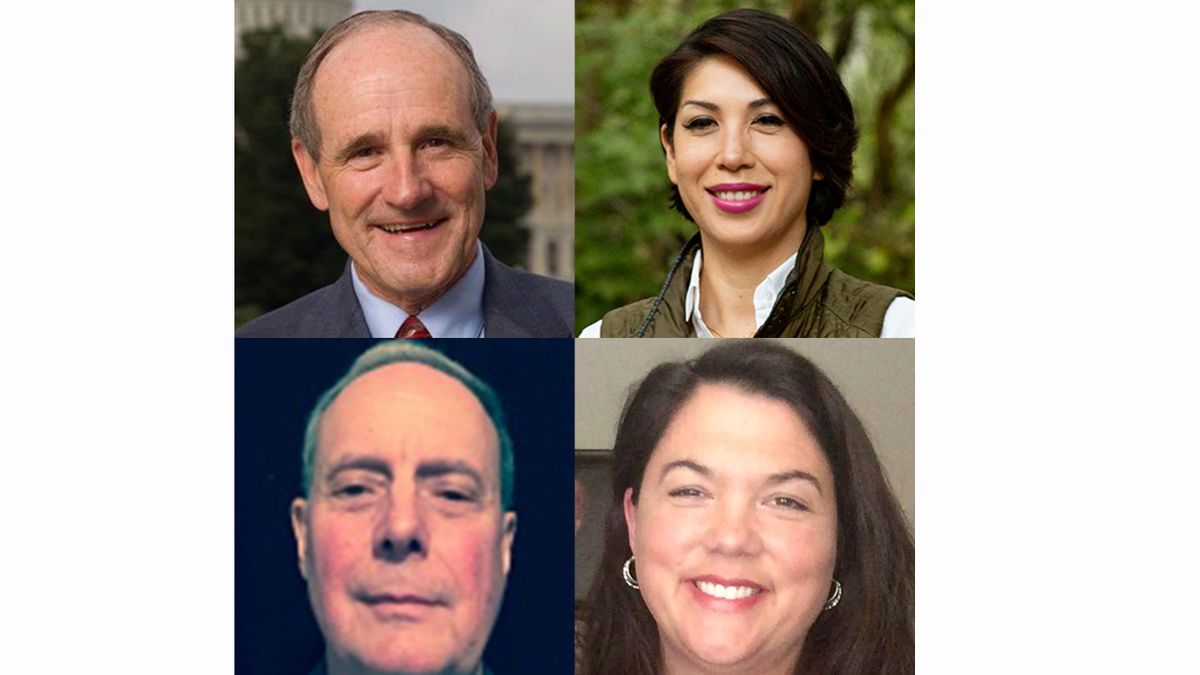 Republican incumbent U.S. Sen. Jim Risch, top left, faces Democrat Paulette Jordan, top right, Constitution Party candidate Ray Writz, bottom left, and independent Natalie Fleming, bottom right, in Risch's re-election bid on Idaho's November 2020 ballot.
Sen. Jim Risch's status as Idaho's junior senator belies his half-century of experience in elected office. In his 36th campaign, the veteran GOP lawmaker is up against Democratic up-and-comer Paulette Jordan, who faces an uphill battle in a state that hasn't sent a Democrat to the Senate since 1974.
Joining them in the race are independent Natalie Fleming and Constitution Party candidate Ray Writz, two self-described conservatives who say the Republican Party has lost its way.
Risch holds one of the safest seats in the Senate, if precedent and polling are any indication. The former state senator and lieutenant governor won his first Senate race in 2008 by 24 points and was re-elected in 2014 by an even wider margin. A statewide survey conducted Aug. 29-Sept. 1 by GOP polling firm Spry Strategies found more than 53% of likely voters support Risch and less than 28% planned to vote for Jordan, while nearly 8% backed another candidate and 11% were undecided.
Risch, a Wisconsin native, transferred to the University of Idaho midway through college to study forestry and decided to stick around, going on to earn a law degree from the university in 1968. He was elected Ada County prosecuting attorney in 1970 and served for four years before he was elected to the Idaho Senate. After losing his seat in 1988, he returned to the state Senate in 1995 until 2002, when he was elected lieutenant governor. He served in that role – and, for seven months, as governor – until 2008.
Since joining the U.S. Senate, the 77-year-old has established himself as a reliably conservative member who prefers to work quietly, though he has been a consistent defender of President Donald Trump. He became chairman of the Senate Foreign Relations Committee in 2018 and, despite his relatively short tenure in the upper chamber, is one of the most senior members on the Intelligence, Energy and Natural Resources and Small Business committees.
Risch, a rancher whose vast land holdings make him one of the Senate's wealthiest members, touts his 100% rating from the American Farm Bureau and promises to keep pushing for lower taxes. He advocates for greater state and local control of public lands and pledges to maintain his "A" rating from the National Rifle Association.
"My biggest priority for all the years I've done this has always been to see that Idaho people are properly represented," he said. "It's no secret that I'm always ranked as one of the most conservative members of the United States Senate. That's me, but on top of that, that's Idaho. We're the most conservative state in the union, and people in Idaho deserve to have a reliably conservative vote cast every time they call our name."
Jordan, 40, began her political career in 2009 when she became the youngest-ever member of the Coeur d'Alene Tribal Council, where she served until 2012. She went on to win two close races to represent the district that includes the Coeur d'Alene Reservation in the Idaho House of Representatives, serving until 2018 when she stepped down to run for governor, losing to Republican Brad Little.
In the June primary, Jordan bested retired police spokesman Jim Vandermaas by a wide margin for the Democratic ticket. Risch and Writz were unopposed in their parties' primaries.
In an interview with The Spokesman-Review, Jordan described herself as "very nonpartisan" and said her experience on the tribal council made her a pragmatic politician who wants to represent all her constituents, not just those who vote for her.
"Being indigenous, we don't operate on the same party lines," she said. "We look at everyone as a relative. That same feeling and practice applies even at the state level, so I do look at all of Idaho as my family."
"What I see is there's this logjam where the left is not speaking to the right," Jordan said. "There are very few interactions with either side of the party line working together on bipartisan legislation. That's a big problem for the country."
A recent campaign ad pitches Jordan as an atypical Democrat, riding horses and target shooting, but some of her policy positions are aligned with her party's progressive wing. While Democratic presidential nominee Joe Biden is calling for incremental changes to the health care system within the framework of the Affordable Care Act, also known as "Obamacare," Jordan's platform says the nation's health care system "must be redesigned from the ground up. Obamacare failed to do that."
"The notion that Americans want to choose their health care plans for themselves is wrong," her campaign website says. "They just want the best health care. They want to get well. And they hope they won't go bankrupt in the process."
Jordan said her other priorities include protecting public lands, promoting clean energy and addressing the climate crisis.
Fleming, 49, described herself in an interview as a compassionate conservative whose Christian faith has guided her to some positions that aren't in step with today's Republican Party. She said she felt encouraged to run for Senate after her third-place finish in the seven-way race for Idaho's 1st Congressional District seat in 2018.
"I come from a very conservative family," Fleming said. "I'm very pro-gun, very pro-farmer. I am pro-life, but I don't believe we can win the battle in the clinic."
The mother of four said she is also concerned about data privacy, informed by a 30-year IT career, and climate change. She also identified immigration policy as an area where she parted ways with the GOP under Trump.
"If you want to get all religious and biblical, the Bible forbids the persecution of immigrants," she said. "Immigration is not something that conservatives had ever been hostile to, until four years ago. It's always been something we've wanted to have resolved, as far as how it should be done legally. But as far as demonizing immigrants, that's never been a conservative value.
"No president that I know of has ever scapegoated immigrants like this," Fleming continued, "and as a religious person, as a Christian conservative, I find it frightening."
Writz, 69, has been a near-perennial candidate since he made an unsuccessful run for state Senate in 2010. He ran for a state House seat in 2012 and again for state Senate in 2014 before challenging Idaho's other U.S. senator, Republican Mike Crapo, in 2016. He said the GOP has strayed from the Constitution and become too much like the Democratic Party.
"They've been following the Democrats. They're maybe 10 to 15 years behind them, but they keep lockstep," Writz said in an interview. "The Christian church is going the same direction, and that's not a good direction at all."
The Coeur d'Alene resident, who said he has partially retired from running a janitorial services company, opposes the U.S.-Mexico-Canada Agreement, Trump's signature international trade achievement. He also said schools no longer teach morality, responsibility or critical thinking.
"Take a look at laws, see if they violate the Constitution itself. … The laws are for the common good, what's best for everybody, not just the special-interest groups," he said.
With Risch enjoying a comfortable lead according to the Spry poll, his three challengers need to either chip away at his base or activate the 44% of registered Idaho voters who didn't turn out when he was last re-elected in 2014.
Reaching voters who stayed home for past elections may be especially challenging amid the pandemic, which Risch said has made this the strangest of his 36 campaign seasons. Jordan's campaign has leaned heavily on virtual events, but she conceded that has its limitations.
"We've risen above the challenges," Jordan said. "We've gone virtual and done our best to reach out to as many people as possible, with the phone, internet, talking to people on Zoom. But that will only go so far, especially in a rural state like ours that wasn't equipped with broadband access."
Jordan has sought to portray Risch as out of touch with ordinary Idahoans after his decade at the U.S. Capitol and a "carpetbagger" from the Midwest, although Risch has called Idaho home for more than 50 years.
"He barely ever comes to Idaho," Jordan said. "He maybe comes here once a year. The fact that he isn't even from Idaho says a lot. He just doesn't understand the culture, he's just not like us. … We have this interesting character that is representing us – or, I should say, misrepresenting us – at the national level."
However, Risch recounted how, when Crapo recruited him to run for Senate, he agreed on the condition that he could still live in Idaho.
During a typical week when Congress is in session, Risch said, he sleeps at his ranch outside Boise Thursday through Sunday nights, flying to Washington for legislative work Monday through Thursday.
Jordan alsocriticized the senator's priorities, questioning why Risch, without a foreign policy background, sought to lead the Foreign Relations Committee rather than a panel with more impact on Idaho. None of Idaho's four representatives in Congress, she pointed out, sit on either the House or Senate agriculture committees.
"This man just really does this job to travel around the world on the taxpayers' dime," Jordan said, "just to go on these free vacations. He doesn't go to accomplish anything. He's not working on any diplomatic effort."
"Nothing could be further from the truth," Risch said when asked about this criticism. "Every American is affected the same by what happens on Foreign Relations and Intelligence. …" Risch responded to the criticism. "
Anybody who thinks that foreign relations is not important to Idahoans, just walk out in the field in the Palouse and ask one of those guys running the combines," he said, referring to the impact of international trade on Idaho's farmers.
Risch also cited his role in the ongoing negotiations to modernize the Columbia River Treaty with Canada, which governs how the two countries share the river – as Foreign Relations chairman, he essentially has veto power over any treaty – and bills he's introduced to redefine the U.S.-China relationship and help prepare the country for future global pandemics.
Jordan also decried Risch's opposition to the pandemic relief bills House Democrats have passed only to stop short in the GOP-controlled Senate, including provisions extending the $600-a-week supplemental jobless benefits that expired at the end of July.
"Through the health care crisis he has not been there for us, through the financial crisis he has not been there for us," she said, "and he scoffs at even just a meager $600 going into the pockets of Idahoans."
Risch is among the richest senators, with the Center for Responsive Politics estimating his net worth at $41.8 million based on financial disclosures, but he made his fortune by investing his earnings from his work as a trial lawyer in farm and ranch land in the state. All senators earn the same annual salary of $174,000.
Jordan has challenged Risch to four town hall debates and called him out for declining a debate invitation from Boise NBC affiliate KTVB, but the veteran lawmaker seems content to let his record speak for him. Risch has accepted only one invitation, from Idaho Public Television, for a pseudo-debate in which the candidates will answer questions on separate video calls that will be spliced together.
"This is an election, not a coronation," Jordan said in a Sept. 22 statement. "Mr. Risch's sense of entitlement for this Senate seat is an insult to all Idahoans."
"This race isn't about a debate," Risch said. "This is a race where Idahoans have a really, really clear choice. They've got a conservative – arguably the most conservative member of the United States Senate – or they can take a liberal."
"If you want to turn Idaho left," he said, "this is really, really simple: vote for her."
Local journalism is essential.
Give directly to The Spokesman-Review's Northwest Passages community forums series -- which helps to offset the costs of several reporter and editor positions at the newspaper -- by using the easy options below. Gifts processed in this system are not tax deductible, but are predominately used to help meet the local financial requirements needed to receive national matching-grant funds.
Subscribe now to get breaking news alerts in your email inbox
Get breaking news delivered to your inbox as it happens.
---