Halloween during the pandemic: How this year will be different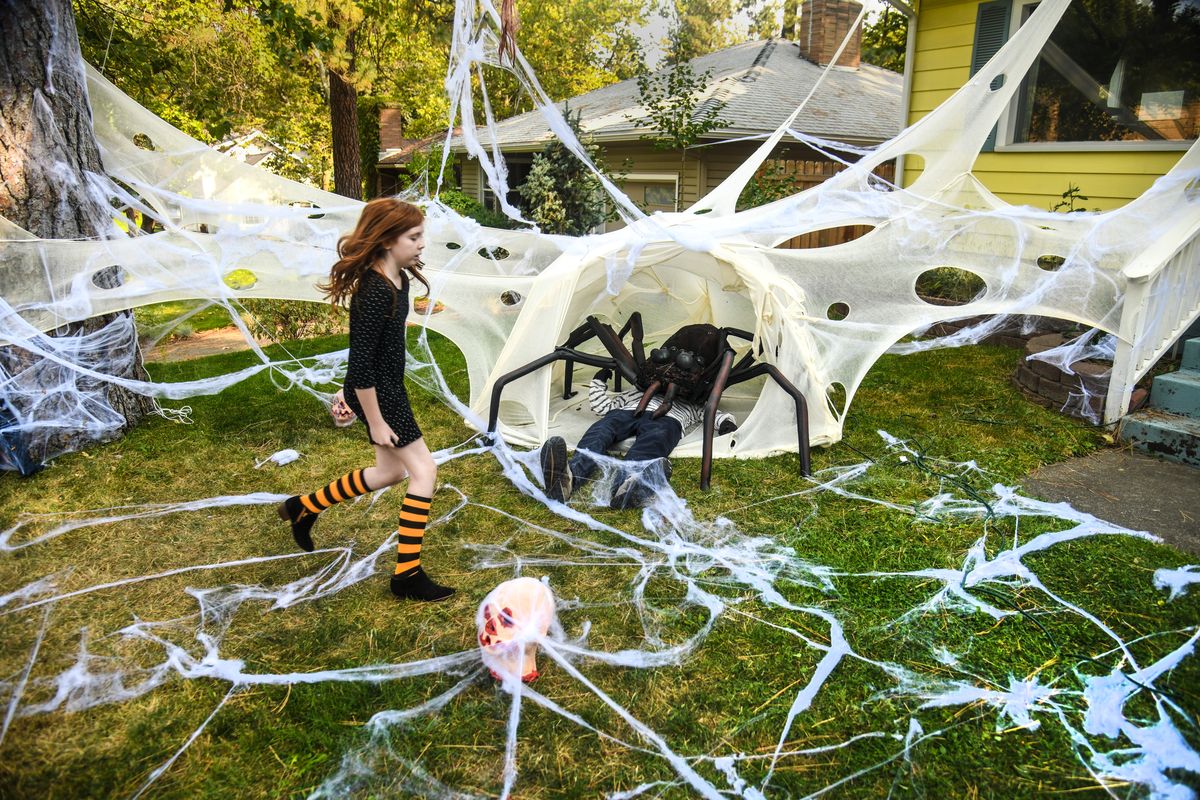 When Caris O'Malley started work on his handmade Halloween decorations in February, as he normally does, he did not know how important they would become for the spooky season in 2020.
"Every year I always like to do some kind of very elaborate display because we really like Halloween in my household," O'Malley said.
"And this year with COVID happening it seemed more important because we're right on a precipice of potentially losing trick-or-treating, who knows what that will turn out like, so knowing that that might not happen, I felt this compulsion to go somehow bigger than normal to preserve that spirit of Halloween and create an example of how we can still celebrate this activity without the thing that usually acts as our linchpin."
O'Malley's theme this year is spiders, inspired by plenty of literature from Harry Potter to other children's stories. This summer when remodeling his deck, however, he got more inspiration from the hobo spiders he found living under his former deck.
His first PVC-pipe wonder had a leg-span of about 7 feet, but that still wasn't enough to impress his youngest daughter. He tried again. And now, two spiders, one roughly the size of Aragog, from the Harry Potter films, sit in his front yard, among webs and their unlucky prey.
"It's close to 20 feet leg to leg, and it finally impressed her when it was taller than she was," O'Malley said.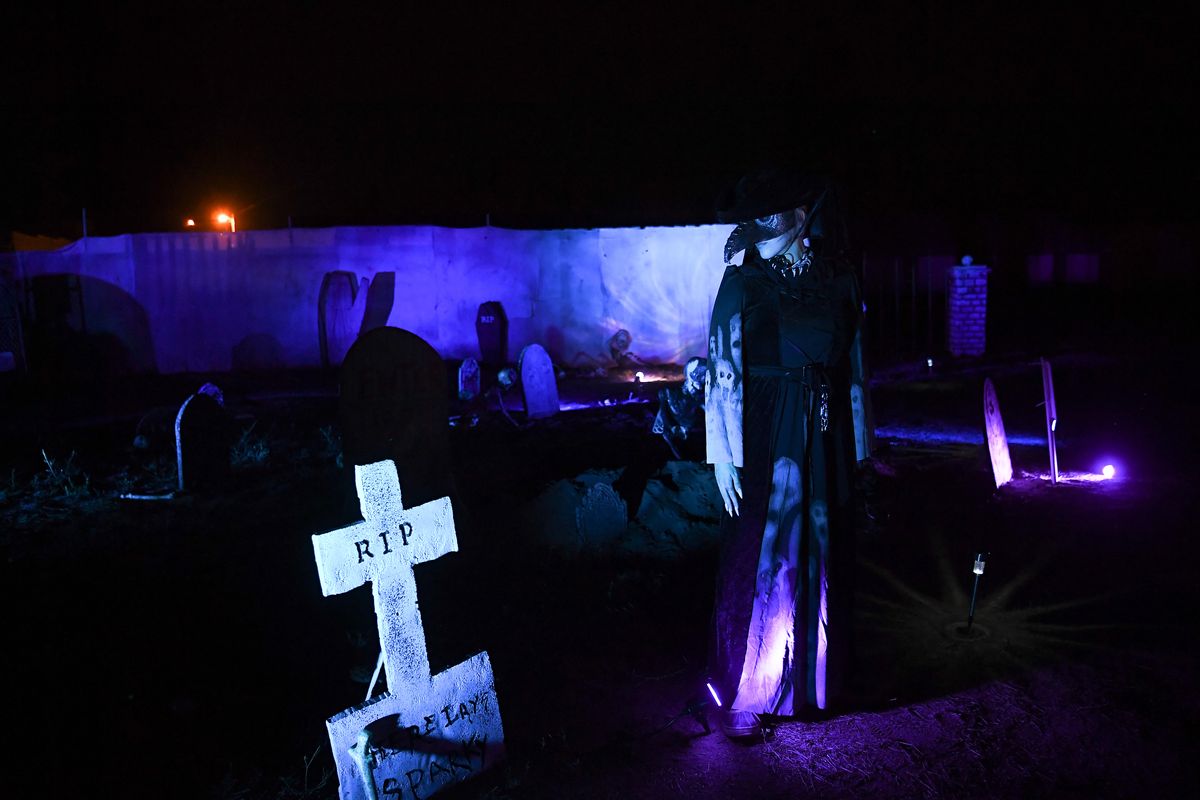 A pandemic Halloween will look different this year. Indoor haunted houses are not allowed in Washington. Gathering limits are still in place. Traditional trick-or-treating is strongly discouraged and considered high-risk, in guidance from the Centers for Disease Control and Prevention and the Washington Department of Health.
Health officials are suggesting that if households want to hand out candy, that they not do so by hand. Instead, health officials suggest setting candy out either on a table or other place for trick-or-treaters to grab and go. Candy should be in individually wrapped goodie bags or packaging.
Spokane County Health Officer Dr. Bob Lutz suggested ensuring there is enough space for trick-or-treaters to stay 6 feet apart when getting treats as well. While health officials are not completely banning trick-or-treating, Lutz said he is encouraging measures to reduce people's risk of spreading the virus. Lutz discouraged county residents from participating in trunk-or-treat events or large gatherings for the holiday.
"Dr. Lutz is not going to take away Halloween, but he's going to recommend you do it safely," Lutz told reporters last week.
For trick-or-treaters, health officials are asking that family or household units stay together and not trick-or-treat in large groups. Everyone over the age of two needs to wear a cloth facial covering, not a costume mask, health officials said. Wearing a costume mask over a cloth face covering can be dangerous.
"Typical masks for Halloween do not count as face coverings," Lacy Feherenbach, Deputy Secretary of Health, at the state health department said.
Health officials are encouraging alternative activities, such as Halloween scavenger hunts at home or in yards instead of traditional trick-or-treating. Each family is essentially left to make their own choice about the risks they want to take this spooky season, as are households who could or could not choose to put out candy.
State health officials are asking that residents adhere to gathering limits and discouraging parties for the holiday. In Washington, indoor haunted houses are not permitted.
As a result, spooky creators have had to get creative in the midst of COVID regulations.
Cameron Dietz, who typically operates a haunted house this time of year, was feeling like it was a bust in early September, preparing to give up all of the materials he'd collected.
But then he and another colleague had an idea: what about a drive-in, drive-thru haunted experience? Households can stay in their cars the whole time and drive through the haunted scenes. With not very much time left before the leaves began to change, Dietz and a team of volunteers formalized the idea.
"I told everyone that, 'Guys, this is our opportunity to bring back Halloween,' " Dietz said.
"Fear in the Headlights" launched this past weekend and will be available every weekend this month. Payment is accepted online prior to the event, when people reserve their time.
The cost is $40 or $50 per vehicle, depending on the night, but there is no limit on the number of passengers in a vehicle. Dietz said RVs, buses and riding in truck beds are not allowed.
Just across the county line, the attraction is sort of like a Spooky car wash, where drivers will follow instructions to stop their cars, crack their windows and experience each scene. When it's over, they proceed slowly to the next scene.
"Actors will get close but not so close," Dietz said. "Keep your windows cracked enough to hear the sounds, follow the prompts to start the show, and once it ends, you hear on the audio, 'Please proceed to next venue and go to the next venue.' "
While Idaho's COVID-19 restrictions are significantly less strict than Washington's, the Panhandle Health District issued guidelines similar to the CDC, encouraging community members to adjust their plans to accommodate COVID-19 precautions, including only doing one-way trick-or-treating or going to pumpkin patches.
The Couer d'Alene Downtown Association is planning a few small events for Halloween, including the Fall Fest and Apple Palooza on Oct. 24 and 31. Emily Boyd, manager of the association, said a limited number of tickets is available.
Trick-or-treating at downtown businesses in Couer d' Alene is being left up to businesses this year, Boyd said, noting the trick-or-treating is not formally organized by the association.
"On Halloween, we have some of the businesses that will be handing out candy as normal, others will be opting not to do it this year with coronavirus going on," Boyd said.
She said that while some businesses don't plan to participate, enough businesses do so that there will be candy readily available. The Panhandle Health District has not consulted with any businesses yet on their plans to hand out candy.
Kootenai County still has its mask order in place, which requires people to wear face coverings in public where they cannot maintain 6 feet of distance between people.
Silverwood is not hosting its "Scarywood" event this year, instead offering trick-or-treating on Saturdays.
---