News > Spokane
100 years ago in Spokane: How rocks were expected to have a 'wholesome effect' on prisoners
UPDATED: Thu., Oct. 8, 2020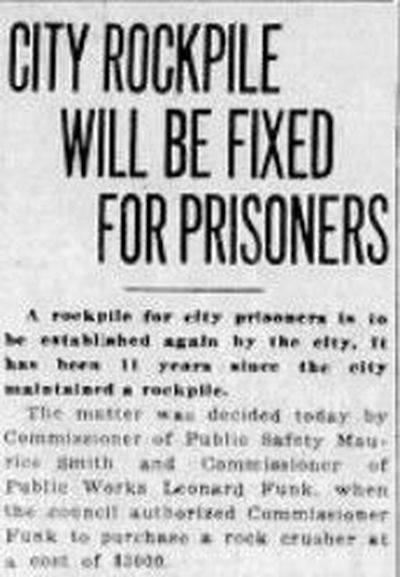 The city planned to establish a rock pile for prisoners.
"I am in favor of putting city prisoners arrested for drunkenness and vagrancy to work," said the city's commissioner of public safety, Maurice Smith. "It not only gives them something to do, but has a wholesome effect when it comes to having a bunch of loafers around town. If men who hate to work know that when they are sentenced to jail terms in police court it means work on the rock pile, it will help keep them out of town."
Not only that, the prisoners could give the city's rock-crushing operation "valuable assistance at a low cost."
The city had not maintained a prisoners' rock pile for 11 years.
From the gambling beat: Police raided a gambling club on Second Avenue and arrested what the paper called "a mixed crowd of 35 whites and Negroes."
Several plainclothes detectives infiltrated the club rooms by "bluffing our way past the lookout" by telling him that they had been there before. They were ushered through four different doors before entering the gambling room.
When they got inside, they watched a crowd of people playing poker in dime-ante games.
The plainclothes men waited unobtrusively until the uniformed officers began their raid. Then they announced themselves and "compelled the men to remain motionless" until the officers took control of the room.
The proprietors were held on charges of running a gambling game and all of the others were held on lesser gambling charges.
Local journalism is essential.
Give directly to The Spokesman-Review's Northwest Passages community forums series -- which helps to offset the costs of several reporter and editor positions at the newspaper -- by using the easy options below. Gifts processed in this system are not tax deductible, but are predominately used to help meet the local financial requirements needed to receive national matching-grant funds.
Subscribe to the Coronavirus newsletter
Get the day's latest Coronavirus news delivered to your inbox by subscribing to our newsletter.
---