News > Home and garden
Gardening: Author Jennifer Jewell to lead 'Conversation for Nature'; benefits Master Gardener foundation
UPDATED: Tue., Oct. 20, 2020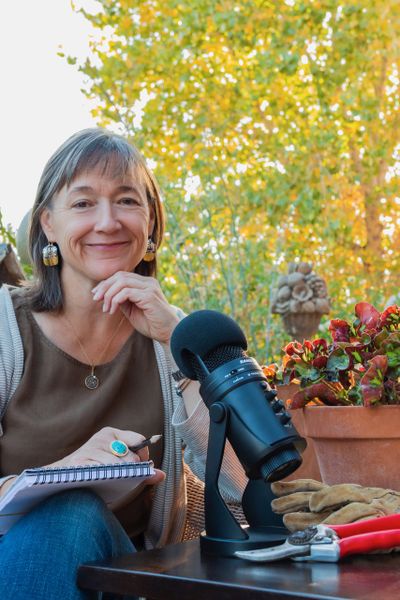 This unusual year has seen a resurgence in gardening. The COVID-19 pandemic has kept us close to home and looking for things to do. Gardening is getting us outdoors digging in the dirt naturally socially distanced. For those of us who have gardened for a long time, it was pure joy to have the extra hours to create new gardens and experiment.
For many of you who took up the hobby for the first time, the experience of planting a garden and seeing it grow has probably opened a whole new world. The unknown world in the backyard is now filled with wonder as tomatoes grew, flying insects became garden friends and the smell of soil fostered a sense of adventure. Welcome one and all to an almost sacred hobby where you never stop learning. All of us started here at some point in our lives, and we all have stories to tell.
Jennifer Jewell is a storyteller as well as a gardener, garden writer, gardening educator and advocate. In her latest book, "The Earth in Her Hands: 75 Extraordinary Women Working in the World of Plants," she tells the stories of women who started out as beginning gardeners and made gardening a passionate way of life. Jewell will speak on her book at a virtual "Conversation for Nature" on Oct. 15 at 7 p.m. The talk is sponsored by the Spokane County Master Gardener Foundation.
Jewell writes about women in wide-reaching fields that include botany, floral design, landscape architecture, farming, herbalism, and food justice, these influencers are creating change from the ground up.
Profiled women include flower farmer Erin Benzakein; co-director of Soul Fire Farm, Leah Penniman; plantswoman Flora Grubb; edible and cultural landscape designer Leslie Bennett; Caribbean-American writer and gardener Jamaica Kincaid; soil scientist Elaine Ingham; landscape designer Ariella Chezar; floral designer Amy Merrick.
Rich with personal stories and insights, Jewell's portraits reveal a devotion that transcends age, locale and background, reminding us of the profound role of green growing things in our world – and our lives.
The daughter of a garden- and floral-designing mother and a wildlife biologist father, Jewell has been writing about gardening professionally since 1998, and her work has appeared in Gardens Illustrated, House & Garden, Natural Home, Old House Journal, Colorado Homes & Lifestyles, and Pacific Horticulture.
Since 2016 she has written and been a host of a national award-winning weekly public radio program and podcast, "Cultivating Place," a co-production of North State Public Radio in Chico, California.
This virtual event is a fundraiser for the Spokane County Master Gardener Foundation that helps support education programs of the WSU Spokane County Master Gardener Program. Like every other organization that acted to prevent the spread of the new coronavirus, the foundation canceled several events this year that support their programs.
The Spokane County Master Gardener Program is a volunteer outreach program of Washington State University that provides the community with research-based information and education on gardening. During COVID, they are answering questions virtually at: extension.wsu.edu/spokane/master-gardener-program/
Local journalism is essential.
Give directly to The Spokesman-Review's Northwest Passages community forums series -- which helps to offset the costs of several reporter and editor positions at the newspaper -- by using the easy options below. Gifts processed in this system are not tax deductible, but are predominately used to help meet the local financial requirements needed to receive national matching-grant funds.
Subscribe to the Coronavirus newsletter
Get the day's latest Coronavirus news delivered to your inbox by subscribing to our newsletter.
---