News > Education
Teaching music during a pandemic is about the journey
UPDATED: Sat., Oct. 10, 2020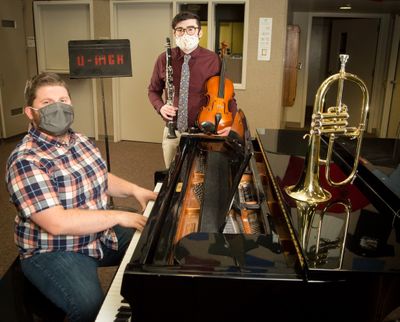 Life hasn't been the same since the bandemic struck University High School.
Choir director Matthew Johnson found out quickly that harmony doesn't happen on a laptop, while band teacher Garrett Newbill plays his horn, puts his students on mute, and trusts them to follow along.
But everyone has learned something far more important: For the kids' sake, the beat must go on.
Everyone lost out when schools closed last March because of the COVID-19 pandemic, but musicians gave up something special.
Gone was the collaboration and kinship of the choir room and the jazz band – or the camaraderie of the marching band.
"They lost that connection," Johnson said.
And while few would admit it, they probably miss those zero-hour band classes.
"One day they'll be back," said U-Hi Principal Keven Frandsen, who predicts that "out of all this, we're going to have some great songs written one day."
In the meantime, music teachers in Central Valley, Spokane and most large districts are trying to make the most of distance learning.
It's been a tough road, beginning with the loss of the spring festival season.
"That was really jarring," Johnson said.
Following spring break, Johnson and his colleagues resolved to answer the most pressing question: "How can we get kids together when things are torn apart?"
During the ragged retreat to distance learning last spring, Johnson tried to cobble together a virtual choir.
But he soon realized that holding up four fingers and counting the beat simply didn't work.
"We didn't end up with a final product, but seeing them work so hard was gratifying," he said.
"It's more about the journey," said Johnson, an award-winning educator whose U-Hi choirs have won regional and international honors.
While most remote classes suffer the occasional glitch, music education is almost impossible with current technology.
Because of varied internet speeds, harmony quickly turns to dissonance.
Camera angles are also a problem. Teachers can only see from one angle, making it tough for those who are in more physical music activities, such as marching band.
Like many teachers, Johnson and his colleagues hoped for a return to in-person learning this fall. That would have meant a different set of inconveniences: outdoor practices, never-ending application of sanitizer on instruments and other surfaces, and socially distanced singing while wearing a mask.
Instead, they've made the most of individualized lessons and small-group sessions, an approach Johnson said is less like coaching and more like an IKEA catalog.
Meanwhile, Newbill arrived in August from Hunters, Washington, northwest of Spokane. Many families are low-income and lack internet, forcing Newbill to send out music lessons on paper and hope for the best.
At U-Hi, he told his students, "I've never met you before, but this is about building those relationships in your classroom."
"I'm super excited to connect with kids in virtual rehearsals," said Newbill, who mutes his students and begins to play.
The connection is based on trust, an unspoken expectation of Newbill's students "that you're playing with me."
Local journalism is essential.
Give directly to The Spokesman-Review's Northwest Passages community forums series -- which helps to offset the costs of several reporter and editor positions at the newspaper -- by using the easy options below. Gifts processed in this system are not tax deductible, but are predominately used to help meet the local financial requirements needed to receive national matching-grant funds.
Subscribe to the Coronavirus newsletter
Get the day's latest Coronavirus news delivered to your inbox by subscribing to our newsletter.
---