News > Spokane
YWCA honors Maria Cullooyah with Women of Achievement Government and Public Service Award
Thu., Oct. 8, 2020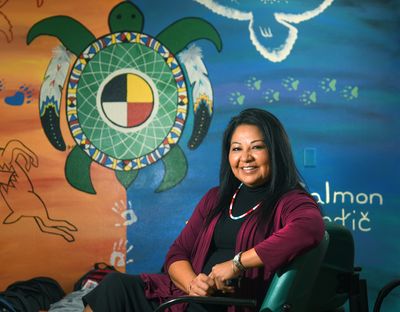 Maria Cullooyah has spent almost her entire adult life working to improve economic opportunities on the Spokane Indian Reservation where she grew up. Her life's work has earned her a YWCA Women of Achievement Award for Government and Public Service.
The Women of Achievement honorees are typically honored during a fundraising luncheon, but this year, a virtual celebration Oct. 1 was held to prevent the spread of the new coronavirus.
Cullooyah grew up in Wellpinit, Washington, and said she often spent her days in the company of her cousins.
"I had 60 cousins," she said. "We just ran together morning and night. Family means everything to me. It takes a community to raise a child. Being born and raised on the reservation, we were one big family."
After she graduated from high school, she started attending classes at Spokane Falls Community College. The experience was life-altering.
"It was a culture shock, because we were so secluded," she said. "Living where I did, I didn't realize the resources that were out there until I went to college."
She also attended Eastern Washington University and earned a bachelor's degree in Native American studies. She said she bounced around for a bit before she got a job at the Northwest Museum of Arts and Culture as a collections technician working with the museum's Native American collection.
"That kind of just moved me into going back to college," she said. "I got interested in the cultural history side of the area. I didn't realize all the history we had here."
She was also inspired to go back to school by strong women in her life, like her grandmother, Marian Wynecoop.
"She was an amazing woman," she said. "She and my mom pushed me to go back to school. That's when I got into the local economy and economic development ideas. There are so many possibilities, not only for my tribe, but for women."
She earned a master's degree in business administration from the University of Phoenix. She recently began a doctoral philosophy of leadership program at Gonzaga University.
Cullooyah began working for the Spokane Tribe in 2008, moving quickly from office manager to community planner to community development planner. She's now the assistant director of planning and economic development and director of real estate development.
"It's been quite the roller coaster," she said. "I wear many hats and different roles throughout the day."
During her time working for the Tribe, Cullooyah has worked to have the reservation designated a federal Promise Zone and an Opportunity Zone. She also helped facilitate the Children of the Sun Solar Initiative to bring solar energy to tribal homes and businesses.
Cullooyah said she ensures compliance with regulations, helps with projects, oversees budgets and also oversees the tribe's rental properties. These days she often works from home for up to 12 hours a day.
"With the COVID, my job duties have basically doubled," she said. "At the end of the day, when you're getting a family or a group COVID resources, it feels good."
Cullooyah said she loves having the ability to learn new things and use what she's learned to help her community. She said she hopes she can be a good role model to the youth on the reservation, particularly girls.
"There's a lot of great women leaders I look up to," she said. "I would hope that I can fill those moccasins."
Among her role models are an aunt who took a job as an equipment operator in the mines and her grandmother Wynecoop, who ran away from home when she was young to get a job at Boeing. She did that in a time when women, particularly women in the reservation, didn't work outside the home, Cullooyah said.
"They took on roles that usually females in our culture would not take," she said.
She said she was caught off guard when she learned she had been named for a YWCA Women of Achievement award.
"I thought someone was playing a joke on me," she said. "I was beside myself, thinking this can't be real."
She said she didn't realize she'd had that much of an impact on her community and never thought to put herself in the same league as the inspiring women who have received the award before her.
"I never would have thought in my lifetime that something like this would happen," she said. "I'm pretty honored and I'm feeling pretty blessed to have the people that I do, a great support system."
But there's still work to do, Cullooyah said, and she hopes her studies at Gonzaga will help her understand the philosophy behind strong leadership.
"It's more growth," she said. "It's going to be the experience, I think, of a lifetime."
Local journalism is essential.
Give directly to The Spokesman-Review's Northwest Passages community forums series -- which helps to offset the costs of several reporter and editor positions at the newspaper -- by using the easy options below. Gifts processed in this system are not tax deductible, but are predominately used to help meet the local financial requirements needed to receive national matching-grant funds.
Subscribe to the Coronavirus newsletter
Get the day's latest Coronavirus news delivered to your inbox by subscribing to our newsletter.
---