News > Idaho
Three candidates vying to become the next Kootenai County sheriff
Oct. 10, 2020 Updated Sun., Oct. 25, 2020 at 10:53 p.m.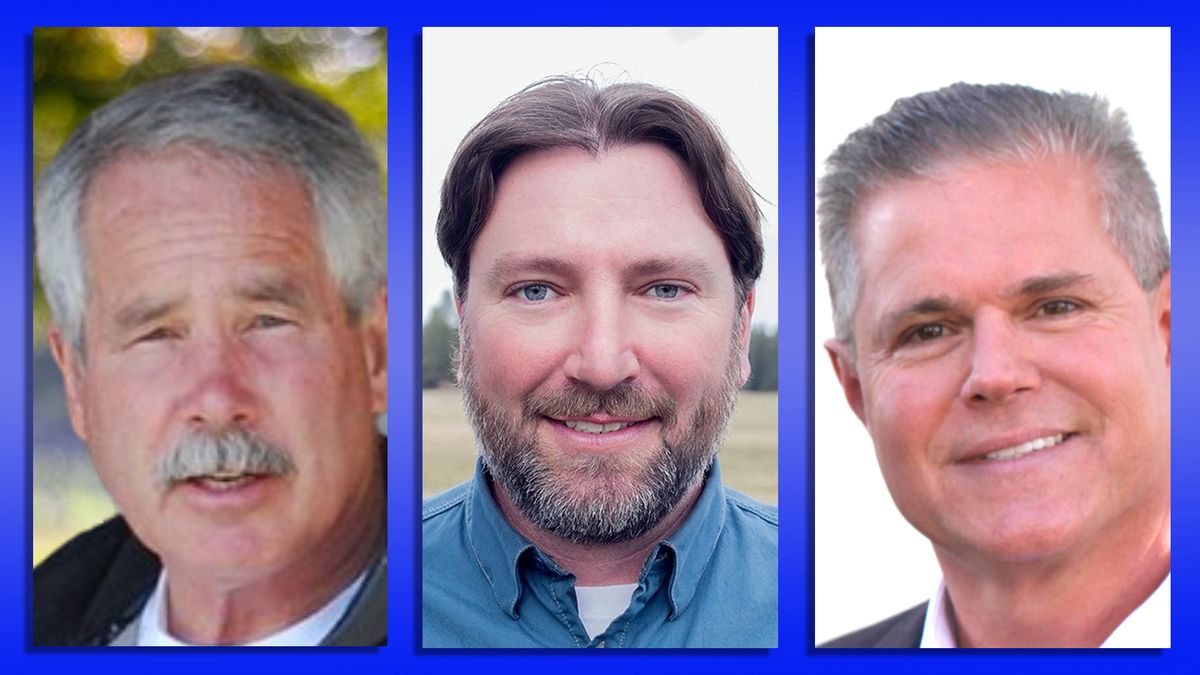 Bauer, Nagel, Norris (Courtesy photos)
The race for Kootenai County sheriff features two candidates with long careers at the Los Angeles County Sheriff's Department and a Rathdrum native who accuses local law enforcement officials of working with "the mob."
Bob Norris, Mike Bauer and Justin Nagel are vying to replace Sheriff Ben Wolfinger, who is retiring after four two-year terms in office.
All three candidates identify as staunch conservatives, but they progressed to the November general election by claiming different party affiliations. Norris is running as a Republican, Bauer as an independent and Nagel as a Libertarian.
Three other Republican candidates – Kootenai County Sheriff's Office Capt. Kim Edmondson, law enforcement trainer Rick Whitehead and businessman John Grimm – were defeated in a contentious August primary. Norris garnered more than 44% of Republican votes.
Norris and Bauer spent most of their lives in Southern California before relocating to North Idaho, and both tout decades of experience in the massive Los Angeles County Sheriff's Department.
Norris, 57, joined the agency as a jail deputy in 1984 and worked patrol from 1987 to 1994. He was promoted to jail operations sergeant in 1996 and briefly served as an acting lieutenant of jail operations.
At the rank of sergeant, Norris supervised patrol units, community policing services and counterterrorism investigations. He retired in 2014 as a lieutenant responsible for coordinating law enforcement services for the cities of Commerce, Maywood and Cudahy.
Norris settled in the Coeur d'Alene area after a period splitting his time between homes in Idaho and California. He volunteers on the Kootenai County Search and Rescue Team and has secured endorsements from the Kootenai County Deputy Sheriff's Association and Idaho Lt. Gov. Janice McGeachin.
Norris has expressed concern about rapid population growth in Kootenai County, citing his experience in Los Angeles and asserting new multifamily housing developments would result in an uptick in crime and calls for law enforcement service.
Bauer, 71, joined the Los Angeles County Sheriff's Department as a corrections officer in 1969, worked patrol for several years and was promoted to sergeant in 1975, at age 25. He helped coordinate security and assess terrorist threats in the run-up to the 1984 Olympics, and oversaw undercover investigations into white supremacist groups with connections in Los Angeles and North Idaho, including the Aryan Nations.
As a lieutenant in 1994, Bauer helped launch the department's risk management bureau, which reviews tort claims and lawsuits to reduce the agency's financial exposure. He was promoted to captain in 1996 and placed in the special enforcement bureau, which handled vice and organized crime investigations.
After retiring, Bauer moved to Trout Creek, Montana, where he spent about nine years working as a hay farmer and about two years as a deputy county coroner. He moved to Harrison, Idaho, in 2011 and has endorsements from Spokane County Sheriff Ozzie Knezovich and former Kootenai County Sheriff Pierce Clegg.
Fully staffed, the Kootenai County Sheriff's Office has nearly 320 employees, including about 85 detectives and patrol deputies and nearly 100 deputies at the recently expanded jail.
Bauer has said he wants the sheriff's office to remain a small agency, tailored to serve the more rural parts of the county, while Norris hopes to make it a "destination agency" for law enforcement officers rather than a "stepping stone" to other departments.
Nagel, 42, grew up in Rathdrum and graduated from Lakeland High School in 1996. He has worked in underground mining, core drilling and carpentry in Idaho and Nevada since 1997 and currently works as a carpenter. He has no experience as a law enforcement officer.
Nagel has accused the Kootenai County Sheriff's Office of corruption and violations of people's constitutional rights, and said he has collected damning information about the sheriff's office and provided it to the FBI.
Specifically, Nagel alleges sheriff's deputies and local police officers acted improperly when they arrested him on suspicion of drunken driving in late 2016. The charge was later dropped. Nagel also pointed to the case of Dan Soumas, a former captain in the sheriff's office, who alleged in a federal lawsuit he was fired in 2017 for raising concerns about how the department was spending drug forfeiture money.
Both Norris and Bauer have denounced rioting and violence that have erupted at recent protests across the country over police brutality and racial disparities in the criminal justice system.
"I am Kootenai County's law-and-order sheriff, and we will not have any consecutive days of rioting or a CHOP zone in Kootenai County," Norris said, referring to the Capitol Hill Organized Protest that took over a few city blocks in Seattle for several weeks in June.
Bauer said the recent "political violence" reminds him of civil unrest that occurred in the 1970s, adding his deputies would take steps to quash violence. However, he said he welcomes Idahoans to exercise their Second Amendment rights and takes no issue with those who have carried assault rifles at recent demonstrations.
Norris blamed rioting on small numbers of "professional agitators" and asserted the Black Lives Matter movement "is being hijacked by some very some very influential people who want to change the United States from capitalism to socialism."
Pressed to provide a name of one those influential people, Norris mentioned George Soros – the billionaire investor and progressive donor of Jewish descent who is at the center of many baseless, anti-Semitic conspiracy theories circulated by right wing media outlets.
"I haven't investigated it personally myself, but other people have, and his name is widely used as somebody who is likely funding it," Norris said.
Norris also was reluctant to acknowledge academic research that shows police disproportionately stop, arrest, charge and use force, including firearms, on Black and Brown people.
"The statistics can be skewed. Do we have some concerns about force in the minority community? Absolutely, we do," Norris said.
But, he said, "If you're a Black person in a Black community, you are thousands of more times likely to be victimized by another African American than you are by a white police officer."
Bauer said he believes people of color might "get a little more strict enforcement of the law than other people might" in some parts of the country.
"And those people who feel like they are not getting equal protection should take full advantage of the complaint process and bring it to law enforcement's attention, if they feel that they are being disadvantaged by the policies or the practices of that department," Bauer said.
Local journalism is essential.
Give directly to The Spokesman-Review's Northwest Passages community forums series -- which helps to offset the costs of several reporter and editor positions at the newspaper -- by using the easy options below. Gifts processed in this system are not tax deductible, but are predominately used to help meet the local financial requirements needed to receive national matching-grant funds.
Subscribe now to get breaking news alerts in your email inbox
Get breaking news delivered to your inbox as it happens.
---