News > Washington
'We're still here': Colville tribal member's long battle against declaration of extinction reaches Canadian Supreme Court
Sun., Oct. 11, 2020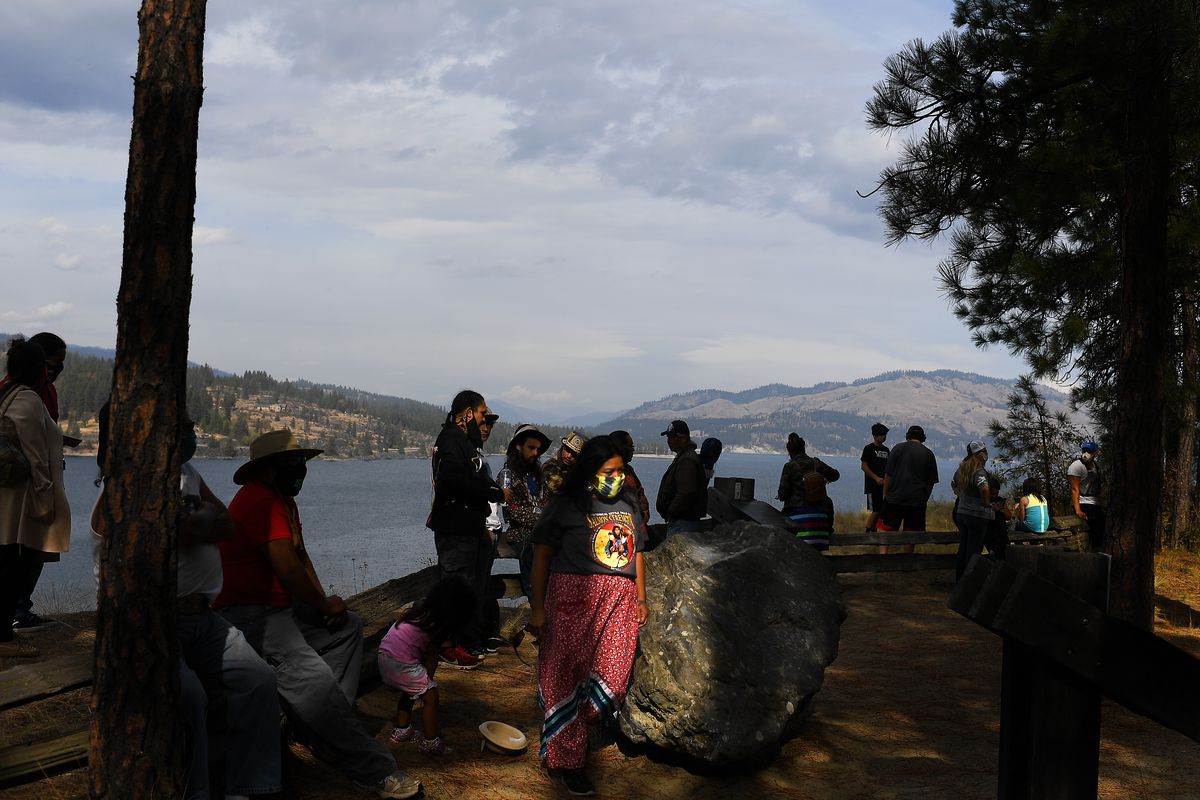 Twa-le Swan passes through a shaft of light as she moves past the Sharpening Stone – a rock where generations of tribal members would sharpen their knives before hunting or fishing together – while joining Colville Confederated Tribes members in support of Rick Desautel's case in the Canadian Supreme court arguing for the Sinixt peoples' right to hunt traditional lands in Canada on Thursday, October 8, 2020, near Kettle Falls, Wash. Desautel, a member of Lakes Tribe of the Colville Confederated Tribes, shot a cow elk in British Columbia in 2010 to assert the Sinixt people's rights to hunt the traditional lands and to challenge a Canadian declaration 60-years-ago that the Sinixt people were extinct. (Tyler Tjomsland/THE SPOKESMAN-REVIEW)
BOUNDARY, Wash. – They got as close they could on Thursday afternoon.
In a caravan of cars and trucks, they travelled north of Northport, to a bluff overlooking both the Columbia River and the Boundary-Waneta Border Crossing that wouldn't let them – or anyone else from the United States – cross into Canada.
They came with a simple message, but one that's central to their existence and identity.
"We're still here," Annette Peone told the crowd of mostly tribal members.
Many of them belong to the Confederated Tribe of the Colville Indians, and a number are descendants of the Sinixt. That tribe's members once moved freely across this landscape, far into what is now British Columbia, into a country that considers them officially extinct.
It's a declaration their presence at the border was meant to pointedly contradict.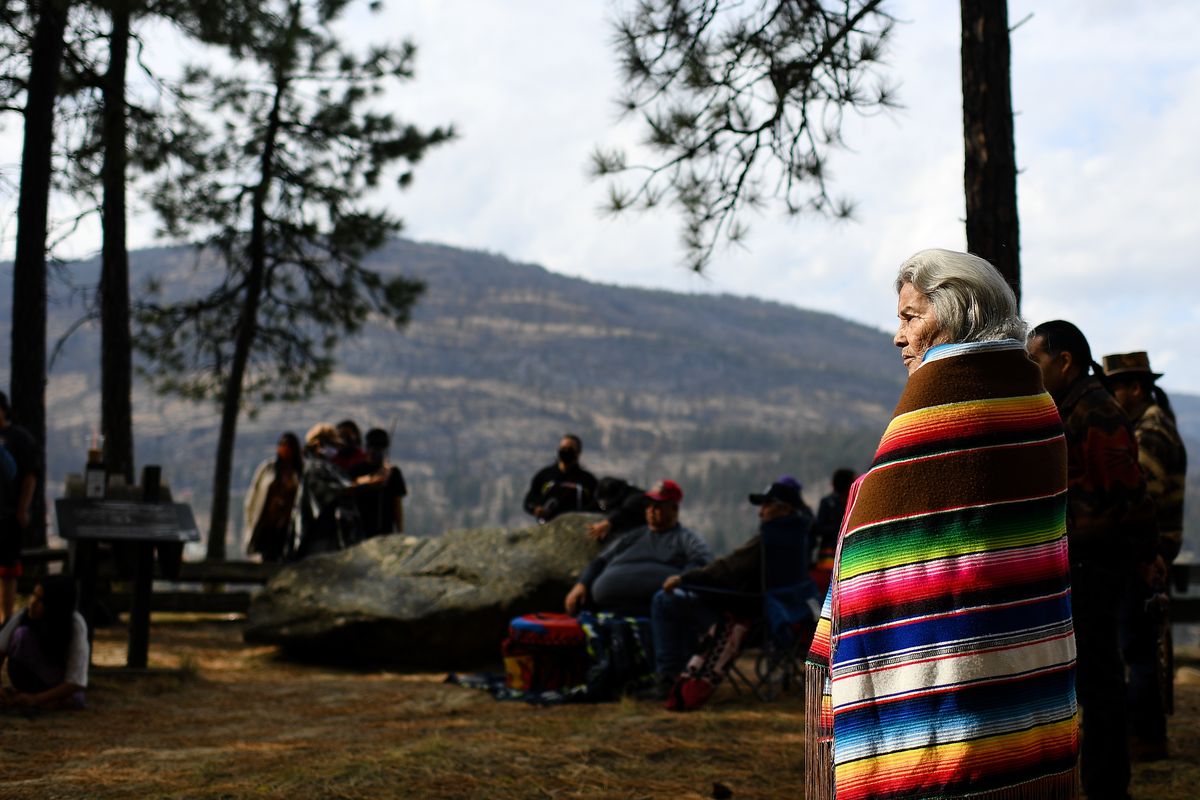 Yvonne L. Swan stands with Colville Confederated Tribe members and supporters during a gathering at the Sharpening Stone - a rock where generations of tribal members would sharpen their knives before hunting or fishing together - in support of Rick Desautel's case in the Canadian Supreme court arguing for the Sinixt peoples' right to hunt traditional lands in Canada on Thursday, October 8, 2020, near Kettle Falls, Wash. Desautel, a member of Lakes Tribe of the Colville Confederated Tribes, shot a cow elk in British Columbia in 2010 to assert the Sinixt people's rights to hunt the traditional lands and to challenge a Canadian declaration 60-years-ago that the Sinixt people were extinct. (Tyler Tjomsland/THE SPOKESMAN-REVIEW)
And it's a declaration that one of their fellow tribal members, Rick Desautel – a Sinixt descendant who belongs to what's now known as the Lakes Tribe of the Confederated Tribes of the Colville Indians – objected to in a different way earlier the same day.
Some 2,400 miles away, in Ottawa, Ontario, Mark Underhill, Desautel's lawyer, argued a case in the Supreme Court of Canada that began 10 years ago this month, when Desautel raised his rifle and killed a cow elk in a ceremonial hunt near Vallican, B.C., on traditional Sinixt lands.
That shot brought two centuries of tensions over the rights of the Sinixt people to the breaking point.
Those tensions had been forming since at least 1811, when the British explorer David Thompson encountered members of the band while passing through the Arrow Lakes. They mounted throughout the 19th century, as many of the Sinixt people who survived colonization were pushed from their homeland south to the Colville Reservation. There, they and 11 other tribal bands were allotted 2,100 square miles of land wedged between the Columbia and Okanogan rivers to share.
When just 21 Sinixt were counted north of the border in the early 1900s, they and other area Indigenous people were granted a reserve for what the Canadian government called the Arrow Lakes Band.
After the last known member of that band died in 1956, the Canadian government declared the tribe legally extinct.
But their descendants were very much alive in Washington, and remained deeply connected to the lands north of the border where their ancestors had lived .
When plans for a new road threatened the remains of those ancestors in the late 1980s, Lakes members returned to their traditional homeland and helped form a blockade to stop the project near Vallican, which is home to a number of archaeological sites containing the history and legacy of Sinixt culture.
While those efforts were ultimately unsuccessful, with the remains removed and the road built, the fight helped bring renewed attention to the question of whether the 3,000 or so members of the Lakes Band had the right to practice their traditions on their ancestral territory north of the border.
Desautel's 2010 hunt without a license – and without even being a resident – will soon force the Supreme Court of Canada to at last come up with a definitive answer.
'An aboriginal right'
The case has already been subject to a trio of provisional verdicts, one from a trial judge in Nelson, B.C., and two from appeals to that initial ruling. All of them ruled in favor of Desautel's argument that he was "exercising his aboriginal right to hunt in the traditional territory of his Sinixt ancestors," as Judge Lisa Mrozinski wrote in her 2017 judgement. Desautel.
"There is no dispute that Mr. DeSautel was hunting well within the traditional territory of the Sinixt," Mrozinski wrote. "There is also no serious dispute that wherever else Sinixt members may now live, they exist today as a group known as the Lakes Tribe of the CCT (Confederated Tribe of the Colville Indians), and of course, Mr. DeSautel is a member of the Lakes Tribe.
"Even so," she continued, "the Crown submits that Mr. DeSautel was not and could not have been exercising an aboriginal right to hunt in October, 2010, primarily because no Sinixt aboriginal rights ever came into existence in Canada."
But in a long and thorough judgement that traces the history and cultural practices of the Sinixt people and the Lakes Tribe, Mrozinski found that when Desautel hunted a cow elk near Vallican "he was exercising an aboriginal right." She also wrote that it is "the aboriginal right of the Sinixt/Lakes people to hunt in their traditional territory here in what is now British Columbia as they had done for several thousand years before contact."
The effort by the Crown – that is, the Canadian government – to continue challenging that finding to the nation's highest court is indicative of how much is at stake in Desautel's case.
While Her Majesty the Queen v. Richard Lee Desautel is narrowly about whether some 3,000 people have a right to hunt in a relatively remote part of British Columbia, the implications for not only the Lakes Tribe but also other Indigenous people with historical connections to Canada could be far-reaching.
Two days before arguing the case in Ottawa, Underhill said a definitive decision in Desautel's favor would "open the door to establish other rights (for the Lakes people) down the road, because they will be aboriginal people in Canada."
And he noted that the Crown has been vested in appealing the case because "they have taken the view that this would be precedent setting and would set the stage for other tribes."
In its filings to the Supreme Court, the Crown's lawyers made just that argument, claiming that "affirming that Indigenous groups located in the US are 'aboriginal peoples of Canada' enjoying a constitutionally protected Aboriginal right to hunt in Canada would mean that such groups may, in principle, hold constitutionally protected Aboriginal title to Canadian soil, too."
That means "not only site-specific rights like the right to hunt, but also rights to the land itself," the filings state.
"It is an unprecedented and remarkable proposition that a foreign group could hold constitutionally protected title to Canadian territory. It bears emphasizing that Aboriginal title is an exclusive right: it 'confers on the group that holds it the exclusive right to decide how the land is used and the right to benefit from those uses.'"
That could mean the Canadian government will have to consult with the Lakes Tribe on hydropower and pipeline projects, for example. And it may mean even more: that they have rights to land in Canada.
"Title claims in Canada by US Indigenous groups are by no means hypothetical," the Crown's filings read. "Two title claims have already been filed on behalf of the CCT (Confederated Tribes of the Colville Reservation) in the BC courts, and the chairman of the CCT publicly stated the CCT's intention to pursue such a claim following release of the trial judgment in this case."
In an interview with The Spokesman-Review, Underhill said those kinds of claims could well be warranted if the high court agrees with the lower courts and rules in favor of Desautel.
"It's certainly possible for those trans-border groups who are able to meet the test of establishing aboriginal rights in Canada to also, if they so choose, to claim the right to land in Canada," he said.
But Underhilll disputed the notion that this would open the floodgates to claims to land in Canada from tribes in the United States, since "only those groups who were there, who were in Canada" would apply.
Groups like the Sinixt.
While Underhill said the tribe will likely have to wait months before a verdict is handed down from the Supreme Court, he was optimistic that his argument resonated with the justices. They appeared to have "a real problem" with the Crown's argument that only those who were in Canada as of 1982, when the country's Constitution Act recognizing Indigenous peoples' rights was enacted, should be considered aboriginal.
"The court seemed to recognize the injustice of the Crown's position," he said.
Even victory in court, however, will not be enough to repair "the trauma that was visited upon the Sinixt people for being displaced and the toll that has take on generations of people," Underhill acknowledged.
"It's not like the Supreme Court's decision is going to make everything right again," he said. "It's going to take a long time for the healing to happen."
'We are still here'
On Thursday, only three people with connections to the tribe , after quarantining for two weeks, were able to be in Canada while Underhill and the Crown's lawyers made their arguments: Desautel, fellow Lakes member Shelly Boyd and Derrick LaMere, a Colville tribal member who is in the process of completing a documentary about the case called "Older than the Crown."
It was a fact Underhill lamented when he rose to speak to the justices.
"I wanted to start with an acknowledgment that on this very important day in Sinixt history, that many, of course, because of the pandemic, members of the Sinixt cannot be here today," Underhill told the justices. "I wanted to acknowledge that Chairman Rodney Cawston and the members of the council of the Colville tribes, along with many Sinixt youth and elder who wanted to be here desperately, cannot be."
While they were not in Canada, many of those supporters, including Cawston, were gathered along the Columbia River, near Kettle Falls, at a stone used by Indians for generations to sharpen knives, spear points and others tools to harvest salmon until the Grand Coulee Dam blocked the river and ended the salmon runs.
Amy Louie was there with her children to support Desautel and "to show we're not extinct anymore and we're here."
Clem Nicholas was there with a drum to help provide traditional music for the gathering.
Faith Zacherle was there because "it's important for people to know we are still here. We were here before the border."
Seventy-six-year-old Yvonne Swan was there because relatives had reminded her of her Sinixt heritage since childhood. Because she had helped coordinate the blockade that sought to prevent the removal of her ancestor's remains. Because she helped reinter those remains, and because, she said, Desautel's court battle was part of a broader struggle to restore the tribe's rights in its homeland.
Kale Nissen, 14, was there with a group of his classmates from the Salish School in Spokane because, he said, the case "is really important to us."
"It sounds dumb, but they're saying we don't exist," Nissen said. "It feels degrading. It feels like I'm not seen as human. It feels really disrespectful. … We're here to pray for Rick Desautel and hope for the best."
Sulustu, who was known as Barry Moses before changing his name, was there to offer such a prayer, delivered in Salish and translated into English by Devon Sitétkw Peone.
"May we win," he prayed. "This river is our blood. This land is our body. … And forever we will be here."
After the prayer, Sulustu connected the Canadian declaration of the Sinixt's extinction to a long history of "all the different ways they had to extinguish us."
"When it was no longer fashionable to kill Indians," he said, "they tried to get rid of us on paper."
Desautel's case, Sulustu said, was an opportunity to push back on that legalistic removal, to start the long process of recovering all that had been taken from the tribe over the centuries.
Rick's wife, Linda Desautel, was at the sharpening stone too. She had been with her husband when he killed that elk and helped pack it out, and she was emotional about being apart from him as their decade-long battle "to be recognized as the proud people we are" came to its culmination.
Cawston was also at the gathering, offering a message of both hope and defiance.
"There's nobody else who can tell us who we are, where we belong," he said.
"Win, lose or draw in that court," Cawston continued, "it doesn't matter. They're not going to change who we are. … If we win, we still have a lot to do. If we lose, we still have a lot to do. This is the beginning."
After the gathering in Kettle Falls, a group left to head in the direction of the Sinixt lands in Canada, even though they knew they wouldn't get there.Even though they would be stopped, at least for now, by the border.
Ted McDermott can be reached at (509) 459-5405 or tedm@spokesman.com.
Local journalism is essential.
Give directly to The Spokesman-Review's Northwest Passages community forums series -- which helps to offset the costs of several reporter and editor positions at the newspaper -- by using the easy options below. Gifts processed in this system are not tax deductible, but are predominately used to help meet the local financial requirements needed to receive national matching-grant funds.
Subscribe now to get breaking news alerts in your email inbox
Get breaking news delivered to your inbox as it happens.
---