News > Spokane
100 years ago in Spokane: Fort George Wright solider arrested on British Columbia murder charge
Mon., Oct. 12, 2020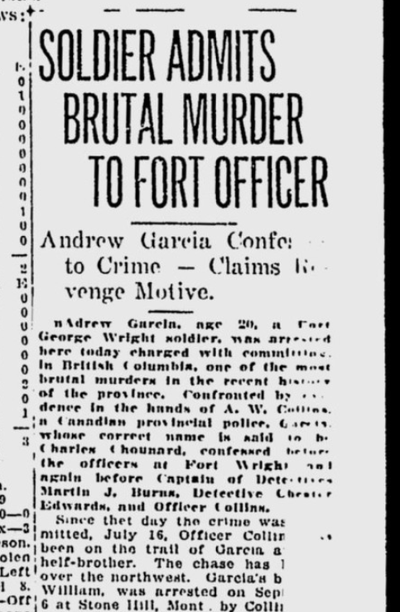 Andrew Garcia, aka Charles Chounard, 20, a soldier at Fort George Wright, was arrested after a brutal killing in British Columbia.
A Canadian provincial police officer had been on the trail of Garcia since July, when Taihl Singh was hacked to death with an axe in his cabin near Waldo, B.C. One of his ears was cut off. When Singh was found bleeding in his cabin, he regained consciousness long enough to tell police that "the two Chounard brothers had done it."
A.W. Collins, the Canadian officer, tracked the brothers to Montana, where he arrested the other Chounard brother. However, Charles Chounard hid in the brush and escaped. Canadian authorities discovered that he had made his way to Spokane and enlisted in the U.S. Army during the Interstate Fair and was subsequently stationed at Fort George Wright.
Collins notified fort officials, who brought in the soldier they knew as Garcia for questioning.
"After a short time, he broke down and told us the whole story of the killing," said authorities.
Canadian police originally believed that robbery was the motive for the crime. But in their confessions, the brothers said revenge was the motive, because "the Hindu had been intimate with their mother, a Cree Indian."
Also on this date
(From the Associated Press)
1957: The Dr. Seuss Yuletide tale "How the Grinch Stole Christmas!" was first published by Random House.
1973: President Richard Nixon nominated House Minority Leader Gerald R. Ford of Michigan to succeed Spiro T. Agnew as vice president.
Local journalism is essential.
Give directly to The Spokesman-Review's Northwest Passages community forums series -- which helps to offset the costs of several reporter and editor positions at the newspaper -- by using the easy options below. Gifts processed in this system are not tax deductible, but are predominately used to help meet the local financial requirements needed to receive national matching-grant funds.
Subscribe to the Coronavirus newsletter
Get the day's latest Coronavirus news delivered to your inbox by subscribing to our newsletter.
---