News > Spokane
Then and Now: Associated General Contractors building
Mon., Oct. 12, 2020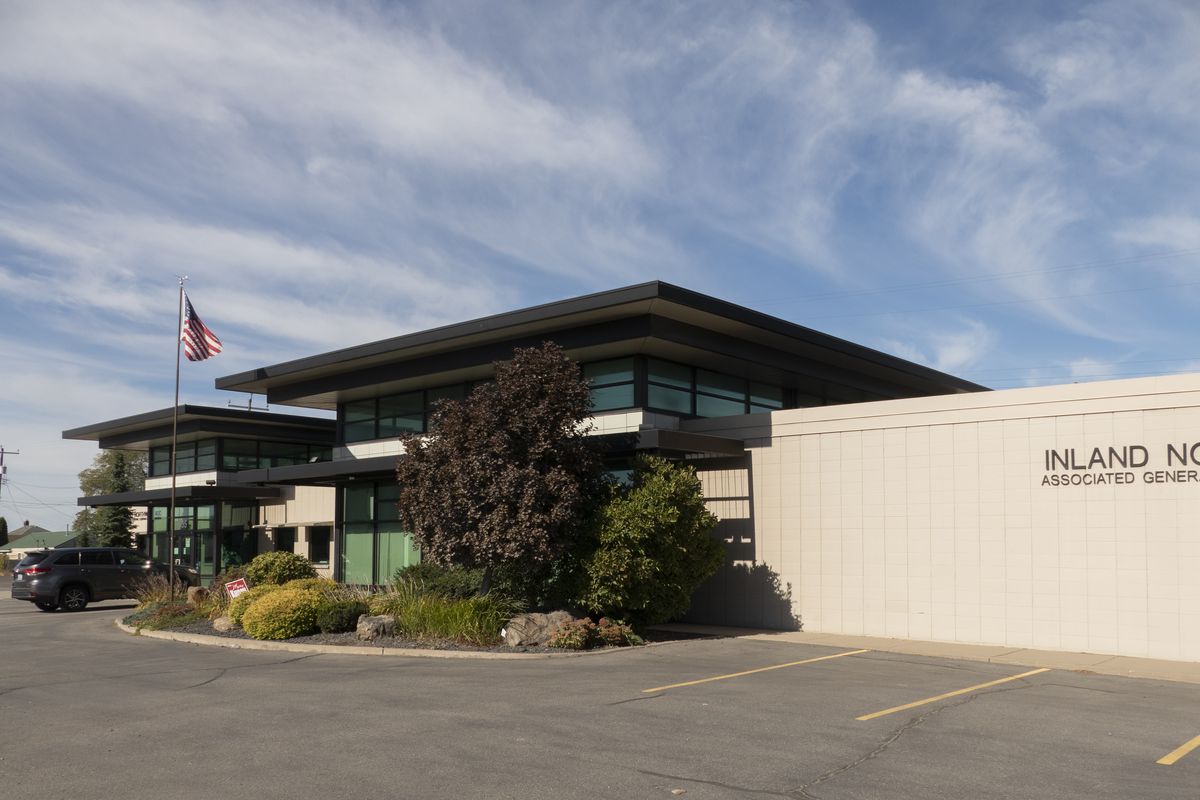 Present day: The Inland Northwest Associated General Contractors' 1958 building at 4935 E. Trent Ave. was once a example of midcentury modern design, but now reflects the contemporary redesign created by Bernardo|Wills Architects and completed in 2002. Much of the work was completed by members of the nonprofit trade organization, which serves as the voice of the commercial contracting industry in the region. (Jesse Tinsley/THE SPOKESMAN-REVIEW)
The Associated General Contractors of America formed in 1918 to represent commercial contractors who build everything from schools and office buildings to roads and bridges. In 1919, Spokane builders started their own chapter, which was officially chartered in April 1921.
For almost 100 years, the Inland Northwest AGC, a nonprofit trade association, has advocated on behalf of builders, subcontractors and industry service providers. For many years, the group had offices in the old Spokane Hotel at Sprague Avenue and Washington Street.
In 1958, the group built their own office building at 4935 E. Trent Ave. It was a modest building, with just a lounge, conference rooms, three offices and a catering kitchen.
The small building is an example of midcentury modern architecture from the firm of Royal McClure and Tom Adkison, who graduated in the same class at the University of Washington and practiced together in Spokane from 1947 to 1967.
The style, now called midcentury modern, which has been called harsh and sterile by some and elegant and sophisticated by others, was championed by a handful of Spokane architects, including Bruce Walker, Kenneth Brooks and John McGough, among others.
After McClure struck out on his own and moved to Seattle, Adkison was made the executive architect for Expo '74, which encompassed the massive redevelopment of the downtown and riverfront area.
Hundreds of midcentury modern examples are catalogued at midcenturyspokane.org, a 2016 project of the Spokane City/County Historic Preservation Office and Spokane Historic Landmarks Commission.
The AGC building was redesigned and renovated in 2002. The firm of Bernardo|Wills Architects expanded the building, matched the original concrete façade and added an atrium. Many of the AGC membership, which includes the region's largest commercial contractors, donated their skilled tradesmen to complete the building.
Among the services AGC provides is specialty training in the fields of job site safety, leadership, certifications and skilled trades. Safety is probably the most important, said Cheryl Stewart, executive director of the local chapter. "We want all of our members to go home safely every day," she said.
As the centennial of the Inland Northwest chapter approaches in 2021, the AGC staff has been collecting historical photos and memorabilia of the past century of commercial construction.
Local journalism is essential.
Give directly to The Spokesman-Review's Northwest Passages community forums series -- which helps to offset the costs of several reporter and editor positions at the newspaper -- by using the easy options below. Gifts processed in this system are not tax deductible, but are predominately used to help meet the local financial requirements needed to receive national matching-grant funds.
Subscribe now to get breaking news alerts in your email inbox
Get breaking news delivered to your inbox as it happens.
---