This column reflects the opinion of the writer. Learn about the differences between a news story and an opinion column.
Opinion > Column
Getting There: Developers may fund fixes to unsnarl traffic issues stalling housing growth in Latah Valley, but will it be enough?
Mon., Oct. 12, 2020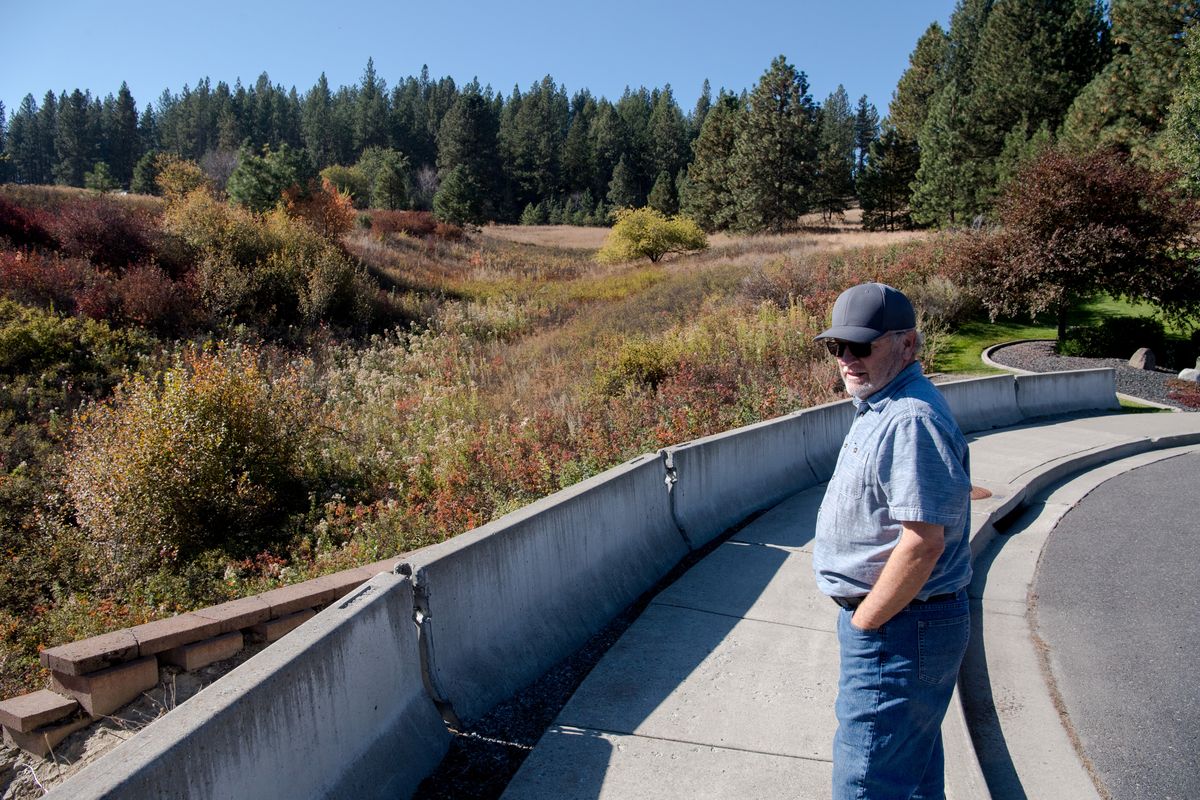 Last Tuesday, Bill Michaelsen stands where a housing development could be built in his Latah Valley neighborhood. (Tyler Tjomsland/THE SPOKESMAN-REVIEW)
Bill Michaelsen was walking his dog Archie this summer to the end of his dead-end street, West Bolan Avenue, when he saw a sign announcing plans for a Sept. 17 online meeting about a new proposal for a major housing development in the Eagle Ridge area.
If approved, Qualchan View Estates would include 160 new single-family lots spread over 58 currently wooded acres between Highway 195 and Cheney-Spokane Road, to the east and west, and between Qualchan Drive and Eagle Ridge Boulevard, to the north and south, according to a notice from Whipple Consulting Engineers about the plan.
But Qualchan View Estates isn't the only big development in the area that's moving forward toward construction, despite a potentially bumpy road ahead.
Whipple Consulting Engineers is also putting the finishing touches on development applications for two other large projects in the area – Marshall Creek Estates, a 425-home development that would sit on 83 acres just to the west of the Qualchan View Estates site, and The Greens, a proposed 36-home development adjacent to the Eagle Ridge golf course – and recently filed an application for a third, Tangle Ridge Estates, a 45-home development near the end of Tangle Heights Drive.
The push for new housing construction in the area comes amid a housing shortage that the developments might ease – and amid increasingly contentious battles over how growth in the area will exacerbate long-standing safety and congestion issues along Highway 195 and at its intersection with Interstate 90.
The Washington State Department of Public Transportation became so concerned about those traffic issues earlier this year that Mike Gribner, administrator of WSDOT's Eastern Region, presented Spokane City Council President Breean Beggs with a letter asking the council to "adopt a development moratorium for the U.S. 195 traffic shed area" until it deals with the "crisis in management of safety within the corridor."
"In the absence of a temporary moratorium on development and a plan put forth to address it in the very near future, WSDOT will be forced to take safety and traffic control measures to address the safety of our facility," Gribner wrote.
"These measures would include removing breaks in the median that allow for unprotected left turns in and out of intersecting roads, such as Hatch, Meadowlane, and 16th," Gribner continued. "This will make it more difficult for area residents to reach destinations within the City of Spokane."
While the city has not imposed such a moratorium, it did bend to WSDOT's demands for major changes to at least one recent development proposal.
After WSDOT reviewed and commented on a plan to build 98 homes on a 21-acre parcel at Cedar Road and Eagle Ridge Boulevard, the city hearing examiner acknowledged the "legitimate concerns" from the agency and neighbors "about the sufficiency of the existing infrastructure to handle the additional traffic load."
Noting that "the intersection of Meadowlane Road and US 195 is already at a level of service 'F,' and thus is not operating at acceptable levels," the hearing examiner approved the proposal, though with some significant stipulations.
Developers could only build the first 20 homes of what will be known as The Summit "until an intersection improvement" at Meadowlane and Highway 195 – likely a J-turn – is funded. Meanwhile, approval of those first 20 lots was contingent on implementation of a plan "to divert traffic" from Highway 195 to Thorpe Road and Inland Empire Way in order to prevent more cars from clogging the already crowded Interstate 90/Highway 195 interchange.
That diversion plan entails the installation of two new signs on Highway 195, one reading "Ramp Metered Ahead When Flashing" and another reading "Alt Route Downtown City Center."
If those signs prove "effective at mitigating the project's impact, then no further mitigation for the US 195/I-90 traffic is required," the decision said. "lf the mitigation does not prove effective … then additional mitigation would be required."
That additional mitigation would include, but not be limited to, removing the stop sign at the 23rd Avenue and Inland Empire Way intersection "to encourage eastbound traffic to use this route."
But the first 20 homes of The Summit are expected to add just 12 trips out of the development along Highway 195 during the peak morning hours, whereas the four new proposals presented by Whipple on behalf of developers would have a much larger impact on traffic.
The 425 homes of Marshall Creek Estates alone would add 230 outbound trips during the morning, according to an analysis presented at the July community meeting.
With that in mind, Todd Whipple, president of Whipple Consulting Engineers, said he and the developers his firm is working with expect the city's hearing examiner to place similar conditions on the four new development applications, including requiring an improvement to the intersection of Meadowlane and Highway 195.
And he said developers will likely take matters into their own hands to make that happen.
"We have enough lots where reasonable self- imposed mitigation can take place," Whipple said, "where the developers will wind up building the half J-turn," referring to an intervention that forces drivers heading left at intersection to first turn right, merge into the left lane and then make a U-turn.
Whipple noted that it's "not uncommon for developers to build infrastructure," including roads and to sewer lines, and he named a litany of transit projects funded or constructed by private developers, including a large roundabout in Airway Heights and the traffic signal where Regal Street meets the Palouse Highway.
Developers could make various improvements to the local street system, Whipple suggested during a July community meeting about Marshall Creek Estates, according to a summary of the meeting.
"We are working on some solutions on Thorpe, some solutions at 16th and Thorpe, solutions on Highway 195 and we are evaluating the connection with Inland Empire Way from 195," Whipple said, according to the meeting summary. "We're working with the City on the Meadowlane connection to 195 remediation."
In an interview with The Spokesman-Review, Whipple said he believes safer access from Meadowlane will be enough to assuage the concerns of WSDOT and get approval from the city's hearing examiner.
"We believe that they're going to accept the construction of the Meadowlane J-turn as appropriate mitigation for the projects we're talking about, including The Summit," Whipple said.
That remains to be seen.
Charlene Kay, region planning and strategic community partnerships director for WSDOT's Eastern Region, said in an email that the department "continues to coordinate with the City of Spokane in determining the appropriate scalable mitigation with each development. In the event the determined mitigation is not conditioned upon land use approval, WSDOT will determine the best course of action to address safety and operations on US 195."
Kay signaled, too, that the transportation department will evaluate how development affects not only Highway 195 itself but also its connection with I-90.
"WSDOT continues to maintain the expectation that the City of Spokane will ensure land use development under the city's authority mitigates transportation impacts on the US 195 corridor including the I-90/US 195 interchange," Kay wrote.
Spokane City Council President Breean Beggs said he has his own doubts about whether a J-turn would be enough.
"While that would address the safety issue at that location, it wouldn't address the volume problem," Beggs said.
Beggs said doubts about whether such isolated improvements would be sufficient have deterred City Council from making its own investments in what he called Highway 195's "very conflicted intersections that are super dangerous."
While the city has a proposal to add a J-turn at Meadowlane in its six-year plan, Beggs said funding for the project hasn't been pursued because the council doesn't want to build a solution and then find out something else is needed.
"What we're asking for is the city and the state to figure out a solution to 195, and then once we figure it out we'll find money for it," Beggs said.
The city, WSDOT and other regional stakeholders, including Spokane County, are currently working with the Spokane Regional Transportation Council on a study to form that kind of comprehensive solution.
When the study is complete, likely early next year, SRTC will begin working with participating agencies to incorporate the elements into their long-term plans and seek funding to make them a reality.
Ryan Stewart, SRTC's principal transportation planner and the manager of the study, said one scenario study participants are considering would include a slate of developer-funded projects, including the Meadowlane J-turn.
"From talking to city staff, it sounds like that has a lot of traction," he said. But from talking WSDOT, Stewart said he believes the transportation department would prefer full interchanges both there and at Hatch Road.
The solution, Stewart suggested, could be a mix of the two: a developer-funded J-turn that would eventually be replaced by a full interchange with ramps.
But even that wouldn't solve what he called "one of the biggest priorities" of the study: dealing with the unsustainable growth of traffic at the junction of I-90 and Highway 195.
Doing so will mean not just getting traffic onto 195 more safely, but also finding ways to get it off the highway before it reaches the interstate, such as the new signage required for The Summit development.
"What we're looking at with some of these projects in some of our scenarios is additional local infrastructure and connectivity," Stewart said. "And ideally, it would be to facilitate more of the local trips."
Meanwhile, Bill Michaelsen, who noticed the Qualchan View Estates sign, his wife Carla and their neighbors are left wondering whether the road to more development will inevitably be cleared or whether it's a dead end.
"The same issues that stalled (The Summit) are still here," Bill noted.
Carla, for her part, said she thought developers would find their way around those kinds of roadblocks.
"I feel like without a real vigorous fight, they're going to go ahead," she said. "I hate to admit that. I hope they don't."
Work to watch for
The eastbound on-ramp from the Medical Lake/SR 902 interchange to I-90 will be closed until 5 a.m. on Thursday. Travelers needing access to eastbound I-90 at the Medical Lake/SR 902 interchange will be detoured to the Geiger Blvd./Grove Road interchange via Aero Road to Westbow Road, Thomas Mallen Road and Grove Road.
The eastbound I-90 Altamont exit will be closed Monday starting at 6 a.m. through Tuesday at 4 p.m.
The city of Spokane's Street Department is beginning work on a grind-and-overlay project on Third Avenue between Perry and Stone streets.
Crews will begin grinding on the east side of Nevada Street north of Francis Avenue on Tuesday as part of a project to repave the following arterials: Indian Trail Road from Francis to Kathleen Avenue; Nevada Street from Francis to Sharpsburg Avenue; and Nevada Street from Holland Avenue to Magnesium Road.
Crews are working on Regal Street between 46th and 55th Avenue. One lane of traffic will be open in each direction from Tuesday through Thursday.
Crews will be working on Monroe Street from Walton to Garland Avenue on Wednesday from 5:30 a.m. to 4 p.m. Southbound traffic will be closed with a detour in place and one lane of northbound traffic will remain open.
---
---