Sports
A Grip on Sports: Seahawks put their fans through a dizzying array of emotions as they end up pulling out a victory
Mon., Oct. 12, 2020 A GRIP ON SPORTS • Confident. Surprised. Alarmed. Frustrated. Angry. Happy. Expectant. Disappointed. Scared. Astonished. Doubtful. Amazed. Celebratory. Crazy. Exhausted.
•••••••
• The emotions any Seahawk fan experienced Sunday night were enough to cause heartburn and a hangover. Without a drop of alcohol passing the lips.
From the flat first-half to the hard-to-fathom final drive, Seattle had no business defeating the Vikings 27-26 in a rainy CenturyLink last night.
But they did.
How? Three parts luck, one part guile and about nine inches of stupidity. And that doesn't even include Mike Zimmer's decision to go for the knockout blow with two minutes left when a field goal would have assured no less than overtime.
That's the play everyone is talking about this morning. And they were discussing last night. It was the Vikings' chance to clinch the win. A fourth-and-one from the Seahawks' six. A field goal puts Minnesota up eight, 29-21. Even if Russell Wilson can march the Hawks down the field, he has to find a way to manufacture a touchdown (which he did) and a two-point conversion (which he didn't). Barring those two accomplishments, Minnesota wins. Heck, even if Wilson had pulled both off, the game would have gone to overtime.
But Zimmer's decision there would have been pre-ordained if he had made a better one some 15 minutes before.
Once again, an NFL coach chased points he didn't need. And once again it cost him a game.
With more than three minutes left in the third quarter, Kirk Cousins hit Adam Thielen for a three-yard touchdown. The pass pulled Minnesota, which had led 13-0 at halftime, within 21-19. And Zimmer made the mistake that cost the Vikings. He went for a tie when he didn't need to.
Kick the extra point and Minnesota trails 21-20. A field goal or a touchdown still gives it the lead. Heck, if Seattle answers with a touchdown, the Vikings are still within one score, down eight. But go for two, fail and the Hawks can put the game away with another touchdown and the PAT.
Zimmer choose poorly. Cousins' run came up short, Seattle led by two instead of one and the Vikings had left a door open.
Guess what? The decision mattered. Kick that extra point there and the fourth-down call becomes a no-brainer. The 23-yard field goal would have given Minnesota a 30-21 lead. The game would have been over.
It happens way too often in the NFL. Some coaches still don't realize you don't go for two until you have no other choice. Always – always – do whatever you can to stay within one score.
Ah, well. I personally know about 75 people who are happy with Zimmer's decision. None of them, however, have ever been on his sideline.
• In 1962, the Boston Celtics defeated the Los Angeles Lakers in the NBA Finals. At that moment, the two franchises each had five titles. But the Celtics were in the midst of a run that earned them 11 championships in 13 years. And seven of them came at the expense of the Lakers.
One Laker fan, Vince Grippi, balled his eyes out after each subsequent defeat. I hated the Celtics. At one point in my life, my whole goal was to grow up to be 6-foot-6 and average 37 points a game in a finals' sweep of Boston. Needless to say, fourth-grade dreams die hard. Still, by the time I left high school, Boston had 12 titles and the Lakers six.
But since then Los Angeles, with Magic, Kareem, the recently departed Kobe and Shaq, have done better. Only two of the Celtics' final five titles have come at the Lakers' expense. And L.A. has amassed trophy after trophy, including five in the 1980s and four more in the 2000s.
Someday, I figured out about 15 years ago, the Lakers could catch Boston and its 17 NBA titles.
That "someday" came Oct. 11, 2020.
It was longer than expected – the Lakers had won title No. 16 in 2010 – but it finally happened.
Los Angeles did what it always does, attract the game's best players to the city of eternal sunshine and let them do their thing. LeBron James and Anthony Davis were the duo this season, joining such pairs as Magic and Kareem, Kobe and Shaq, to overpower the rest of the league.
Mercenaries? Sure. So what? It's not where you start. It's how you finish. And, for the 17th time in history, the franchise that started in Minneapolis – hence, the Lakers – ended a season with a trophy.
• Joe Morgan died this morning. He was 77. He is also the sixth member of baseball's Hall of Fame to die in 2020.
We will memorialize Morgan tomorrow but this morning I just want to ask two questions: Did any person coming of age while Morgan was playing not imitate his chicken wing move; and does anyone not think 2020 sucks?
•••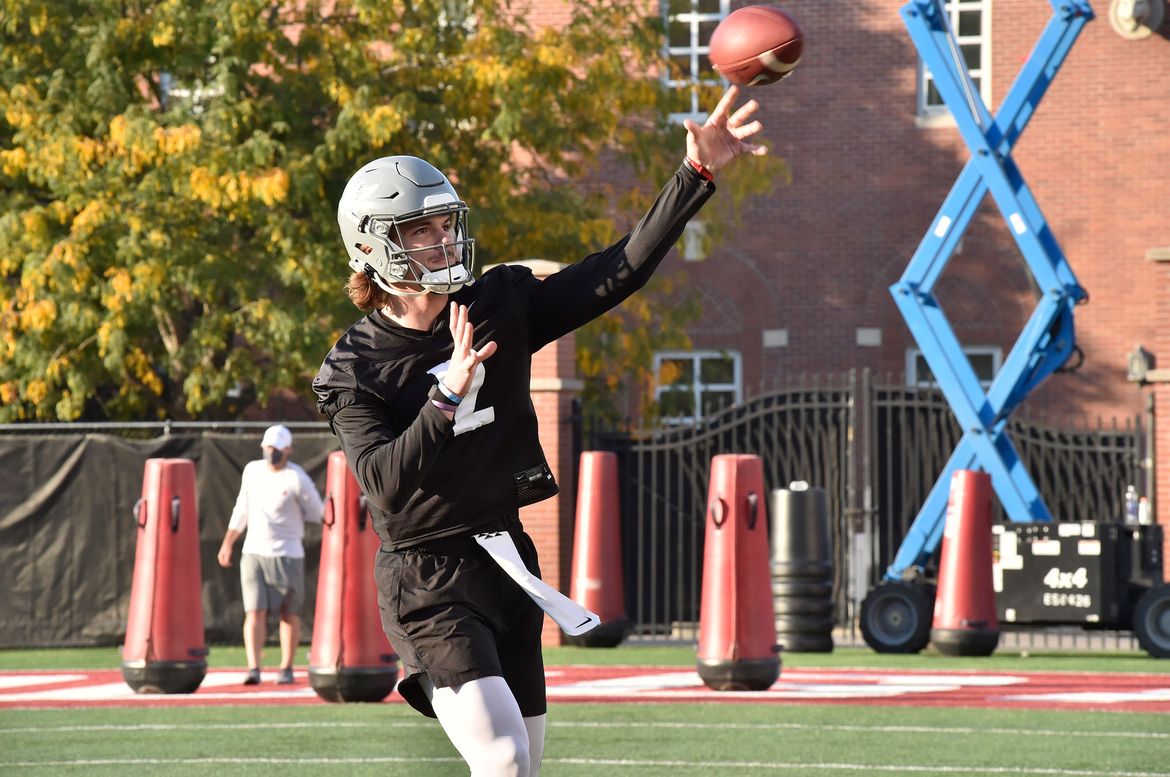 WSU: The most important position in college football? Quarterback, right? The Cougars will be choosing a starter from among a group that has thrown zero passes in college competition. Theo Lawson examines the options in this morning's practice report. … Theo also has his Monday morning staple, a look at how players with local ties did in NFL games yesterday. … Around the Pac-12 and college sports, the polls are out. Oregon stayed in the same spot in one, moved up in another. And USC joined them in both. … COVID numbers are rising in the Eugene area. … Colorado has a little coaching continuity. … Utah may pass more this season. … UCLA's linebackers are largely unknown. … In basketball news, practice is beginning at Colorado.
Drag racing: A Spokane driver has earned NHRA Hall of Fame honors. That's part of our weekly local briefs column.
Seahawks: The best column from the Hawks' win? I'm prejudiced, but I think it comes from our John Blanchette. He is all in with their caveats. … Art Thiel and Larry Stone have thoughts as well. … The Hawks never converted a third down. But they did make good on two crucial fourth downs, so there's that. … K.J. Wright caught one. … Will Dissly caught a touchdown pass almost exactly a year after his injury. . … DK Metcalf is Wilson's go-to guy this season. … There are always grades.
Sounders: Before the Seahawks posted a mostly lackluster performance, the Sounders did them one better. They were awful for the entire match, losing 3-1 at LAFC. … The Timbers won against San Jose.
•••       
• My youngest son turned to me last night and said "this is the best hamburger I've ever eaten." That's it. I'm done. I can die a happy man. Except Kim did much of the work was done, as the pouring rain near halftime meant we had to make our "Jucy Lucy" burgers with the cast-iron frying pan. Who knew it would make them crisp on the outside and, with American cheese in the middle, perfect on the inside? Oh, by the way, the meal not only was a Seahawk special, it also served as the family get-together for my birthday. Jack and his wife Nicol gave me the perfect gift. They are donating $50 in my name to my favorite charity, Second Harvest. Even more than his burger comment, this makes me delighted. A burger connoisseur with a social conscience? Kim and I did something right. I'm not sure what, but I couldn't be prouder this morning. Until later …
Local journalism is essential.
Give directly to The Spokesman-Review's Northwest Passages community forums series -- which helps to offset the costs of several reporter and editor positions at the newspaper -- by using the easy options below. Gifts processed in this system are not tax deductible, but are predominately used to help meet the local financial requirements needed to receive national matching-grant funds.
Subscribe to the sports newsletter
Get the day's top sports headlines and breaking news delivered to your inbox by subscribing here.
---