News > Spokane
100 years ago in Spokane: Gambling on election results? You bet
UPDATED: Wed., Oct. 14, 2020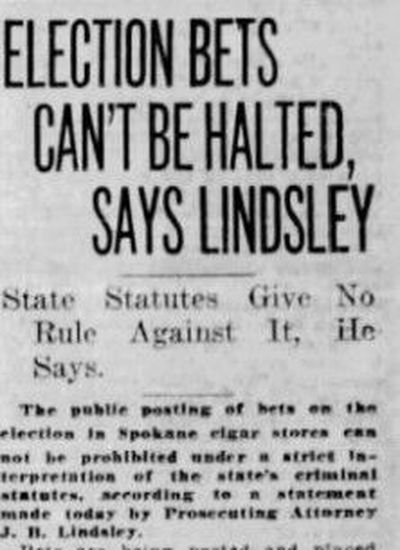 Gambling was illegal in cigar stores and just about everywhere else, but one form of betting was apparently not: wagers on the outcome of elections.
"Bets are being posted and placed openly in Smith's Cigar Store, 609 W. Sprague Ave., and Thwaite's Cigar Store, 620 W. Sprague Ave.," the city prosecutor said.
He said he was "personally opposed to gambling and never indulge myself," but that the way the criminal statutes were written, he could find none prohibiting betting on elections. He said that betting on baseball games was also not specifically prohibited.
Betting on elections had been a common practice for years. In previous elections, the newspapers had used the cigar store "books" as a way of gauging public sentiment.
As the 1920 election approached, Smith's Cigar Store had already accepted nearly $5,000 in bets on the Harding-Cox presidential race.
The city prosecutor said it would take a special act of the egislature to ban election betting and pools.
Other forms of gambling were also rife in cigar stores, which had become popular gathering places for men following the abolition of saloons. The city had recently announced a crackdown on all card games conducted for money in cigar stores.
From the Whitworth College beat: The "boys' governing board" at Whitworth College ruled that any boy caught smoking would be fined 20 cents, and every "cuss" word would cost a dime.
Making noise in the dorm during study hours would also cost the offender a dime.
Local journalism is essential.
Give directly to The Spokesman-Review's Northwest Passages community forums series -- which helps to offset the costs of several reporter and editor positions at the newspaper -- by using the easy options below. Gifts processed in this system are not tax deductible, but are predominately used to help meet the local financial requirements needed to receive national matching-grant funds.
Subscribe to the Coronavirus newsletter
Get the day's latest Coronavirus news delivered to your inbox by subscribing to our newsletter.
---