News
100 years ago in Spokane: Inside the origins of the Latah Creek Bridge's name
UPDATED: Thu., Oct. 15, 2020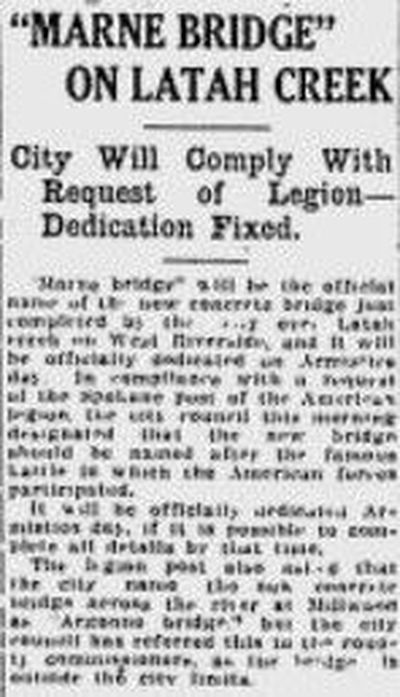 The new concrete bridge over Latah Creek on West Riverside Avenue was getting a new name: Marne Bridge.
This was in honor of the Second Battle of the Marne, in which American forces dealt a decisive blow against the German Army in 1918. The First Battle of the Marne, in 1914, was also a key battle, but it occurred before the U.S. had entered the war.
Spokane's American Legion posts had requested the name. The American Legion also requested that the bridge across the Spokane River at Millwood be named the Argonne Bridge, after another key battle, but the Spokane City Council referred this request to the county commissioners, since it was not in the city limits.
Today, a plaque still exists declaring the Latah Creek bridge to be the Marne Bridge.
And in Millwood, the entire road (not just the bridge) carries the name Argonne.
From the sports beat: The Spokane Chamber of Commerce recommended expanding Spokane's small stadium to accommodate football games, track meets and other big events. The chamber proposed a quarter-mile running track and new stands on three sides of the field.
The chamber believed that a big centrally located stadium would "be a tremendous factor in developing the city" and bring in concerts, pageants and other events besides sports.
Also on this date
(From the Associated Press)
1793: During the French Revolution, Marie Antoinette, the queen of France, was beheaded.
Local journalism is essential.
Give directly to The Spokesman-Review's Northwest Passages community forums series -- which helps to offset the costs of several reporter and editor positions at the newspaper -- by using the easy options below. Gifts processed in this system are not tax deductible, but are predominately used to help meet the local financial requirements needed to receive national matching-grant funds.
Subscribe to the Coronavirus newsletter
Get the day's latest Coronavirus news delivered to your inbox by subscribing to our newsletter.
---