News > Spokane
SVFD welcomes new chaplain; mental health of first responders becomes greater focus, chief says
Thu., Oct. 15, 2020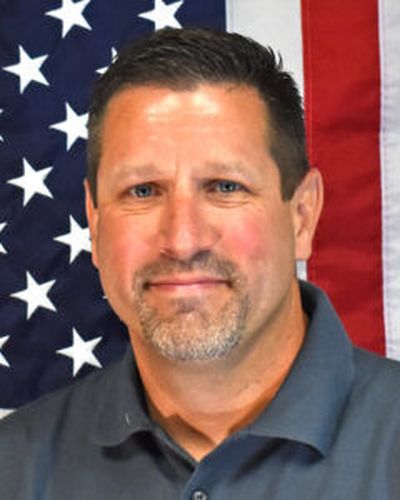 After a two-year gap, the Spokane Valley Fire Department has welcomed a new chaplain to the ranks, the Rev. Aaron McNally. McNally, an experienced chaplain, also has the distinction of being a volunteer firefighter.
McNally replaced Ken McNaughton, who founded the Inland Northwest Fire Chaplains while serving as Spokane Valley Fire's chaplain before he retired two years ago.
Fire Chief Bryan Collins said the long gap between chaplains was partly because the department took time to analyze the chaplain program based on data McNaughton gathered during his tenure.
"We actually put it through a review process – what worked, what didn't work," he said. "Once we got that done, we started looking around."
The department was looking for someone with specific skills, Collins said, which also slowed the process down. It needed someone that firefighters and the public would be able to connect to.
"You can't take just any chaplain and drop them into that situation," he said. "It's really about helping our people and the public."
McNally had what the department was looking for. He's been the pastor of Valleyford Community Church since he moved to the area in 2013. He's been a volunteer firefighter with Spokane County Fire District 8 for six years, and he's also the district's chaplain. He still fills both roles.
McNally said his connection to firefighting came before his ministry work.
"I started as a volunteer with a fire department back in Maine after I graduated high school," he said.
He wanted to be a firefighter for the same reason he wanted to be a pastor – the desire to help people in difficult situations. Then he took the next step of becoming a fire department chaplain.
"After a few years in the fire service, I realized there's a little bit of crossover between pastoral ministry and the chaplaincy," he said.
He's had training designed specifically for chaplains and also graduated from the National Police and Fire Chaplain Academy in 2017.
He's there for families who might need him after a fire or a death. But he's also there to help the firefighters who respond to those calls.
"Firefighters are called to serve in emergency situations," he said. "It's beneficial to them to have someone to serve them. A chaplain provides an ear to listen, to help reduce stress on first responders."
As a firefighter himself, McNally knows first-hand what firefighters experience. He said it's not always necessarily about one critical call. It's about all the calls added together over the years. "One thing professionals are observing in first responders is cumulative stress," he said.
McNally said he's able to add his work with the Spokane Valley Fire Department to his existing work with Spokane County Fire District 8 and Valleyford Community Church.
"I have a flexible schedule that allows me to do that," he said. "They both complement each other. The combination of chaplain training and experience have helped me become a better pastor as well."
He started his new position at the end of July. "It's going very well," he said. "I've been able to visit several of the stations and meet the firefighters and try to get to know them. I want to make sure they know I'm available to them."
Collins said he hopes McNally will be able to connect with the firefighters because of his experience as a firefighter himself. The department's employees won't use McNally if they're not comfortable with him, Collins said.
"I think we got lucky with Aaron," he said. "He's got experience in the area."
Not all fire departments have a chaplain, but Collins said he believes it's important. "I think it's becoming more important all the time," he said. "We're starting to see the effects of job-related traumas."
Experts have been noticing rising cases of mental health issues and suicides in first responders, Collins said.
"That's really something that's been building for the last two or three years, is that focus on mental health," he said. "I don't know that the fire service was really paying attention to that over the last couple of decades. It's going to be a real big focus going forward."
Local journalism is essential.
Give directly to The Spokesman-Review's Northwest Passages community forums series -- which helps to offset the costs of several reporter and editor positions at the newspaper -- by using the easy options below. Gifts processed in this system are not tax deductible, but are predominately used to help meet the local financial requirements needed to receive national matching-grant funds.
Subscribe to the Coronavirus newsletter
Get the day's latest Coronavirus news delivered to your inbox by subscribing to our newsletter.
---