News
100 years ago in Spokane: A town that loved wrestling and helping a patient in need
UPDATED: Fri., Oct. 16, 2020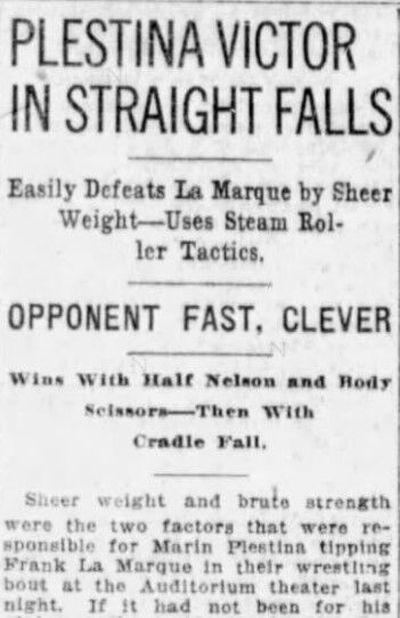 Star wrestler Marin Plestina, The Tarzan of the Mat, continued to dominate local opponents in a series of bouts at the swanky Auditorium Theater.
Plestina easily defeated his latest challenger, Frank La Marque, a Canadian light heavyweight.
"La Marque gave a clever exhibition as long as he was able to avoid the crushing weight of Plestina," a Spokesman-Review correspondent said. "Time and again, by agility and cleverness, he rolled the Italian on the floor and into one hold or another, only to lose his advantage when the Tarzan of the Mat roused himself."
Plestina weighed in at 230 pounds. La Marque had a huge disadvantage at 190.
"The result left no doubt in the minds of wrestling fans that Plestina will have trouble finding his equal in this part of the country," the correspondent said.
From the medical beat: A woman suffering from extreme anemia needed extensive transfusions of blood. When the call went out for donors, the response was impressive.
More than a dozen people, mostly ex-service men and women, volunteered. So did many of the soldiers at Fort George Wright.
Doctors were sifting through the numerous applications to choose the best matches.
On this day
(From Associated Press)
1931: Mobster Al Capone was convicted in Chicago of income tax evasion. (Sentenced to 11 years in prison, Capone was released in 1939.)
1933: Albert Einstein arrived in the United States as a refugee from Nazi Germany.
Local journalism is essential.
Give directly to The Spokesman-Review's Northwest Passages community forums series -- which helps to offset the costs of several reporter and editor positions at the newspaper -- by using the easy options below. Gifts processed in this system are not tax deductible, but are predominately used to help meet the local financial requirements needed to receive national matching-grant funds.
Subscribe to the Coronavirus newsletter
Get the day's latest Coronavirus news delivered to your inbox by subscribing to our newsletter.
---