Sports > Area sports
Locally: Omak's Jovan Mercado wins Junior Bowlers Tour stop at Lilac Lanes
Sun., Oct. 18, 2020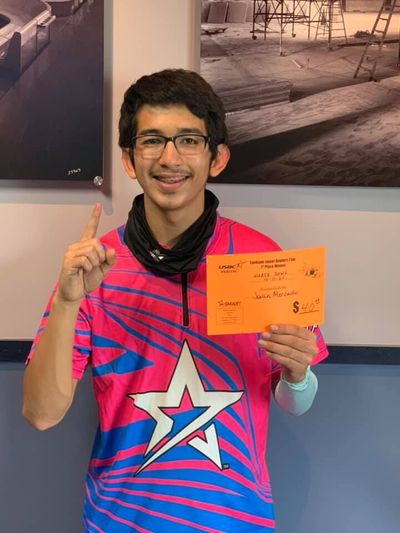 Jovan Mercado, an Omak High School sophomore who represented Washington state at the 2019 national Pepsi Championship, carried a hot start to the final ball to win the Junior Bowlers Tour stop at Lilac Lanes on Oct. 11.
Mercado followed a 991 four-game series in the first qualifying block with an 1,115 in the five-game second set to put himself in first place going into the four-player roll-off finals at Lilac, where he faced No. 2 qualifier Kyle Groves for the title.
In a match that went to the last ball in the 10th frame, Mercado pulled out a 214-210 victory in his first appearance in a Spokane JBT tournament.
As a high school freshman last year, Mercado finished in the top third – 219th – in a field of 712 in the national Pepsi tournament in Michigan.
Groves had qualified at Lilac with a 901 four-game series and 999 for five while Cameron Haight's 852-1,043 put him in third place and Dante Sellegren grabbed the fourth spot with 852-952.
Haight, in his first time in the JBT roll-offs, was the first one eliminated in the new format prompted by COVID-19 restrictions and finished fourth. He shared high game of the day with Groves with 279s. Sellgren was the second to be eliminated in the roll-offs and finished third.
Mercado had the day's best average, a 229, and Maliya Asadi led the girls with a 232 game and 180 average.
The next JBT will be Nov. 1 at Players & Spectators, starting at noon.
Basketball
Alexandria Young, a graduate assistant coach at Fresno State the last two years, has been hired as the new director of basketball operations for the Gonzaga University women's team, head coach Lisa Fortier announced.
The 2018 graduate of the University of San Diego, where she spent five years as a member of the Toreros' women's team, replaces Shannon Donegan, who held the position since 2017.
Young will oversee day-to-day operations within the GU women's basketball office, coordinate travel, community service opportunities and summer camps. At Fresno State, she served as assistant to the recruiting coordinator, was responsible for organizing team travel, outreach programs, equipment and video exchanges.
College scene
Christine Denny, a Carroll College senior from Liberty of Spangle who was a second-team NAIA All-American as a junior, was named to the Frontier Conference preseason all-conference women's basketball team.
The 5-foot-9 guard, a first-team All-Frontier choice as a junior, led the Fighting Saints in rebounding (6.4 rpg) and was No. 2 in scoring (12.4 ppg) while shooting 43% from the field and 77% from the free throw line. She was an NAIA All-America honorable mention as a sophomore.
The defending champion Saints go into the 2020-21 season ranked No. 20 nationally in the NAIA's new, merged single-division poll and are the Frontier coaches' choice to retain their title.
• Six of the players selected to the Whitworth baseball All-Decade Team for 2010-11 to 2019-20, when the Pirates made the school's first appearances in the NCAA Division III World Series, have local ties.
Whitworth finished sixth at the 2012 World Series after tying for the Northwest
Conference championship and followed up with appearances in 2015 and '16, the former after winning the first NWC tournament and the latter following a third NWC title in the decade.
All 12 on the All-Decade Team earned All-NWC accolades, five were All-West Region, two were All-Americans and one was an NCAA Division III Gold Glove winner. Dan Ramsay was NWC Coach of the Year in 2012 and 2016 and CJ Perry won it in 2019.
Outfielder Tyler Pfeffer (2011-14, Shadle Park) was a D3baseball.com first-team All-American and its West Region Player of the Year after leading the Pirates to their first D-III World Series. He led the NWC in eight offensive categories and was in the top six of four categories nationally.
Matthew Nelson (2014-17, Mead) played in two World Series and was two-time All-NWC first team, both as a first baseman and a designated hitter.
Outfielder Jeremy Druffel (2013-16, Pullman) was an honorable mention All-American in 2016 and a two-time All-West Region selection who had a .342 career batting average.
Jordan McGowan (2016-17, Mead/Spokane Falls CC) was selected as the designated hitter on the All-Decade Team and was first-team All-NWC in 2016 after batting .346 with a .408 on-base percentage.
Taylor Poffenroth (2018-19), who lists Spokane as home, played his high school and community college ball on the West Side, was selected in the outfield. Carson Blumenthal (2012-15, Mt. Spokane) was relief pitcher honorable mention.
The other All-Decade selections:
Pitcher – Dan Scheibe (2012-15), Hugh Smith (2016-18). Catcher – Jason Davis (2012-15). Second base – Garrett Hughes (2013-16). Shortstop – Joel Condreay (2015-18). Third base – Landon Scott (2009-12). Relief pitcher – Brett Thomas (2018-present).
• A couple of third-year athletes are the Washington State Academic Services Student-Athletes of the Month for October.
Will Overstreet, a redshirt sophomore defensive back on the football team, is pursuing a degree in human development. He is an active member of the Black Student Athlete Association and spends time helping other student-athletes as a Peer Academic Counselor.
Kelis Barton, a junior soccer defender pursuing a degree in communications, is a founding member and president of the Black Student Athlete Association and has been a Student-Athlete Advisory Committee executive board member. She earned the university's Leadership Award and the Virginia E Thomas Scholarship as a sophomore.
Tennis
Sophie Whittle, a 2019 Gonzaga University graduate, won three matches before getting knocked out of the 2020 Oracle Intercollegiate Tennis Association Masters Tournament in the semifinals of the 82-player women's field earlier this month.
Whittle lost to the eventual champion, Eryn Cayetano, a USC sophomore, in three sets.
Water sports
Alexandra Benson of Coeur d'Alene, the runner-up the previous two years, won the Amateur Women Ski Lites class at the 39th International Jet Sports Boating Association's 2020 World Finals at Crazy Horse Campgrounds in Lake Havasu City, Arizona, last weekend.
A 2018 graduate of Coeur d'Alene Charter Academy, Benson scored the maximum 180 points in three races on a jet ski she borrowed after the starter on her craft broke before the first race.
The Coeur d'Alene Press reported Benson, who also finished fourth in 2017, was able to use the jet ski of a friend from New Zealand, who leaves it in Arizona for the World Finals but was unable to attend this year because of coronavirus restrictions.
Local journalism is essential.
Give directly to The Spokesman-Review's Northwest Passages community forums series -- which helps to offset the costs of several reporter and editor positions at the newspaper -- by using the easy options below. Gifts processed in this system are not tax deductible, but are predominately used to help meet the local financial requirements needed to receive national matching-grant funds.
Subscribe to the sports newsletter
Get the day's top sports headlines and breaking news delivered to your inbox by subscribing here.
---