Washington, local winemakers hopeful grape crops remain undamaged by wildfire smoke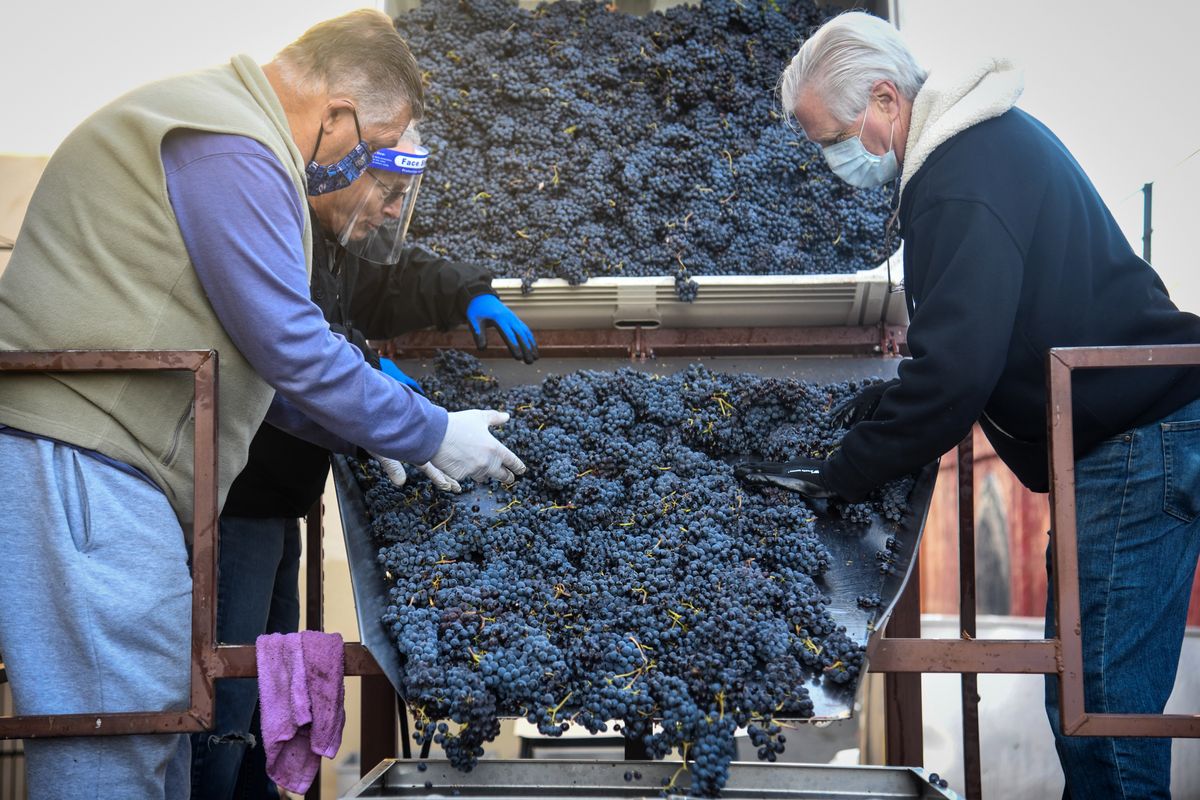 After wildfires ravaged the West Coast earlier this year, the resulting smoke taint on grapes prompted some winemakers in California to abandon plans to make a 2020 vintage.
Now with harvest underway in Washington – the nation's second-largest wine producer – it's a wait-and-see situation for vintners who are sending grape samples to labs for analysis and hoping potential smoke exposure will have minimal impact on this year's vintage.
"So far, it's really too soon to tell from what I've been hearing," said Steve Warner, president of the Washington Wine Commission, referring to evaluations of the impact of smoke exposure on this year's crop while many winemakers still await test results.
When grapevines are exposed to wildfire smoke, compounds can seep into the grapes and impact wine quality, resulting in an ashy flavor.
Many factors influence the effect of prolonged smoke exposure in the state's vineyards, including proximity of wildfires, freshness of smoke, type of fuel and grape variety, said Tom Collins, associate professor of Viticulture & Enology at Washington State University.
Collins, who leads WSU's smoke exposure research program, set up particle counters in the Yakima and Columbia valleys to understand variations of smoke density and how timing of wildfires impact the grapes and wine quality.
"We are still trying to evaluate what the impact might be," he said, adding one variant that matters is if the smoke is fresh from a nearby fire or if it's from a far distance – meaning it can generally be less impactful.
WSU's smoke exposure research program just finished fermenting wines from vineyards in the state and will have a better idea of potential smoke exposure impact within one to three weeks, Collins said.
Smoke exposure is a huge concern for winemakers and grape growers in Washington, said Vicky Scharlau, executive director of the Washington Winegrowers Association.
Some West Coast grape growers have seen a total loss of crops this year because of wildfire smoke, which has been a double whammy for Washington growers who also lost some grapes last year because of a series of early freezes, she said.
Scharlau said there needs to be an established standard for dealing with smoke exposure and a guideline determining when grapes are rejected because of smoke taint.
In 2019, wine industry leaders and the California Association of Winegrape Growers, Oregon Wine Board and Washington Winegrowers formed the West Coast Exposure Task Force, which focuses on issues and solutions surrounding smoke exposure through three subcommittees: contracts, crop insurance and research.
The Washington Winegrowers Association and other industry groups in Oregon and California sent a letter to Congress in September asking for disaster assistance relief for growers and winemakers, stating that wildfires could result in "the greatest economic loss due to a natural disaster ever suffered by the industry in our states."
Washington's wine industry generates $2.4 billion annually, and more than 4,800 people are employed at wineries and tasting rooms, according to the Washington Wine Commission.
Despite this year's wildfires in the state, the grape crop has "been one of the best we've looked at in a long time," Scharlau said, adding she's optimistic the 2020 vintage will be outstanding.
Spokane Valley-based Latah Creek Wine Cellars is nearing completion of its grape harvest and has avoided impact from wildfire smoke this year, said Natalie Conway-Barnes, winemaker at Latah Creek Wine Cellars.
"None of our grapes were hit with smoke taint," Conway-Barnes said. "We were pretty fortunate."
Barrister Winery is optimistic its grapes will also avoid the harsh effect of wildfire smoke this year.
The Spokane winery has sent grape samples to a third-party lab to test for smoke exposure and is awaiting results, said Greg Lipsker, winemaker and owner of Barrister Winery.
Barrister also is finishing the fermentation process and there has been no indication in aromas of a smoke taint issue, Lipsker said.
"We never had to deal with smoke taint," he said. "We are hoping and saying a little prayer that our good fortune will continue."
---