This column reflects the opinion of the writer. To learn about the differences between a news story and an opinion column, click here.
Opinion > Column
100 years ago in Spokane: Suffragists in the city celebrate 'the greatest day of history'
UPDATED: Wed., Oct. 21, 2020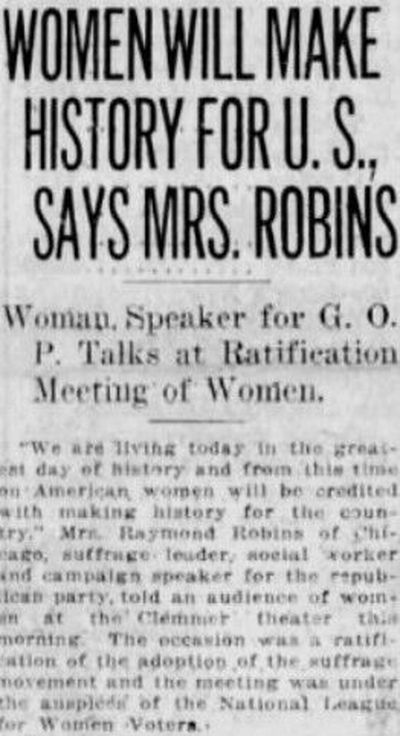 Spokane women crowded the Clemmer Theater to celebrate the ratification of nationwide women's suffrage.
"We are living today in the greatest day of history and from this time on, American women will be credited with making history for the country," declared Mrs. Raymond Robins, a Chicago suffrage leader and campaign speaker for the Republican Party. "At last the time has come when the citizens of the United States have realized that all persons are created free and equal. … We have been given the greatest tool possible for aiding in running the nation's business – the ballot – and every woman should make proper use of this tool at the proper time."
From the narcotics beat: G. Elmer Brown, secretary of the Spokane County Druggists' Association, objected strenuously to the accusation made by the Fort George Wright medical officer that Spokane's drug stores were selling "dope."
"As far as the hotels and dance halls are concerned, his statement is undoubtedly true, but … there was never any of that kind of business carried on in any of our drug stores, nor has there been an investigation nor an arrest," he said in an open letter published by the Spokane Daily Chronicle.
He said the druggists of Spokane were doing their part to stop this "abominable traffic."
---
---