News > Spokane
Federal, local law enforcement warn of surge in illicit opioid trade in Spokane
Oct. 21, 2020 Updated Wed., Oct. 21, 2020 at 9:41 p.m.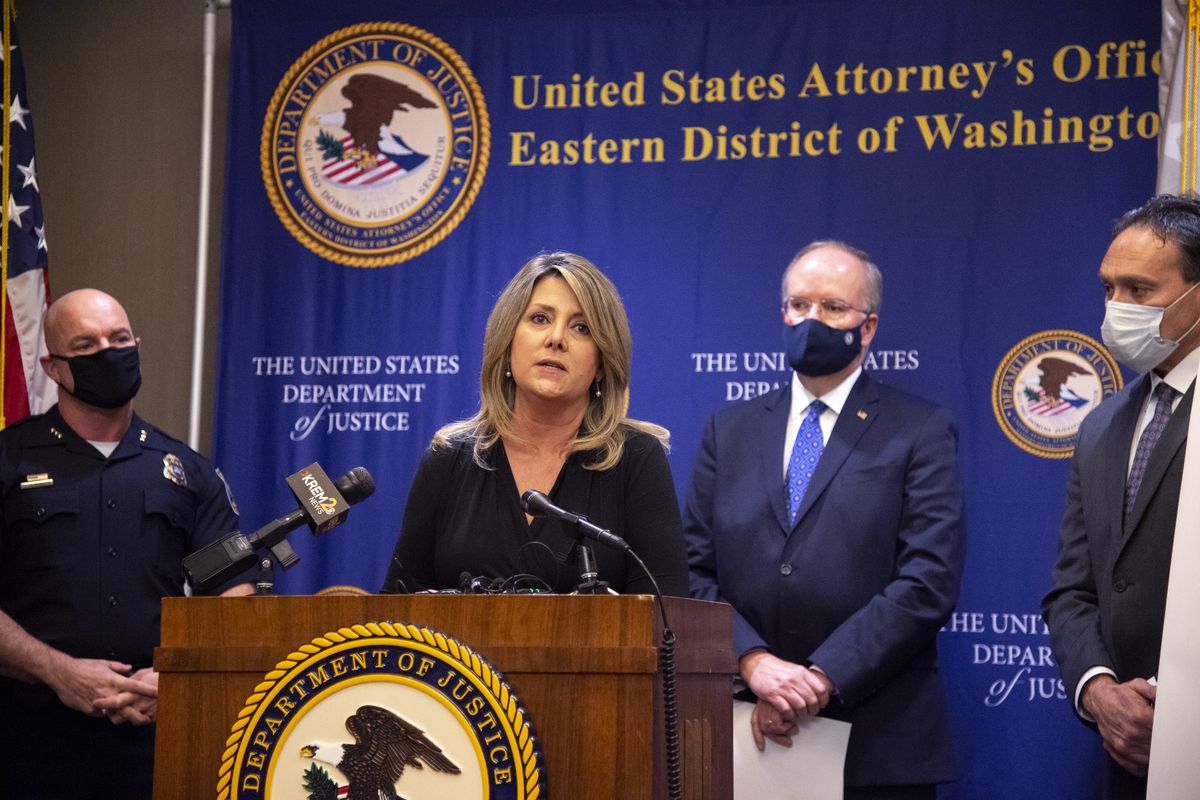 Mayor Nadine Woodward speaks at a press conference, Wednesday, Oct. 21, 2020, at the federal courthouse in Spokane about a new campaign aimed at educating the public about illicit Fentanyl, which can be deadly in doses as small as two milligrams. She appeared with Spokane Police Chief Craig Meidl, left, U.S. Attorney Bill Hyslop and DEA Special Agent Keith Weis, right. (Jesse Tinsley/The Spokesman-Review)
Illicit synthetic opioids that may have killed teenagers in Eastern Washington and reportedly sickened Spokane law enforcement officers in recent weeks have local, state and federal officials warning the community a "scourge" has arrived.
"Our communities, our residents, our parents, the youth of our community are all faced with the growing and increasing influx of deadly fentanyl into Eastern Washington," William Hyslop, U.S. attorney for Eastern Washington, said at a news conference Wednesday in Spokane. "And very small amounts can kill you."
Seizures of fentanyl, a synthetic pain reliever that is 50 to 100 times more powerful than morphine, have increased nearly 200% this year compared to the same period last year, according to statistics from the U.S. Drug Enforcement Agency. The drug is often smuggled over the border from Mexico, where it is produced at a much cheaper cost than heroin and cut into pill form without any regard for quality control or dosage, said Keith Weis, DEA special agent in charge for the Seattle Field Division of the agency.
"They have rudimentary, crude laboratories down there, where they're producing these pills," Weis said. They reach distribution networks in areas that include the Tri-Cities, based on seizures the agency has made over the past two years, and wind up on the streets in both urban and rural areas.
A 2-milligram dose of fentanyl, a powerful depressant that in clinical settings is prescribed to cancer patients and others for the relief of pain, is considered fatal. In 2019, the Centers for Disease Control and Prevention reported roughly half of the nation's 71,000 drug overdose deaths were due to synthetic opioids, including fentanyl. Its rise in popularity as a street drug coincides with efforts to regulate prescription painkillers to prevent overuse and its ability to be manufactured by drug cartels more quickly and cheaper than heroin.
The U.S. Attorney's Office in Eastern Washington, the DEA, local law enforcement and school districts are combining forces this fall to produce a concentrated social and traditional media campaign to inform families of the danger posed by illicit fentanyl, Hyslop announced Wednesday. It's a danger seen in at least two deaths of teenagers in the Yakima Valley that have been tied to potential fentanyl exposure, and in several members of the Spokane Police Department receiving doses of the nasal spray drug NARCAN used to offset the symptoms of overexposure.
"Here in Spokane, we're seeing a lot of these fentanyl pills being stamped as OxyContin pills," Spokane Police Chief Craig Meidl said. "Now, we're seeing these pills being stamped into the shape of baby aspirin as well."
Private citizens have also been receiving the nasal spray in an effort to stop overdose deaths. The Spokane Fire Department has administered more than 1,100 doses of NARCAN from 2015 through September, Spokane Mayor Nadine Woodward said Wednesday.
"It's incredibly important to increase our community awareness about this situation," Woodward said.
Heavy users are taking fentanyl-laced pills in combination with stimulants, including methamphetamine, Weis said. That creates a new generation of a "speedball," the kind of powerful combination of stimulant and depressant that increases the risk of overdose.
"What we see is methamphetamine masking the signs of an individual starting to shut down, that stress," Weis said.
Local and federal law enforcement will hold a drug take back event Saturday, where those with leftover prescriptions can drop them off for destruction "with no questions asked," Hyslop said. The drop-off site in Spokane will be available from 10 a.m. to 2 p.m. at the Boy Scouts of America, Inland Northwest Council building, 411 W. Boy Scout Way.
The U.S. Attorney's Office urges those who want to learn more about fentanyl and its dangerous effects to visit getsmartaboutdrugs.gov.
Hyslop said his office will continue to prosecute all fentanyl cases that can be proven in court. Weis noted several seizures of thousands of pills in the district just in the past year. Fentanyl is a Schedule II substance under federal drug laws, in the same criminal category as methamphetamine, cocaine and OxyContin.
"A law enforcement official that I was discussing this program with recently told me we are not going to arrest our way out of this," Hyslop said.
"This is greater. This is a community issue," he continued. "This requires everybody to be involved."
Local journalism is essential.
Give directly to The Spokesman-Review's Northwest Passages community forums series -- which helps to offset the costs of several reporter and editor positions at the newspaper -- by using the easy options below. Gifts processed in this system are not tax deductible, but are predominately used to help meet the local financial requirements needed to receive national matching-grant funds.
Subscribe now to get breaking news alerts in your email inbox
Get breaking news delivered to your inbox as it happens.
---