This column reflects the opinion of the writer. To learn about the differences between a news story and an opinion column, click here.
Opinion > Column
100 years ago in Spokane: Chivalrous bank robber linked to another holdup
UPDATED: Thu., Oct. 22, 2020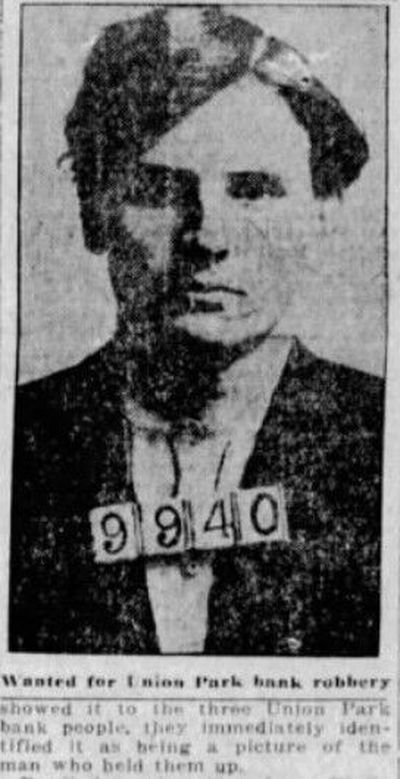 The Spokane Daily Chronicle splashed the name and photo of the notorious Union Park Bank robber across its front page: George C. Boyd, alias D. Percefull, an escaped convict, still at large.
At least, Boyd was the suspect identified by Spokane police officer Wesley H. Turner, a Bertillon expert. Bertillon was a system for identifying criminals through physical characteristics and other traits.
In this case, however, the most important clue was a particular line the robber uttered to the cashiers during the Union Park Bank holdup: "Do not be frightened, I am not going to hurt any woman."
Turner discovered that the man who robbed a bank in Starbuck, Washington, earlier in the summer had uttered a similar line. Shortly after the Starbuck robbery, local witnesses said they had seen Boyd in Starbuck around that time, and Boyd's photo was published in the local papers, although he escaped capture.
Turner found a prison photo of Boyd and showed it to the Union Park Bank cashiers and, sure enough, all three of them immediately identified him as the bank robber. The two robberies shared numerous similarities. In both cases, the employees were ordered into a vault at pistol point.
Boyd had escaped from the Colorado State Prison in 1918 and had been on the lam since. He was originally from Walla Walla.
Spokane detectives were making a "careful search" of Spokane, but had so far found no trace. They suspected he had left the city, but they were "hoping for the capture of Boyd at any time."
---
---