A&E > Books
Home grown: Spokane inspires award-winning novelist Jess Walter's latest book
UPDATED: Thu., Oct. 22, 2020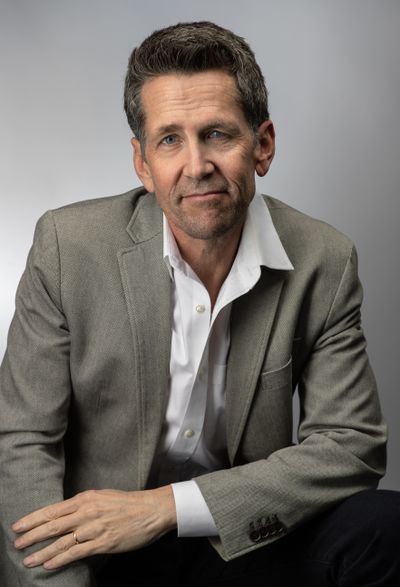 Charles Dickens was moved by London, and James Joyce's muse was Dublin. For Jess Walter, his native Spokane inspired his latest novel, "The Cold Millions."
New York, Hollywood and Italy were the scenes of some of Walter's prior novels, but the winner of the Edgar Allan Poe Award in 2005 for "Citizen Vince" taps into his hometown for "The Cold Millions." The novel commences in 1909 in Peace Valley Park.
"What I've done often is sit out at breakfast at the Central Food Market and stare at the baseball park in Glover Field where the novel begins," Walter said. "You can go to some of the locations in the book, such as the railroad abutments, the houses of magnates and the Monroe Street Bridge, which was built around 1909 (the bridge was erected in 1911). All of those touchstones are still here."
Walter, 55, has crafted a book that is a fictional version of his home a la John Steinbeck with "Cannery Row" and William Kennedy's "Ironweed."
"The Cold Millions," which focuses on the great divide between classes and the right to free speech, is an example of history repeating itself.
"I wanted to write about income inequality without being didactic," Walter said. "I wanted to look back at the last gilded age of the Northwest."
The Spokane River and its falls not only inspired the National Book Award finalist in 2006 for "The Zero," the tributary relaxes Walter, as well.
"I've always lived near the river, and I always find myself magnetically drawn toward the falls," he said. "I enjoy living here. I love playing basketball on any open court around West Central, and I love to hike to the Vista House on Mount Spokane. The views are incredible. You can see the Cascade Mountains and the Rocky Mountains, and you can see the mountains of Idaho and Montana from there.
"It's great to be in Spokane, which I've always thought is this unsung city with all of this great natural beauty."
The Spokane Valley native realized that he didn't have to move to New York to become a writer.
"I initially didn't think Spokane was a place I could write about, but when you're young, I think you always want to get out of where you are. I'm sure if I grew up in Paris, I would have said, 'I have to get out of this (place).' "
If Walter had grown up in France, he would have missed out on classes taught by the humorist Patrick McManus, who was a columnist for Outdoor Life and Field and Stream. McManus was one of Walter's most pivotal instructors at Eastern Washington University.
The late Spokane resident influenced Walter, and the same can be said for iconic authors such as Jack Kerouac and Thomas Wolfe.
Walter heeded the advice of his instructors to never stop honing his craft. The former Spokesman-Review staffer believes young writers should exude maximum effort if they want to follow in his footsteps.
"Work hard and write in the genre you love and read manically," Walter said.
And there's no need to leave Spokane to realize your dream.
"Spokane is just a great headquarters for a writer," Walter said. "I love this place. I find it to be a really rich environment.
"Whenever people asked why I live here, I used to laugh and say that I wonder if anyone asked why John Updike stayed in New York. It's important to find a place you're comfortable to live in – Spokane is a great place for me."
Local journalism is essential.
Give directly to The Spokesman-Review's Northwest Passages community forums series -- which helps to offset the costs of several reporter and editor positions at the newspaper -- by using the easy options below. Gifts processed in this system are not tax deductible, but are predominately used to help meet the local financial requirements needed to receive national matching-grant funds.
Subscribe to the Spokane7 email newsletter
Get the day's top entertainment headlines delivered to your inbox every morning.
---