Miss Spokane adds YWCA Young Woman of Achievement Award to accolades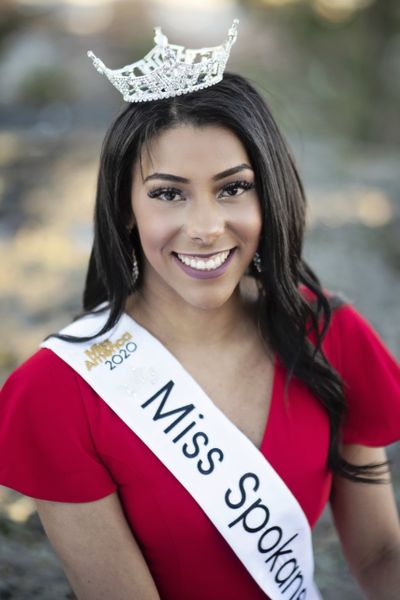 Gabby Dansereau has spent the past several years advocating for domestic violence awareness by running the nonprofit Stop the Silence with her aunt. Her work has earned her the 2020 YWCA Young Woman of Achievement Award.
Dansereau grew up in Reno, Nevada, but her father was from the Spokane area and the family often visited. After she graduated from high school, Dansereau decided to move to Spokane for college.
"I'd spent many summers in Spokane, and it was my home away from home," she said.
A year after she arrived, her cousin, Jesseka Musson, was murdered by her fiancé in Bonners Ferry, which came as a shock to the family.
"We had no idea Jesseka was in a relationship that was abusive and controlling," she said.
Dansereau and her aunt are close, and Dansereau said she felt her aunt's need to do something after Musson's death.
"I could feel that pain," she said. "I could feel the need to help. We wanted to be a voice for her and a voice for the voiceless."
Their advocacy really began when they heard that Musson's killer was set to receive only five years in prison in a plea deal.
"That just tore my family apart," she said.
They launched a letter-writing campaign to the judge in the case, Barbara Buchanan, and others. In the end, the man was sentenced to 10 years in prison with another 10 years indeterminate.
"She actually changed her mind," Dansereau said of the judge. "We sent I don't even know how many letters."
Stop the Silence is dedicated to educating people about domestic violence, including the signs to look for and how to help a domestic violence victim.
"A lot of people don't believe they will experience domestic violence in their life," she said. "I think that's an important narrative to change. Abuse comes in many shapes and forms, and it does not discriminate."
Stop the Silence also holds several fundraisers every year and donates the proceeds to the YWCA domestic violence program, NAOMI and Safe Passage of Idaho. Dansereau said the group wants to financially support organizations that are working directly with domestic violence survivors.
"It's just taken off and we've been able to partner with some great organizations," she said.
Dansereau started competing in pageants several years ago and entered the Miss Spokane competition three times before she won the title this year. The Miss Spokane competition is the first step toward the Miss America competition.
Each Miss Spokane advocates for an issue during her yearlong reign. Dansereau is, of course, focused on domestic violence. She said she appreciates that her position as Miss Spokane has allowed her to extend the reach of her advocacy.
"I'm just so thankful for the Miss America organization and Miss Spokane," she said.
Dansereau attended last year's Women of Achievement luncheon and remembers thinking that she hoped she'd be able to be as accomplished as the winners one day.
"I was just amazed by all those women," she said.
She said she was surprised to be selected for the award, particularly at the age of 22.
"I was, honestly, very excited," she said. "I was really honored."
---