A&E > Music
Spokane stoner-doom metal trio Merlock offers heavy music for heavy times
Oct. 22, 2020 Updated Sun., Oct. 25, 2020 at 8:28 a.m.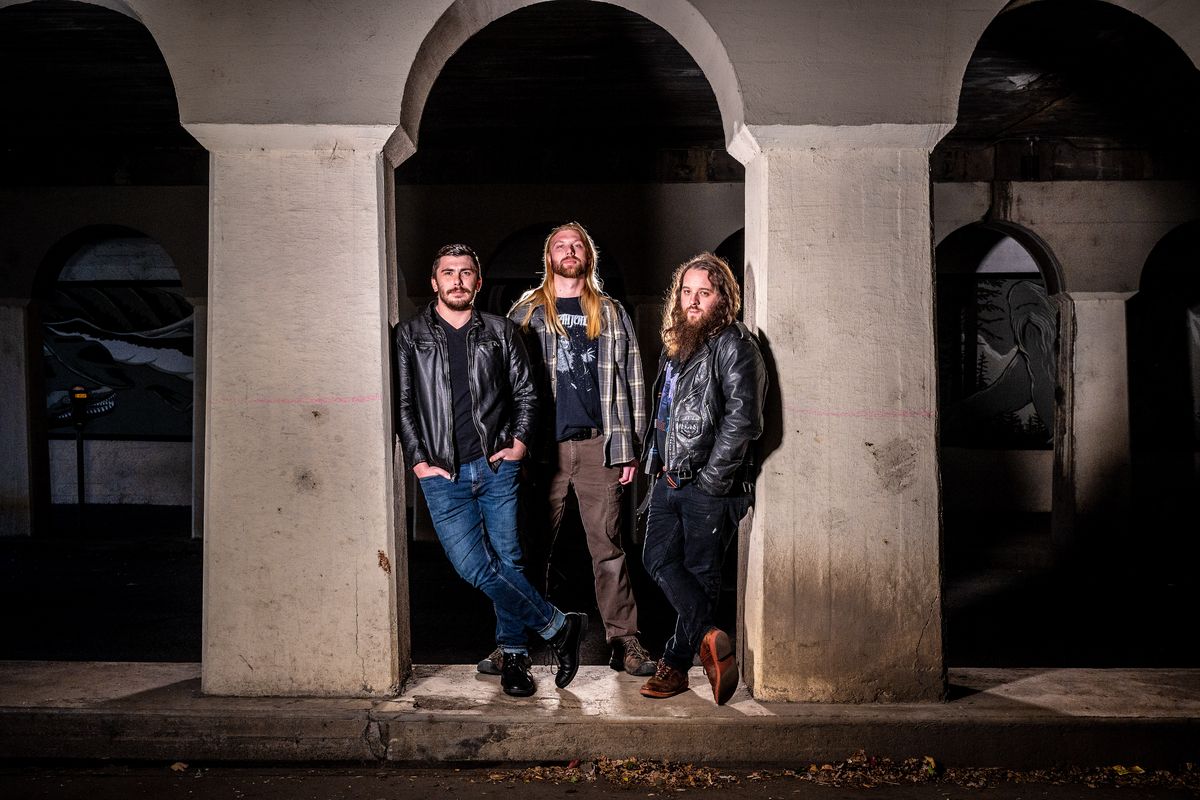 Stoner-doom metal band Merlock is made up of drummer Luke Barrey, bassist Andrew Backes and guitarist/vocalist Taylor D. Waring. (Colin Mulvany/The Spokesman-Review)
For a band made up of three outsiders hailing from different parts of the U.S., it's uncanny how much Merlock sounds like Spokane. In narrative, atmosphere and tone, there is a consistency to the stoner-doom metal trio's catalog that feels as indebted to the sonic sludge pioneered by fellow Washington state rockers the Melvins as much as their own devotion to be different.
"I think we all started as four people trying to make noise in a basement," said drummer Luke Barrey of what was then a quartet. "Then, artistically, we all kind of found our groove and what we liked. We found a way to meld together and make some sort of crazy metal that we stand by today."
Barrey, a Missoula transplant and one-half of Merlock's rhythm section alongside bassist Andrew Backes and with guitarist/vocalist Taylor D. Waring, considers past studio efforts like their 2019 debut EP and the newest "That Which Speaks …" album as testaments to that sound.
"We've never been complacent as people or artists," he said. "And I don't think there's any sign of slowing down from here."
"That Which Speaks …", released in July, pairs guitar work that teeters between tender and terrorizing with grinding rhythms and guttural vocals that make an album full of doomy examinations of identity and self-doubt that only 2020 could bear.
"That record is very much about personal struggle and really wrestling with who I am as a person, and I think that's in the music," said guitarist/vocalist Waring, who moved from Oshkosh, Wisconsin, to get his master's in fine arts from Eastern Washington University.
"We were all in that late 20s part of your life where you're really coming to terms with who you are, and you have a choice, as you do every day, to (ask), 'Am I just going to lay down and be this person?' "
Those cathartic suspicions, packaged in four songs that all stretch past the 7-minute mark, could just as easily be the soundtrack to the anxiety and distress brought on by the COVID-19 pandemic as an indictment of a broken music industry that's jeopardizing the same local venues where bands like Merlock are at their best.
"It's definitely got a dark tinge to it," bassist Backes, who hails from Pullman, said of the record. "It may have been a subconscious thing, but I think it was kind of where we ended up at. We didn't really talk about that kind of stuff, but that's just kind of where it was, and that's just where we were."
And just like living in the time of COVID-19, there's never a single moment that feels boring or out of place on the album, but instead it's an unrelenting hodgepodge of despair that leaves all the fallout at our feet. For a stoner-doom metal band, there's probably not a timelier artistic statement than that.
"I feel like where we're at now, we've really found what Merlock is supposed to sound like," Waring said. "That evolution has been very much an evolution of four, then three, people coming together to make a unified sound. If you listen to those early recordings, even that first record, there's not the unity that is there going forward."
More than that, "That Which Speaks …" probably meant just as much to the band personally as artistically.
"I do think there was a lot of heart and soul put into it, and I do think we kind of found ourselves along the way," Barrey said. (Merlock shed their rhythm guitarist/backing vocalist Riley Moore after the release of "That Which Speaks …".)
In all, the bleak lyrical honesty and grimy soundscapes that blend Rob Halford-styled howls, dense and oozing guitar work and elastic, buzzing bass lines offer their best portrait of intrapersonal struggles and might even speak for the uncertainty of a hopeful city-on-the-rise that's wearing its COVID-19 wounds openly.
Still, from that uncertainty has emerged a resilience in a creative community that Merlock has a firm part in now. "Everyone is more supportive of everyone than ever before because we all have lost a lot. We've gotten a lot of love, we've shared a lot of love, but at the same time things are tough all over," Barrey said.
Now, the group is looking forward to serving up its sonic aggression on a Halloween livestream from Black Magic Studios in Columbia Falls, Montana, with a mix of material from their original self-titled EP, an unrecorded track, a cover and a live debut of a new song, with plans for the session either to see its own release as a collection or split up for following EPs.
That, in addition to tentative plans for another studio-length release in late 2021 with the hopes of supporting it, make the future as promising as unknown, depending on the state of live music.
"For how bleak the future looks, we're pretty excited," Backes said. "But we do bleak, so we're kinda used to it. … We're looking forward to it."
Local journalism is essential.
Give directly to The Spokesman-Review's Northwest Passages community forums series -- which helps to offset the costs of several reporter and editor positions at the newspaper -- by using the easy options below. Gifts processed in this system are not tax deductible, but are predominately used to help meet the local financial requirements needed to receive national matching-grant funds.
Subscribe to the Spokane7 email newsletter
Get the day's top entertainment headlines delivered to your inbox every morning.
---