News > Pacific NW
Facing growing scrutiny from Congress, tech companies have sought to influence regulation. Here's how much money they've given Northwest lawmakers
Oct. 24, 2020 Updated Sun., Oct. 25, 2020 at 3:34 p.m.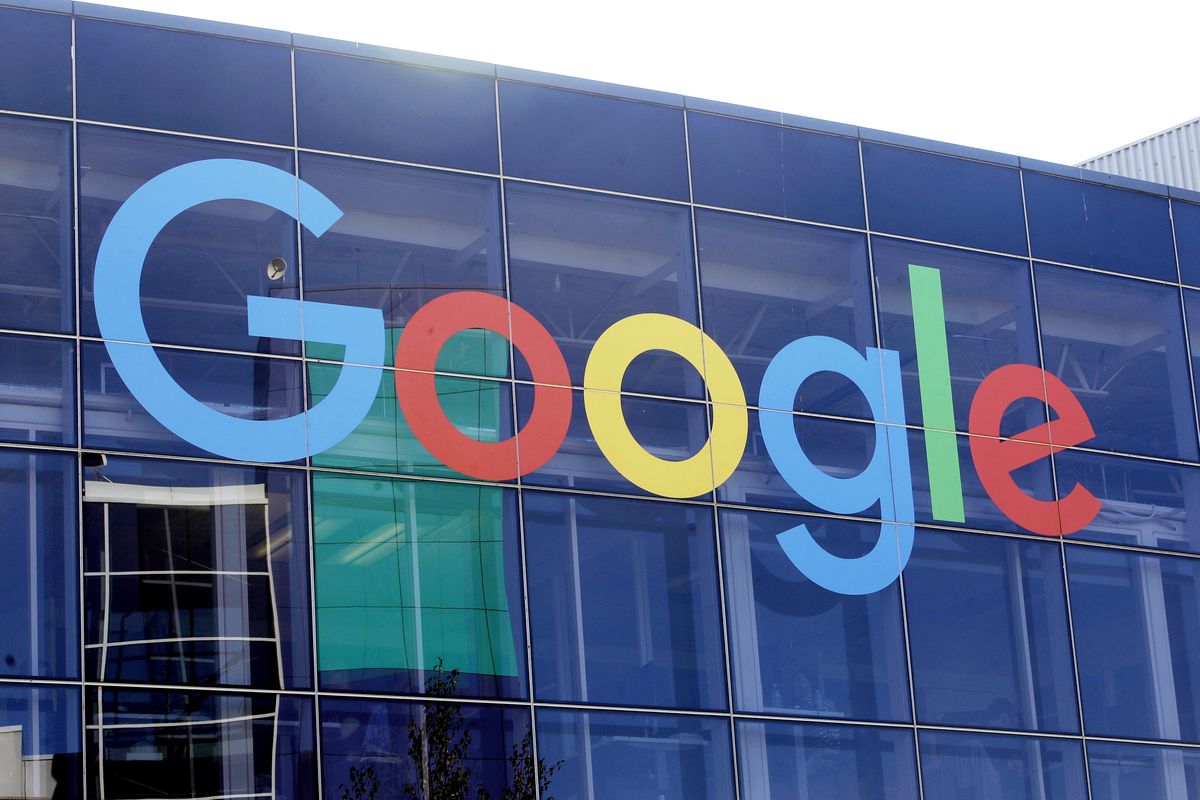 FILE – In this Sept. 24, 2019, file photo a sign is shown on a Google building at their campus in Mountain View, Calif. The Justice Department is expected to file a lawsuit Tuesday alleging that Google has been abusing its online dominance in online search to stifle competition and harm consumers. The litigation marks the government's most significant act to protect competition since its groundbreaking case against Microsoft more than 20 years ago. The suit could be an opening salvo ahead of other major government antitrust actions, given ongoing investigations of major tech companies including Apple, Amazon and Facebook at both the Justice Department and the Federal Trade Commission. (Jeff Chiu)
WASHINGTON – When the Justice Department slapped Google with an antitrust lawsuit this week, it signaled the dawn of a new era of stricter government scrutiny of the companies collectively known as Big Tech, including Facebook, Apple, and Washington-based Amazon.
As tech companies have faced growing oversight from Congress in recent years, they have ramped up their contributions to political campaigns, including to Northwest lawmakers. Tech workers have become another important source of campaign funds, though their interests are not always aligned with those of their employers.
"Tech, for a long time, kind of positioned itself as not having much to do with politics," said Margaret O'Mara, a history professor at the University of Washington. "The real story is, tech has been very involved in politics and lobbying pretty much since the very start."
An analysis of Federal Election Commission data compiled by the Center for Responsive Politics sheds light on how money in the current election cycle has flowed from five Big Tech companies – Amazon, Facebook, Apple, Microsoft and Alphabet, Google's parent company – to Washington and Idaho's congressional delegations.
Rep. Cathy McMorris Rodgers has received more from Amazon, Microsoft, Alphabet and Facebook's PACs – $36,000 – than any other Washington lawmaker. One likely reason is that the Spokane Republican is one of the top members of the House Energy and Commerce Committee, which is charged with technology-related issues.
"She's someone who's kind of a business-friendly conservative," O'Mara said of McMorris Rodgers. "She has a reputation as a deal-maker and is someone who's had a successful track record on Capitol Hill, so she's someone you want to have in your corner."
A spokesman for McMorris Rodgers' campaign emphasized the donations she has received from individuals, which make up a far larger share of the more than $4 million she has raised in the current cycle.
"When someone supports Cathy's campaign, as thousands of individual grassroots donors across Eastern Washington have done, they are supporting her, what she stands for, and her proven record of delivering results," her spokesman, Jake Nelson, said in a statement.
In contrast to McMorris Rodgers, Seattle Democratic Rep. Pramila Jayapal has received nearly $60,000 from the companies' employees. Like some other Democrats, she has pledged not to accept donations from PACs.
"While Congresswoman Jayapal rejects all corporate PAC contributions, she is honored to receive the support and votes of the substantial number of tech employees who live, work and raise their families in our community," her spokesman, Chris Evans, wrote.
Another Democrat, Rep. Kim Schrier of Issaquah, has raised more than $196,000 from employees of the five companies but, like Jayapal, has sworn off money from PACs. Tech employees give overwhelmingly to Democrats, while the companies give roughly equal amounts to both parties.
"What employees give is really reflecting employee's personal political leanings and also professional and personal connections," O'Mara said, citing the example of Rep. Suzan DelBene, D-Medina, a Microsoft alumna whose husband is still an executive at the company. DelBene has received more than $35,000 from Microsoft employees in the current cycle.
Under FEC regulations, individuals can give up to $2,800, and PACs up to $5,000, per election to each campaign. Primary and general elections have separate limits.
Idaho Sen. Jim Risch, a Republican, has received $18,000 for his reelection campaign from Amazon, Microsoft, Facebook and Alphabet, but none from their employees. Sen. Mike Crapo, R-Idaho, and Washington Sens. Patty Murray and Maria Cantwell, both Democrats, are not up for reelection this year and have received relatively little from tech companies or their employees in the current cycle.
"They're spending an immense amount of money because they have an immense amount of money," O'Mara said of Big Tech, "but that doesn't necessarily protect them. Google spent more money on Washington lobbying than any of them and it's the first one to be hit with an antitrust lawsuit. You don't get inoculated by giving."
Through its political action committee, Facebook contributed $270,000 to candidates in the 2012 election cycle and $705,000 in the 2018 cycle, according to FEC data. Amazon increased its PAC giving from $208,000 to $1.7 million between those same cycles.
After the Justice Department sued Microsoft for antitrust violations in 1998, the company changed tack. After its PAC gave $255,000 to candidates in 1998, that total surpassed $1 million in 2000 and $1.5 million in 2004.
"Before that, it was pretty dismissive of Washington lobbying and didn't invest a lot of time and energy in it," O'Mara said. "It learned the hard way that that was a bad approach, and (now) Microsoft has very sophisticated and extensive law and lobbying operations."
In 1998, Microsoft spent $3.9 million on lobbying. It increased that total to $9.5 million in 2004, according to the Center for Responsive Politics.
"They're continuing to give very large sums of money," O'Mara said. "It's not like they're free from regulatory threat, but quite significantly, they were not a subject of the House Judiciary (Committee) antitrust report, nor are they a company that the Trump administration has been making noises about suing for antitrust. They're sort of out of the line of fire, and they used to be squarely in the middle of it."
O'Mara said tech companies have ramped up their giving along with lobbying efforts in response to increased scrutiny.
"The Big Tech companies that started the first years of their lives not doing very much lobbying have built up huge lobbying operations," she said. "Regulations and policy matter a lot to their operations, and they want to both fend off potential regulation or antitrust enforcement and – if and when that happens – shape it to their own terms."
Local journalism is essential.
Give directly to The Spokesman-Review's Northwest Passages community forums series -- which helps to offset the costs of several reporter and editor positions at the newspaper -- by using the easy options below. Gifts processed in this system are not tax deductible, but are predominately used to help meet the local financial requirements needed to receive national matching-grant funds.
Subscribe now to get breaking news alerts in your email inbox
Get breaking news delivered to your inbox as it happens.
---