News > Crime/Public Safety
Border patrol agents seize more than $2 million in narcotics near Bonners Ferry
UPDATED: Mon., Oct. 26, 2020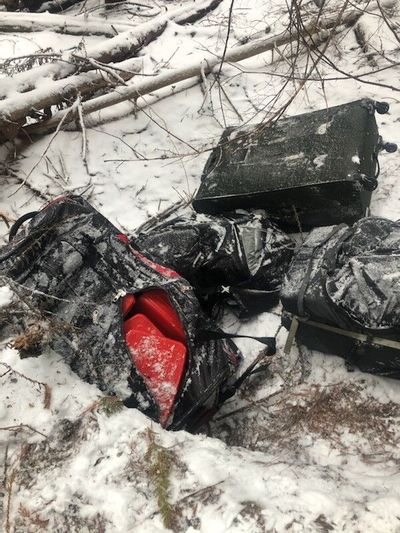 United States Border Patrol agents from the Bonners Ferry Station seized more than $2 million in narcotics Friday .
After Border Patrol was alerted to suspicious activity on a remote forest service road, agents discovered two people hiding in the area, according to a news release from the Spokane sector of the U.S. Border Patrol.
The suspects fled into Canada but agents discovered duffle bags nearby containing 84 pounds of cocaine and 198 pounds of methamphetamine, the border patrol said. The cocaine was valued at about $1.2 million and the methamphetamine was valued at about $960,000.
A dark -colored Range Rover was spotted leaving the area, the Border Patrol said. The Idaho State Police quickly located the vehicle on Highway 95 and the driver was taken into custody in connection to narcotics smuggling, according to the Border Patrol.
The Royal Canadian Mounted Police apprehended the suspects who fled into Canada and are collaborating with the Border Patrol and Drug Enforcement Administration on the investigation, according to a statement from the border patrol.
"Cocaine and Methamphetamine are ravaging our communities," said Acting Chief Patrol Agent David BeMiller, in a statement. "Border Patrol agents are committed to preventing dangerous drugs and associated crime from destroying families and communities on both sides of the border."
Local journalism is essential.
Give directly to The Spokesman-Review's Northwest Passages community forums series -- which helps to offset the costs of several reporter and editor positions at the newspaper -- by using the easy options below. Gifts processed in this system are not tax deductible, but are predominately used to help meet the local financial requirements needed to receive national matching-grant funds.
Subscribe to the Coronavirus newsletter
Get the day's latest Coronavirus news delivered to your inbox by subscribing to our newsletter.
---