This column reflects the opinion of the writer. To learn about the differences between a news story and an opinion column, click here.
Opinion > Column
100 years ago in Spokane: The name that might have been for Millwood
UPDATED: Tue., Oct. 27, 2020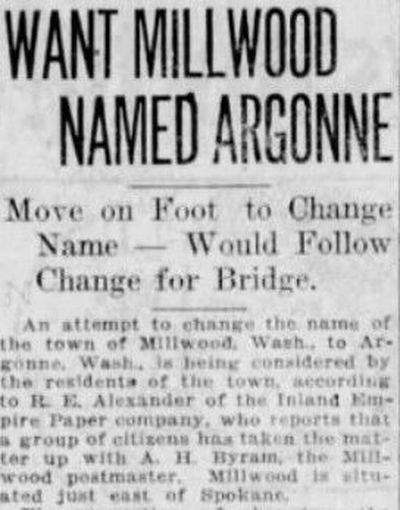 A move was afoot to change the name of Millwood to Argonne.
The name of the town's bridge over the Spokane River had already been changed to the Argonne Bridge, in remembrance of the famous battle in the recent world war. The new name would be officially dedicated on Armistice Day.
Now, Millwood residents were wondering: Why not change the name of the entire town?
The name Millwood had originally been chosen as a compromise between Milltown – so named because of the Inland Empire Paper mill – and Woodard, the name of one of the early families. Some residents did not particularly like this mashup compromise.
"For some time, there has been a feeling toward changing the name of the town, as it appears to be unsatisfactory to many residents," R.E. Alexander of the Inland Empire Paper Company said.
Yet this new idea was apparently not fully embraced. Today, the bridge is still named Argonne and the busy road going over it is named Argonne. But the town remains Millwood.
From the Irish beat: Spokane's Irish community was organizing a solemn requiem high mass at Our Lady of Lourdes Cathedral in honor of Terence MacSwiney, the late lord mayor of Cork, who died in a London prison following a hunger strike.
"Coincident with the announcement of the services, the Robert Emmet Club has asked all friends of the Irish cause to pause at high noon and for one minute mutter a prayer for MacSwiney's soul," the Spokane Daily Chronicle wrote. "Church bells will toll at the noon hour to remind the well-wishers of Irish freedom of their duty to pray for MacSwiney."
---
---