A&E > Books
Jess Walter's new book influenced by inequality of past and present
Oct. 27, 2020 Updated Tue., Oct. 27, 2020 at 8:46 p.m.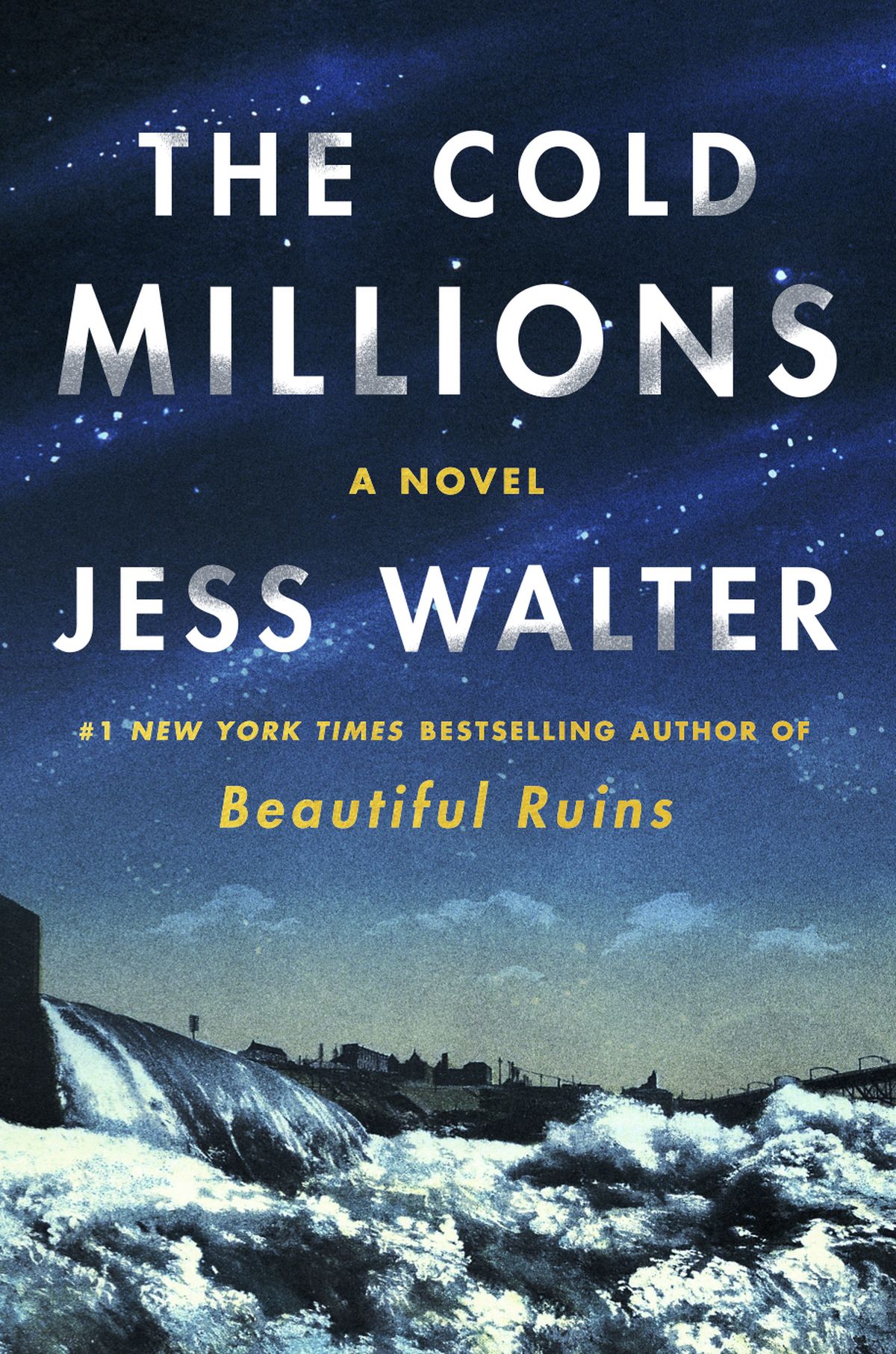 "The Cold Millions" by Jess Walter (Courtesy)
Novelist Jess Walter's latest book was driven, in part, by the "horror of the inequality in income and wealth in America," both now and when the story is set, he told the Northwest Passages Book Club Monday.
Walter was interviewed about his new novel, "The Cold Millions," in a book club virtual forum by Spokesman-Review Senior Editor Carolyn Lamberson at Auntie's Bookstore.
Set during the free speech riots of Spokane in 1909, "The Cold Millions" tells the story of Rye and Gig Dolan, brothers living by their wits and struggling to find their place in a world that doesn't want them.
In the first audience question, a viewer asked where Walter gets all of his novel ideas.
"I've described being a novelist as being like a magpie," Walter said. "You're flying around looking for little bits of garbage, you know, this Baby Ruth wrapper, that cigarette butt, and you fly it back to your nest. I'm constantly filling my nest with these ideas."
When Lamberson asked when Walter started "filling his nest" with ideas for "The Cold Millions," Walter explained that it all started in the 1980s, while he was still working at The Spokesman-Review. Around that time, he had become fascinated with the Spokane free speech riots of 1909.
Northwest Passages Book Club / The Spokesman-Reviewe
"It was something I just always wanted to write about," Walter said. But, he explained, the novel really came together from several separate but interacting ideas, "four or five snowflakes falling" that eventually cohered.
He had always wanted to write a Western, "something with big, rollicking archetypal characters, about the way civilization was birthed, violence in the West and the degradation of the environment and native cultures."
Lamberson asked another audience question about how Walter learned to write. He answered that his education went from Trent Elementary School to East Valley High School to Eastern Washington University. But he also explained that he was a lot like Gig, one of the main characters in "The Cold Millions."
"I'm sort of an autodidact, self-taught mostly, but maybe we're all self-taught," he said. Later, he would also credit his experience in journalism for his success as a novelist.
When asked what it was like to be a novelist in Spokane specifically, Walter could only list positives.
"Spokane is a wonderful place to live and write in," Walter said. "It's a wonderful place to be any kind of artist.
"I love leaving Spokane and I love coming home," he said at another point.
The history of the city is also a huge draw, he explained as he went on to summarize the historical background of "The Cold Millions."
"In 1909, the railroad was the internet," Walter said. "And in Spokane in 1909, seven major railroad lines came together and spread out to Portland, Seattle, Vancouver, and so Spokane was this thriving center of agriculture and mining and timber."
But amidst all of the profits, the workers, those "cold millions," were left behind.
While the story is primarily about fictional characters, there are a few historical characters woven into the narrative. One of the most notable and central figures was Elizabeth Gurley Flynn. Flynn was a staunch advocate of workers' rights who came to Spokane in 1909 – 10 years before women had the right to vote – as a pregnant 19-year-old, ready to challenge a local law against speaking out in the streets.
"The courage of that … this is a stranger that rides into town, but instead of Clint Eastwood, it's this pregnant 19-year-old," Walter said. "And that seemed to me a very modern way to tell a really archetypal Western story."
Lamberson commented that Walter has a notable talent for writing female characters that others lack.
Walter explained that he attributes that ability to his willingness "to be a little more humble" when writing female characters, always asking the women in his life for advice and making sure to give the characters something they want.
Lamberson went on to ask whether during the writing process Walter realized how timely the subject matter of "The Cold Millions" was in 2020.
Walter referenced novelist Charles Baxter, saying that actions can rhyme just as well as words.
"I'm not just talking about things circling back around, but the sort of rhyme that occurs that we almost register at a subconscious level," Walter said.
"I think about that a lot in fiction writing (and) I think about it in the world. As I was writing this book, I kept hearing the echoes of 1909. I kept hearing this rhyme of actions."
He explained that he knew "from the beginning I was writing about something that, to me, bedevils our culture right now … the massive gap between the wealthiest and the poorest. Billionaires in America made $2 trillion during a pandemic; you're living in a broken economic system when that happens."
The system was similarly broken in 1909, he said.
"In fact, when I realized my characters were named Ryan and Gregory, I gave them the nicknames Gig and Rye which, to me, was a wry nod at the gig economy that we live in now.
"The idea that you're driving for Lyft, or, delivering and being your own boss, having no health care. In many ways, we've created an economy that mirrors 1909.
"We're not climbing on trains and jumping off of them to find work, but we still aren't providing basic needs for a lot of people who are slipping further and further. The number of people who've fallen into poverty in the time that those billionaires have made $2 trillion is just criminal, as far as I'm concerned."
To close out the discussion, Lamberson asked a few questions about Walter's approach to structure in writing novels.
"They may seem nonlinear, but I think I'm a structuralist at heart," he said.
He explained that when creating characters, depth is as important to him as breadth, meaning that he prioritizes internal as well as external views of characters.
He pointed out that, like Leo Tolstoy's "War & Peace," which both Rye and Gig read during the novel, "The Cold Millions" is divided into four sections and an epilogue.
Walter said he spent a great deal of time revising "The Cold Millions."
"I made the classic novelist mistake of thinking I'd crossed the finish line," he said.
"And, you know, right at about the top of Doomsday Hill or so I still had my whole neighborhood to run through, past several water stations and a couple of bars I wanted to stop at."
Building off of this, Walter then answered an audience question about what he found to be the hardest part of writing.
"Belief," he said. "It's what I wish I could give other writers. It's a constant battle to convince yourself that what you're doing is going to pay off and make sense."
He learned a great deal from the 15 years he spent writing "Beautiful Ruins," he said.
"Because that's 14 years of it not working, 14 years of straining belief. The lesson that I learned was if you stick with it, and if your belief comes back in a way that allows you to keep working, then you know you'll find your way through it."
"The Cold Millions" is available at Auntie's Bookstore and Wishing Tree Books.
Local journalism is essential.
Give directly to The Spokesman-Review's Northwest Passages community forums series -- which helps to offset the costs of several reporter and editor positions at the newspaper -- by using the easy options below. Gifts processed in this system are not tax deductible, but are predominately used to help meet the local financial requirements needed to receive national matching-grant funds.
Subscribe to the Spokane7 email newsletter
Get the day's top entertainment headlines delivered to your inbox every morning.
---