This column reflects the opinion of the writer. To learn about the differences between a news story and an opinion column, click here.
Opinion > Column
100 years ago in Spokane: Arrested man shows officers how many ways he can use his wooden leg
UPDATED: Wed., Oct. 28, 2020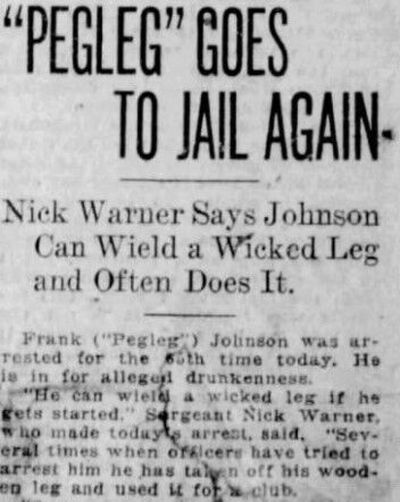 Frank "Pegleg" Johnson was arrested for the 65th time, again for drunkenness.
By this time, police had learned to handle him very, very carefully.
"He can wield a wicked leg if he gets started," the arresting sergeant said. "Several times when officers have tried to arrest him, he has taken off his wooden leg and used it for a club."
He had other unusual uses for that wooden leg. When police found him drunk in jail during a previous stint, they discovered he had hollowed out part of his leg and stored whisky in it.
From the Irish beat: A Spokane Protestant pastor asked the Spokane City Council to halt the planned Irish freedom demonstration and "funeral cortege" for the late lord mayor of Cork, Terence MacSwiney, who died in a London jail after a hunger strike.
The Rev. M.D. Townsend of the First United Brethren Church told the council he wanted the demonstration stopped on the grounds "that it might cause trouble here."
Spokane's Irish community had planned a solemn high Mass at the Our Lady of Lourdes Cathedral and a procession though the streets.
Spokane's acting mayor conceded that "feelings run very high in this matter," but he said he could see "no real reason" to ban an orderly demonstration.
---
---