Sports
A Grip on Sports: The last time the Dodgers won a World Series, the celebration was jumping, unlike this year's
Wed., Oct. 28, 2020 A GRIP ON SPORTS • Let's get this out of the way at the start. There is no hangover here. No champagne flowed in the living room last night after the Dodgers, the team of my youth (and now, old age), won their first World Series title since my youngest was in diapers.
•••••••
• I remember 1988 like it was yesterday. It was, wasn't it? Anyhow, I remember at least one aspect of the 1988 Los Angeles victory over Oakland. I remember because I have a small scar on my head.
Kirk Gibson hit a pinch-hit home run to win Game One. Remember that? As the ball traveled into the Southern California night, I jumped up and down on a hotel-room bed in Louisville, Ken-tuck-ee. And almost killed myself by hitting the ceiling fan with my head.
When my convention roommate opened the door a few minutes later – I had bailed on the highly anticipated awards banquet – he found me holding a red-spotted washcloth, sitting on the edge of the bed, still flabbergasted by the result … of both the game and the celebration.
Sort of like I am right now.
The Dodgers rode an analytical decision that backfired on the Rays to a 3-1 victory and a 4-2 win in the Series. Meanwhile, third baseman Justin Turner was pulled late due to a positive coronavirus test but instead of isolating away from the rest of his teammates, he reappeared to take part in the postgame on-field celebration. Without a mask.
Don't they teach a basic course in biology at Cal State Fullerton, Turner's alma mater? Probably not. Parking, the Titans learn. Baseball proficiency? That too. But P.R.? Apparently not. How the heck did baseball make it through the 2020 season if, on its biggest night, it couldn't guarantee the players were not germ spreading machines? Somehow, the game survived the lack of leadership exhibited by the NBA, the WNBA and the NHL.
It's that resilient. Which is a trait the Los Angeles organization has exhibited the past few seasons. The Dodgers made the 2017 World Series. They lost for a variety of reasons. They made the 2018 World Series. They lost. They made the 2020 World Series. They won, surviving a miraculous Tampa Game-Four comeback in the process. So last night's win was not only celebratory but redemptive as well.
Thirty-two years after Gibson gave me a reason to jump on a bed, Clayton Kershaw, Corey Seager, Mookie Betts, et al, gave me a reason to do it again. Thankfully, the years have made me wiser. There was no chance I was climbing on our queen-sized bed and re-creating that stupidity.
Not that I didn't want to. The Dodgers just waited too long for an encore. My knees, hips and heart won't let me jump anymore.
• Baseball season is over. Football season is in full swing, except here on the West Coast. That's coming soon. And yet, on the cusp of November, no one, not even college basketball's players and coaches, are quite sure what type of nonconference schedule schools will be playing.
Yesterday exemplified that perfectly. Early in the morning the news broke ESPN had decided not to hold a series of previously discussed multiple team events in Orlando. The WorldWide Leader couldn't find a way to lead this time.
And yet just minutes later it was reported a four-team event was being discussed in Fort Myers, down the road a ways from Orlando. It would be held Nov. 25 – college hoop's opening day – and Nov. 27.
Why is that important to Spokane? Because the first announcement pulled the rug from Gonzaga's scheduling plans. And the second included the Zags, pitting them against Kansas and Auburn.
That's college basketball scheduling in a pandemic, folks. Every game is written in pencil. Lightly. None are chiseled in stone until … well, I'm not sure when.
Maybe Nov. 25 or something. And maybe not even then.
•••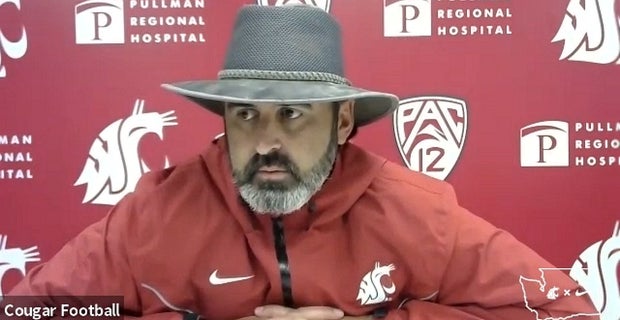 WSU: Nick Rolovich made Spokane's television rounds yesterday, with the top question being about the starting quarterback. Duh. Rolovich made it clear the Cougars have decided who will take the first snap Nov. 7. They just aren't going to tell anyone. … Around the Pac-12 and college sports, there are at least five freshmen that Washington will be relying upon. One is Jay'Veon Sunday. … It seems the positive tests at Oregon were false. The Ducks are back at practice. … Oregon State hasn't stopped. The Beavers need to pick a starting quarterback. An announcement should come soon. … When Pete Carroll left USC, he changed West Coast football. In the conference and the NFL. USC's outlook this season is not Carroll-era-like. … UCLA is still trying to have success under Chip Kelly. …  Colorado is preparing for its opener against the Bruins. … Utah's biggest concern is its secondary. … Will Arizona State have the Pac-12's best defense? … Arizona is joining others in helping athletes with their NIL. … In basketball news, unlike Oregon, it seems California's positive tests are real. The Bears are not practicing. … Washington is out to prove last season was an anomaly. … Colorado is trying to improve its defense. … Arizona has decided to takes its defense of NCAA allegations to the new independent process, from which there is no appeal.
Gonzaga: As we mentioned above, the Zags are reportedly going to open their season against Kansas. As Jim Meehan points out, that's the fourth team GU has been linked to in its season opener. … No matter whom they play, the Bulldogs will have a preseason All-American in their lineup. Jim has the story of Corey Kispert earning that honor from CBS Sports. … Jim also joins Larry Weir for the latest Press Box podcast. The two talk all thing Zags. … The women are once again the pick to win the WCC title. Jim Allen has that story as well as one on the work ethic displayed by two Zags players, current senior Jill Townsend and alum Chandler Smith. … A disturbed college sports fan was sentenced yesterday for threatening Ohio State fans and a previously undisclosed threat aimed at Gonzaga's players.
Idaho: The Vandals are back on the field occasionally, trying to put in place lessons learned via Zoom calls. Peter Harriman has more information in this story.
Golf: The Masters will make its November debut in a couple weeks. Augusta National will welcome more than just golfers to America's most prestigious golf course.
Seahawks: Pass-rusher Everson Griffen was available via trade from the Cowboys. But the Hawks couldn't reel him in. … They did waive a defensive lineman, however, which may mean Damon "Snacks" Harrison will be active this week against the 49ers. … How far ahead of DK Metcalf would you have to be to avoid being Budda Baker-ed? Almost the entire field. … Could Ken Norton be the next to be run over?
Mariners: Now that the season is officially over, the M's have a few things to take care of before the spring.
Sounders: Raul Ruidiaz returned to the lineup after a stint with the Peru national team and a bout of COVID-19, and Seattle defeated host Vancouver 2-0 in Portland. The victory moved the Sounders to the top of Western Conference standings and clinched a playoff berth. … The Timbers try to equal the Sounders' point total with a win tonight.
•••       
• I watched the first part of the game last night, then had to leave home with L.A. trailing 1-0. The DVR worked, though, and I returned home and watched the final few innings. No way I was going to miss it. I may even watch the entire game again today. After all, it might be another 32 years until the Dodgers' next title. If that's true, I'm not sure I'll be around. Until later …
Local journalism is essential.
Give directly to The Spokesman-Review's Northwest Passages community forums series -- which helps to offset the costs of several reporter and editor positions at the newspaper -- by using the easy options below. Gifts processed in this system are not tax deductible, but are predominately used to help meet the local financial requirements needed to receive national matching-grant funds.
Subscribe to the sports newsletter
Get the day's top sports headlines and breaking news delivered to your inbox by subscribing here.
---