This column reflects the opinion of the writer. To learn about the differences between a news story and an opinion column, click here.
Opinion > Column
100 years ago in Spokane: The 'Irish question' causes a stir at city council meeting
UPDATED: Thu., Oct. 29, 2020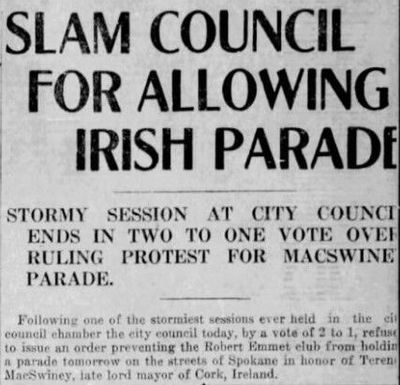 Emotions reached the boiling point at a Spokane City Council meeting over the "Irish question."
In one of the "stormiest sessions ever held" in the council chambers, the council denied a request by a Protestant pastor to ban a planned Irish freedom procession through the streets of Spokane.
The pastor, M.D. Townsend of the First United Brethren Church, vowed he would continue to pursue a court injunction prohibiting the procession.
Several days earlier, members of Spokane's Robert Emmet Club announced they would hold a "funeral procession" through Spokane's streets in conjunction with a requiem Mass in honor of Terence MacSwiney, the lord mayor of Cork, who died in a London jail following a hunger strike. MacSwiney had become a potent symbol of martyrdom in the cause of Irish independence from Great Britain.
"More than a score" of people, however, showed up at the City Council meeting to oppose the procession.
"Why allow a group of Irish in the United States to parade for MacSwiney, whom I think was a traitor?" asked one woman. "We're not afraid of England," retorted an audience member.
Another supporter of the parade, identified as a St. Aloysius parish member, replied sarcastically, "It seems to me that as long as King George and the kaiser are running the United States, that we better cable either George or the kaiser to get permission to hold the parade."
Townsend maintained the parade would reflect badly on "a friendly government," meaning Great Britain. Another opponent said the procession was supposedly in support of the "Irish cause" – but which Irish cause?
"There is an Irish cause in north Ireland and one in south Ireland," he said.
In the end, the council voted 2-1 to allow the parade to proceed. Townsend claimed that one council member "sold out to the opposition."
---
---