Sports
A Grip on Sports: Whomever the Cougars have picked to start the opener at quarterback, it will be a new experience
Thu., Oct. 29, 2020 A GRIP ON SPORTS • So who you got? In the Washington State quarterback derby, of course. It's getting down to it and the Cougars, according to coach Nick Rolovich, have chosen a starter who is getting the bulk of the work in the run-up to the season. The starter is still a secret, however, outside of practice. So who do you think it is?
•••••••
• Is it redshirt sophomore Cammon Cooper, redshirt freshman Gunner Cruz or true freshman Jayden de Laura? Those are your three choices.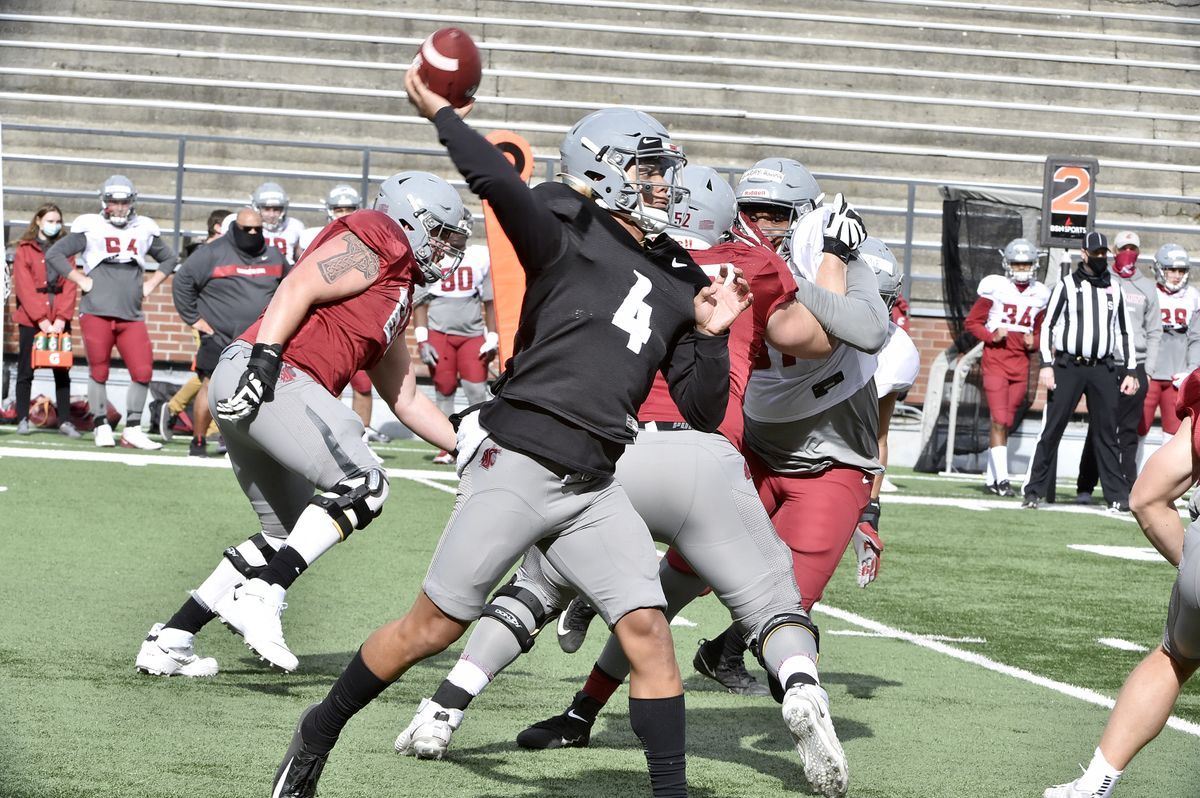 If it's de Laura (left), it's been so long since a true freshman started at quarterback in the Cougars opener, no one knows for sure if it's ever been done. A quick check of the records shows it hasn't happened in this century and the Washington State sports information office wasn't able to find anyone who fits the criteria back to the 1970s, when freshman had to sit and "mature" before the NCAA let them play football.
Prior to that, class records are hard to come by. So de Laura, for all intents and purposes, would be considered the first to do it for the Cougars.
Cooper, who was the object of much interest his freshman season, certainly didn't do it, as some guy named Gardner Minshew won the job that season. And Cruz wasn't really a candidate last year either, when Anthony Gordon emerged as the starter.
Former coach Mike Leach recruited that duo and each entered WSU with a grounding in Leach's Air Raid offense. That's no longer relevant.
What is? Well, de Laura ran the Run and Shoot in high school in Hawaii, where Rolovich's offense was all the rage.
If he does win the starting nod, it will not only be significant this season but historically as well. And we'll all be sure to know the answer to a trivia question.
• You know what's fun? Perusing preseason basketball All-American teams.
CBS Sports published one Tuesday and Gonzaga's Corey Kispert earned a spot on the first team. A newcomer to the national scene, Stadium, published one yesterday. And Kispert wasn't on any of its three teams. But Drew Timme was. The third one.
Let's be honest, however. The teams, while bearing the stamp of a media organization, are really the opinion of a few people – or one person. In CBS' case, the picks are attributed to national basketball writers Gary Parrish, Matt Norlander, David Cobb and Kyle Boone. For Stadium, longtime reporter Jeff Goodman made the selections by himself.
As the season grows closer, organizations like the Associated Press and the Basketball Writers of America, will poll their members and come up with preseason teams that reflect a consensus. Is that better? Who knows?
But it really doesn't matter. What matters is how they play during the season.
Wait. It's even more important that they do play. That, I'm sure, is something everyone will agree upon.
•••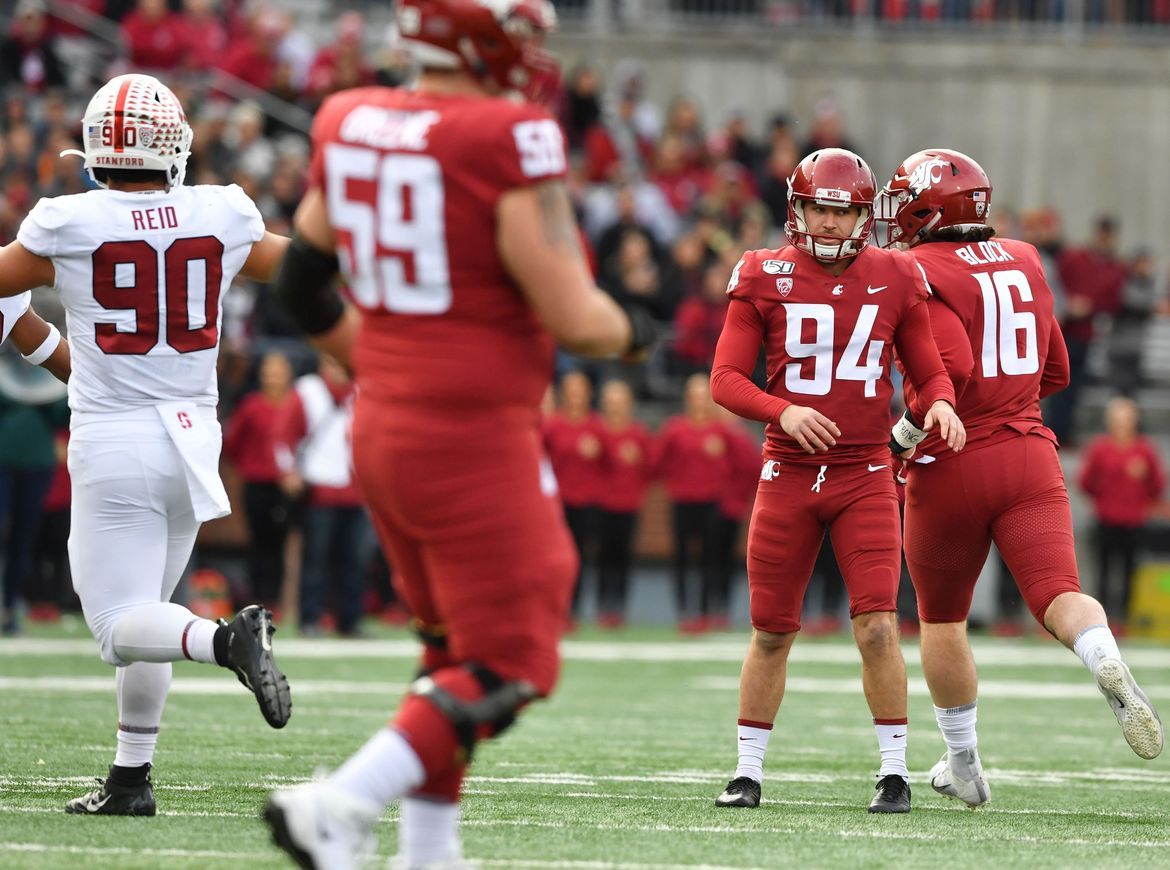 WSU: Of course Theo Lawson has a story on the quarterback competition. The fact Rolovich has decided on a first-game starter (and isn't telling anyone outside the program) is part of his notebook. … Theo also covers the news punter Oscar Draguicevich III has been added to the Ray Guy watch list and interior defender Lamonte McDougle seems to have opted out of the season. … The Cougar women are in a transitional state, and it's not just due to the virus. Jim Allen spoke with coach Kamie Ethridge and has this preview of year one in the post-Bobi Buckets era. … Around the Pac-12 and college sports, the Pac-12 Networks won't have football this fall. At least not in the conference's already scheduled six weeks. After that it's still to be determined what will happen. … Heck, a lot of things are still to be determined. … New Washington coach Jimmy Lake is trying to prepare for every scenario. … Oregon is expected to win the North and the conference. It may not happen. But they do have the best roster. … Oregon State seems to be on the way up. But to keep the momentum going, it all starts with a first game against Washington State. It's a must-win for the Beavers and their receivers. … Colorado has depth at running back. … The coronavirus numbers are rising in Utah, threatening football as well. … A UCLA defensive lineman was arrested and suspended. … Here's a look at the secondaries of USC and UCLA. … The defensive line is taking shape at Arizona State. … Who will be the most important Arizona player? … In basketball news, Arizona and others involved in the FBI probe are gaming the system. … Oregon State is counting on a redshirt to contribute.
Gonzaga: The Timme All-American news is covered in depth by Jim Meehan this morning. … Jim also has a story on two former GU players, including David Stockton, signing with a Puerto Rican team.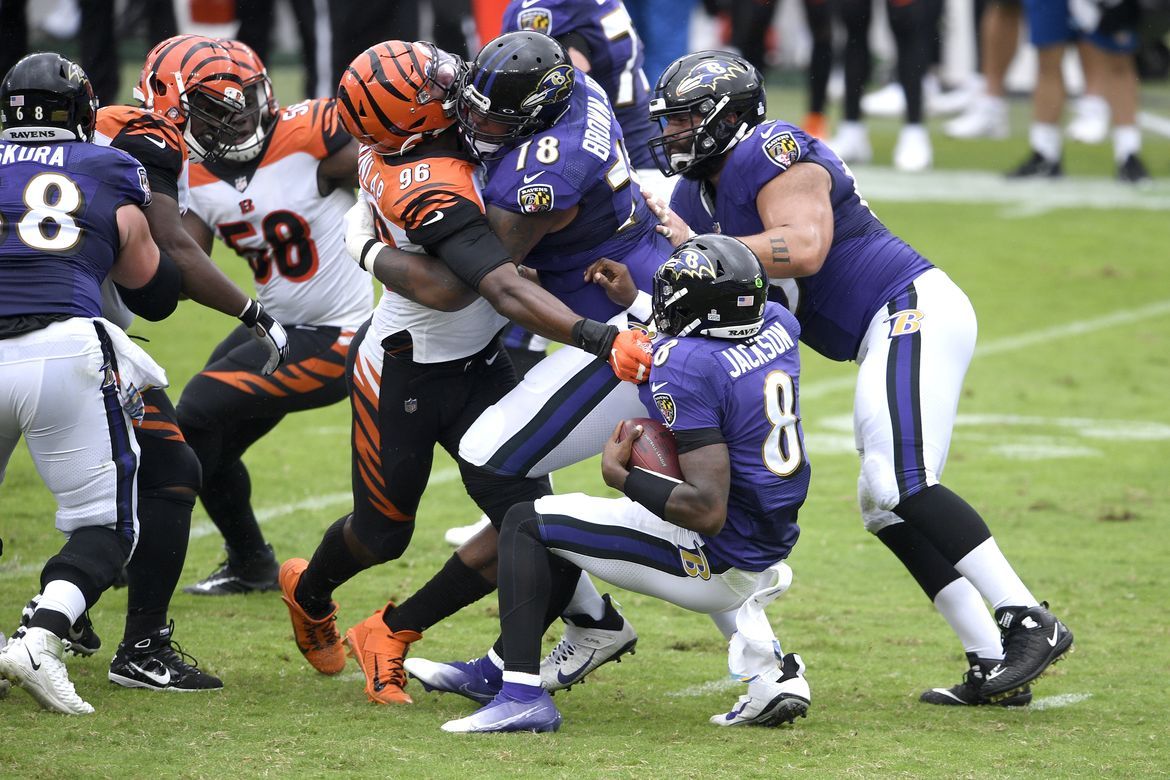 Seahawks: Carlos Dunlap was unhappy with the Bengals. Now the Hawks are happy they were able to trade for the pass-rushing specialist. They need him to perform at a high level for the season to be a success. … They also need Jamal Adams to get healthy, something that is going rather slowly. … Russell Wilson is admired, even in San Francisco. He also does admirable things off the field.
Mariners: Will the M's be buyers this offseason? They need help, especially in the bullpen. … The Mariners decided to make some roster changes, including letting Dee Strange-Gordon leave. … The Dodgers' Justin Turner is getting roasted for his decision to return to the field after his COVID-19 diagnosis. And he deserves it. Every bit of it.
•••       
• There is little on the radar today. After a late summer and early fall loaded with catch-up competitions, they have all faded into the background – except next month's Masters – and the days are starting to feel somewhat typical, schedule-wise. Which, in late-October, can be translated to boring. Especially with basketball at all levels pushed back. Until later …
Local journalism is essential.
Give directly to The Spokesman-Review's Northwest Passages community forums series -- which helps to offset the costs of several reporter and editor positions at the newspaper -- by using the easy options below. Gifts processed in this system are not tax deductible, but are predominately used to help meet the local financial requirements needed to receive national matching-grant funds.
Subscribe to the sports newsletter
Get the day's top sports headlines and breaking news delivered to your inbox by subscribing here.
---