News > Spokane
Spokane Valley Fire roundup: Crews respond to over 100 calls during heavy snowfall
Thu., Oct. 29, 2020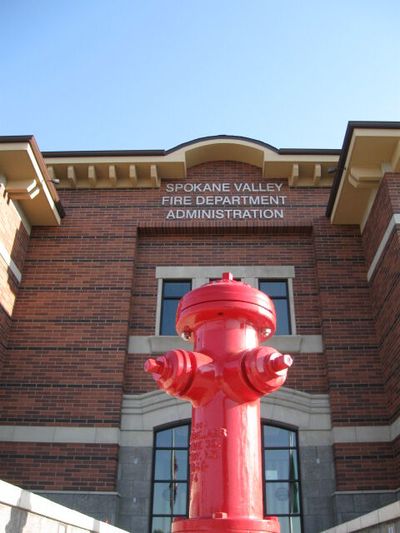 The Spokane Valley Fire Department saw a large volume of calls the week of Oct. 19-25, which were pushed up by the 100 calls that came in during the 24-hour shift that began 8 a.m. Oct. 23, the day record-breaking amounts of snowfall led to other things like tree branches breaking.
Crews helped removed fallen branches and trees if they were blocking someone inside their home, were blocking fire hydrants or created an immediate hazard. Some trees and branches also brought down power lines.
The number of calls involving hazardous conditions – downed trees and power lines – jumped sharply after 4 p.m. and didn't taper off until after 8:30 p.m. Some of the calls involved arcing and sparking as live power lines and tree branches interacted.
A burning branch was reported in the 1700 block of Bolivar Road at 2:47 p.m. Crews helped clear a tree blocking the 3800 block of South Shafer Road at 4:11 p.m. A tree branch that dropped onto a transformer under the weight of snow caused smoking and arcing in the 18500 block of South Cowley Avenue at 4:13 p.m. A small fire was reported in a tree in the 11100 block of East 11th Avenue, caused by a power line in the tree.
Crews responded to multiple similar calls that evening, some as few as a minute apart. Some downed power lines were spotted and reported the next morning.
Other calls Oct. 19-25
Oct. 19: A three-car crash blocked two northbound lanes in the 2400 block of North Argonne Road at 4:55 p.m. One person was injured.
Oct. 21: The crew of Valley Engine 1 was pulling into the Thrifty Scotsman to get burgers at 6:50 p.m. when they were flagged down by a man who had locked his keys inside his vehicle. The crew helped the man get into his vehicle before getting their dinner.
Oct. 22: Firefighters from the Rescue Task Force team assisted the Spokane County Sheriff's Office while they served a search warrant at 2 p.m.
Oct. 23: A small unattended fire was reported in a field across from Spokane Valley City Hall on East Sprague Avenue at 8:14 p.m. The fire was put out. Crews responded to eastbound Interstate 90 west of Barker Road on an accident involving a Washington State Police trooper at 9:53 a.m. The trooper's vehicle was hit from behind at high speed while he had a car pulled over. The trooper had to be cut from his vehicle.
Oct. 24: A resident in the 11300 block of East Alki Avenue reported at 10:03 a.m. that his carbon monoxide detector was sounding, and he had shut off the natural gas going to the furnace. Crews found high gas readings in the basement. Avista was called. A power pole fire was reported in the 12300 block of East Upriver Drive at 11:53 a.m. Avista responded to de-energize the line, and the pole fire was put out.
By the numbers: Firefighters responded to 409 calls the week of Oct. 19-25, including 286 calls for emergency medical services. Other responses included helping a woman with smoke detectors that were 20 years old, a reported fire that turned out to be smoke from a fireplace with the damper closed, a malfunctioning furnace that was emitting large amounts of carbon monoxide, a potholder in a microwave that caught on fire and a family that was locked out of their home.
Local journalism is essential.
Give directly to The Spokesman-Review's Northwest Passages community forums series -- which helps to offset the costs of several reporter and editor positions at the newspaper -- by using the easy options below. Gifts processed in this system are not tax deductible, but are predominately used to help meet the local financial requirements needed to receive national matching-grant funds.
Subscribe to the Coronavirus newsletter
Get the day's latest Coronavirus news delivered to your inbox by subscribing to our newsletter.
---