News > Spokane
'We decided to honor a woman warrior': Spokane Tribe proposes new name for Fort George Wright Drive
Oct. 29, 2020 Updated Mon., Nov. 2, 2020 at 9:51 a.m.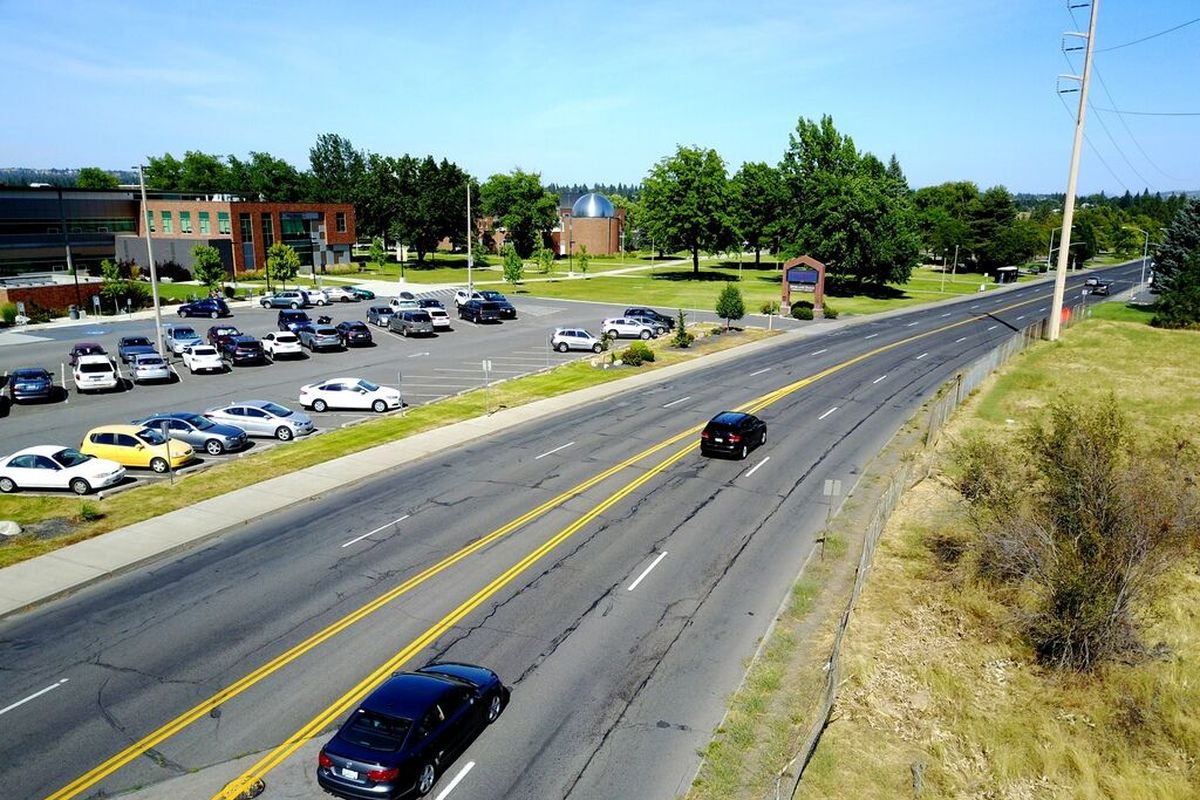 Fort George Wright Drive, which curves around Spokane Falls Community College in this image from August 2017, may be renamed Whist-alks Way. (JESSE TINSLEY/THE SPOKESMAN-REVIEW)
Margo Hill doesn't want people to forget the mid-19th century history of what is now the city of Spokane and what was then Spokane tribal territory. She wants them to know its brutal truth.
To that end, Hill has been working with the Spokane Tribe of Indians on the long and involved process of renaming a milelong stretch of road in West Spokane that currently memorializes George Wright, a U.S. Army colonel who terrorized and slaughtered Indigenous inhabitants during a violent campaign to take their land.
A proposal presented at a Wednesday  meeting of the city's Plan Commission would change the name of Fort George Wright Drive to Whist-alks Way.
Whist-alks was a Spokane Indian belonging to a rich tradition of women warriors who existed among area tribes and played an unheralded role in the tribe's fateful encounter with Wright and his men in 1858, according to Hill, a former Spokane Tribe of Indians attorney and current professor of urban planning at Eastern Washington University who's a Spokane tribal member herself.
Whist-alks' marriage to Qualchan, a Yakama sub-chief, "brought peace and stability to the region" in the years before Wright arrived, according to a historical account compiled by the Spokane Tribe and presented to the Plan Commission.
But any sense of peace and stability ended when Wright and his men began to move toward Spokane tribal territory in September 1858. When he came to the confluence of the Spokane River and Latah Creek, he found representatives of the Spokanes and at least half a dozen other tribes, according to history.net.
There, Wright ordered the Yakama chief Owhi shackled and threatened to hang him unless his son Qualchan, who was believed to have been involved in attacks on white settlers, would meet with him.
Whist-alks accompanied Qualchan to Wright's camp, taking up her husband's "beaded medicine staff with feathers" as they entered, the tribe's account says.
When Wright ordered Qualchan bound as well, Whist-alks attempted to force the soldiers to free her husband.
"I tried to cut one soldier with my knife, but another one kicked the knife out of my hand and then a great number of soldiers crowded in, overpowered us," Whist-alks later recalled, according to the tribe's account, which cites oral and written histories.
But when it became clear that her husband would be hanged, Whist-alks took a sabre from a soldier and fled.
One of those soldiers later recalled, "I was standing a short distance from Col. Wright's tent, when an Indian woman made her appearance in camp and she had a long lance covered with solid beadwork. She was mounted on a fine-looking horse. She rode up in front of the Col's tent and stuck the lance in the ground and rode off."
Wright hastily hanged 16 other Indians without proper trials, oversaw the slaughter of some 800 of their horses on the banks of the Spokane River, betrayed promises to tribal leaders, destroyed food supplies and waged sustained campaigns against tribal villages, according to historical accounts.
Though Wright was celebrated as a hero among white settlers for his role in supposedly suppressing an Indian uprising in Washington Territory, area Indians have long viewed him as a terrorizing figure whose campaign initiated more than a century of oppression.
By renaming the road after a female warrior who stood up to him, Hill said the tribe is "recognizing the enduring spirit of warrior women."
"For generations, women have been the backbone of our families, have been the backbone of our tribes and still continue to play this powerfully important roles not only in our tribal communities, but also in our urban community," Hill said.
Hill said the tribe deliberated at length and with a number of tribal and community partners, including the Coeur d'Alene Tribe, the Confederated Tribes of the Colville Reservation and the Confederated Tribes and Bands of the Yakama Nation, about how to rename the road.
She said the effort also included the input of tribal elders who have helped bring about "a cultural reawakening" and renewed awareness of "our own true history."
Whist-alks Way wasn't the only option on the table, but it ultimately fit with a larger aim to look not only backward at the atrocities of the 19th century, but forward at the future of Indigenous people in Spokane.
"Spokane Indian women and Indigenous leadership … serve as nurses, lawyers, professors, school board members and directors of urban service centers," according to a document prepared for the Plan Commission by the Spokane Tribe.
"There could be very harsh names that reflect the true reality that happened. However, our people came together and we hope to have healing and move forward in a positive manner," Hill said. "We decided to honor a woman warrior. She too had to fight the United States Cavalry in hand-to-hand combat."
Efforts have been underway to change Fort Wright Drive since at least 1993, but those initiatives received renewed attention this summer, in the wake of local and nationwide protests against racial injustice.
Spokane City Councilwomen Karen Stratton and Betsy Wilkerson invited the tribe to propose a new name for the street and helped push that proposal toward the front of the Plan Commission's agenda after years of idling.
"Because the city of Spokane is on Spokane tribal land and because the city of Spokane is named after the Spokane tribe, I called (tribal Chairwoman) Carol Evans and Margo Hill and said now's the time because of what's going on in our nation, and people really paying attention to the historical changes in our country," Stratton said. "Now's the time to get on this name change."
The proposal will come before the Plan Commission again on Nov. 11, when its members are slated to vote on the measure. If approved, it will go to City Council for consideration.
While it has been a long wait, Hill said she's eager to see the historical record finally corrected.
"It's a big statement that the city of Spokane is recognizing the brutality of George Wright and telling the true story of colonialism and telling that it wasn't some nice peace treaty," Hill said, "that it was brutal attacks on the indigenous people of this land."
Editor's note: An earlier version of this article indicated the Plan Commission discussed the proposal to rename the street at a Monday meeting of the Plan Commission. It was, in fact, a Wednesday meeting.
Local journalism is essential.
Give directly to The Spokesman-Review's Northwest Passages community forums series -- which helps to offset the costs of several reporter and editor positions at the newspaper -- by using the easy options below. Gifts processed in this system are not tax deductible, but are predominately used to help meet the local financial requirements needed to receive national matching-grant funds.
Subscribe now to get breaking news alerts in your email inbox
Get breaking news delivered to your inbox as it happens.
---