News > Spokane
100 years ago in Spokane: The ultimate sibling hand-me-down and mayhem from Halloween 'gangs'
UPDATED: Fri., Oct. 30, 2020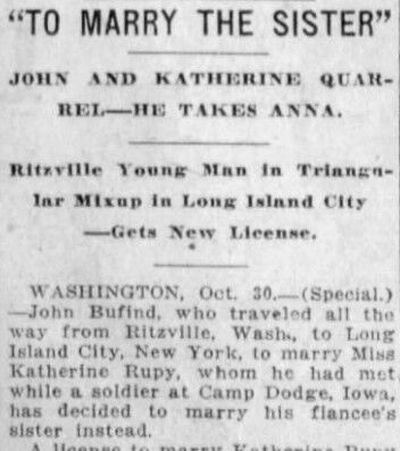 John Bufind of Ritzville, Washington, traveled to Long Island City, New York, to marry Katherine Rupy, whom he had met while a soldier at Camp Dodge, Iowa.
He obtained a New York marriage license. But then, a week later, his plans changed.
"You can cancel that license," he told the license clerk. "I am not going to marry Miss Katherine Rupy, but I am going to marry her sister, Miss Anna Rupy. I have her here and would like to get a license."
Katherine Rupy later explained what happened.
"After John and I got the license to marry, we had a misunderstanding and we decided not to get married," she said. "He is a nice young man, I will say that. He then made up his mind he wanted to marry Anna, so they are going to be married."
"Are you angry with Anna?" someone asked.
"No, why should I be?" Katherine Rupy said. "I was not going to marry him, so Anna had the right to take him if she wanted."
From the Halloween beat: Police were deluged with calls about Halloween pranks and assorted mayhem.
Henhouses were knocked down, outhouses were overturned, street signs were stolen, fences were trampled and porches were damaged.
Halloween was celebrated on Oct. 30, 1920, since Oct. 31 was a Sunday. Police said they rushed from call to call all evening long.
"Many gangs were overtaken or put to flight, but few prisoners were taken," reported police.
On this day
(From Associated Press)
1941: Work was completed on the Mount Rushmore National Memorial in South Dakota, begun in 1927.
Local journalism is essential.
Give directly to The Spokesman-Review's Northwest Passages community forums series -- which helps to offset the costs of several reporter and editor positions at the newspaper -- by using the easy options below. Gifts processed in this system are not tax deductible, but are predominately used to help meet the local financial requirements needed to receive national matching-grant funds.
Subscribe to the Coronavirus newsletter
Get the day's latest Coronavirus news delivered to your inbox by subscribing to our newsletter.
---