News
Hope House readies new shelter, supportive housing for 2021
Oct. 30, 2020 Updated Fri., Oct. 30, 2020 at 5:32 p.m.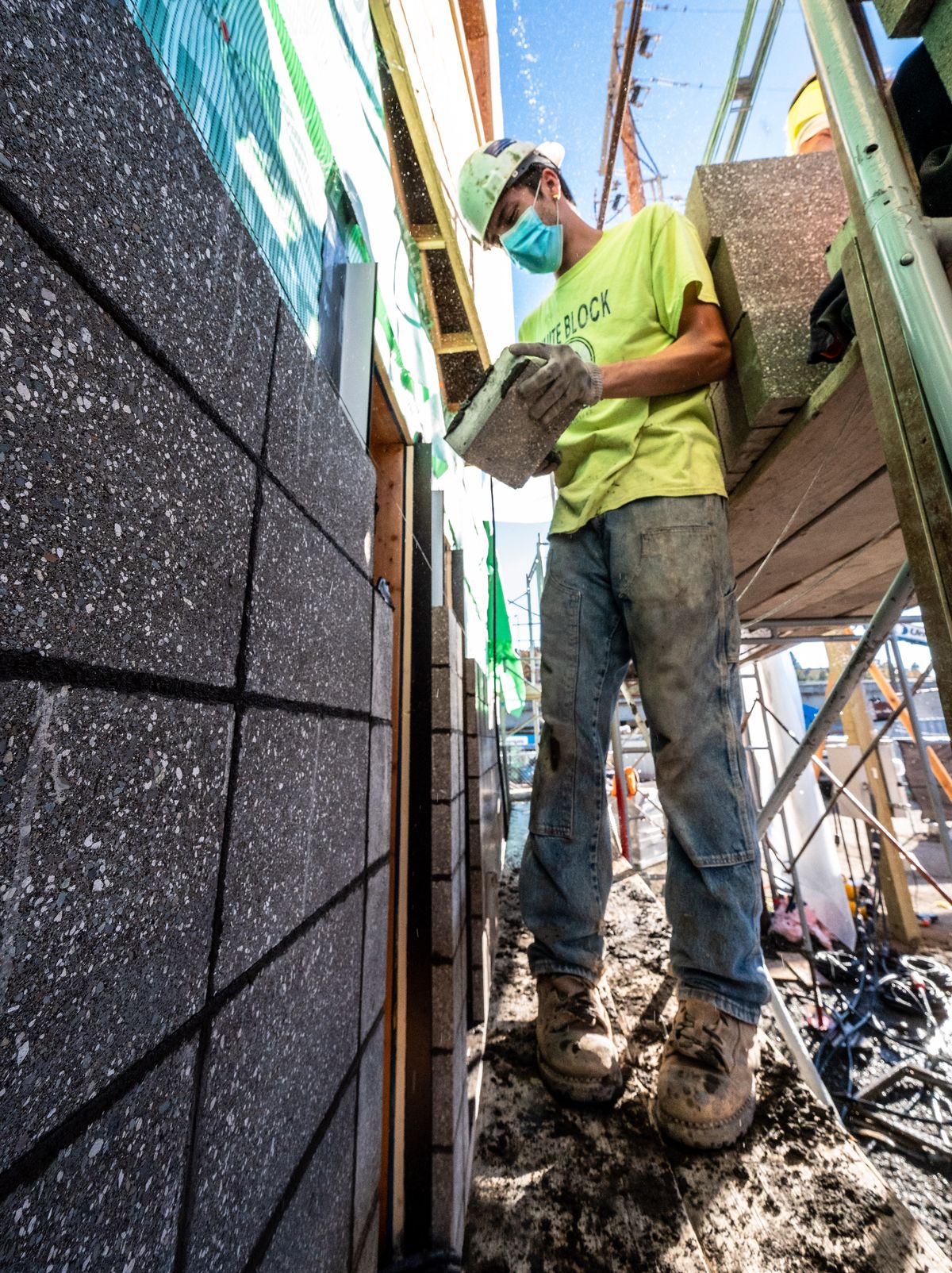 Logan Dyson with Spilker Masonry Co., works on an exterior wall of the new Hope House women's shelter under construction at 1301 W. Third Ave. (Colin Mulvany/THE SPOKESMAN-REVIEW)
Doing laundry is a chore.
Doing laundry for five dozen women in residential washing machines?
It's a nightmare.
Hope House still needs more than a few finishing touches, but Volunteers of America leaders can begin to see the emergency shelter as a future home, for more than 100 women who are homeless and the staff who will serve them.
Volunteers of America, which operates the Hope House, offered the first tour of its future shelter and permanent supportive housing complex on West Third Avenue on Thursday.
Officials plan to have the new building, which is currently under construction, ready for use by April .
Formerly the location of The Shack restaurant, the first floor of the new Hope House will serve as an emergency shelter for about 120 women, while the second and third floors offer permanent supportive housing units for about 60 More.
It's a substantially larger footprint than the current Hope House building, which is less than a mile to the east on Third Avenue and has space for about 60 overnight guests. That extra space couldn't come at a better time.
Fawn Schott, president and CEO of Volunteers of America Eastern Washington and Northern Idaho, center, gives a tour of Hope House, a new 120 bed women's homeless shelter that also includes 60 units of permanent supportive housing, Thurs., Oct 29, 2020. The Hope House shelter is a project of the Volunteers of America Eastern Washington & Northern Idaho. The new shelter was made possible with a $1 million grant from Premera Blue Cross, the Washington-based health insurer. (Colin Mulvany/THE SPOKESMAN-REVIEW)
According to the city's nightly capacity reports, Hope House has had zero emergency beds available for much of the last month.
But the project is about more than just having more room, it's about creating space that's more livable and provides stability as women – many of whom are fleeing domestic violence – search for permanent housing on their own.
The apartments upstairs will be accessed separate from the shelter. They're each designed as a studio apartment and will be available to women who have a documented disability and were previously homeless.
"Once they stabilize, we integrate them back into the community setting," said Fawn Schott, president and CEO of Volunteers of America of Eastern Washington and Northern Idaho.
The typical stay will be about 18 to 24 months, according to Schott, and each resident will have access to a case manager, behavioral health treatment, and a nurse practitioner.
Unlike many shelters that are vast, open spaces lined with cots or bunk beds, the shelter on the building's first floor is divided into smaller spaces that are less overwhelming for the women who stay there.
The shelter has private shower stalls and commercial washing machines, among a number of other amenities not available at the current shelter.
Twenty of the shelter's beds will be dedicated to respite care for women who require acute care but are not ill enough to be in the hospital.
Aside from the perks of the new building, its location offers the benefit of proximity to the Women's Hearth day center, a CHAS clinic, and a grocery store.
The project was funded in part by a $1 million grant from Premera Blue Cross.
Former Mayor David Condon, now the vice president of Premera Blue Cross for Eastern Washington , lauded the nonprofit and new facility on Thursday. He said Premera has committed to addressing homelessness and investing in behavioral health services.
"This is a building, which is absolutely amazing and it will be state of the art," Condon said. "But it really is about the people in here…that really have lived that experience and can come alongside those who are experiencing homelessness and say 'you know what, there's a light at the end of the tunnel.'"
Schott recalled her first conversation with Premera leaders, who asked how much money she needed for the project.
She requested $500,000. They called back two days later with an offer of $1 million.
"It was the first $1 million VOA had ever received" from a private donor, Schott said.
The $11.6 million project kicked off with $500,000 in funding from the state Legislature, which was later doubled by Premera. It raised $500,000 in private donations. The remainder was funded by government sources, including low income housing tax credits .
Local journalism is essential.
Give directly to The Spokesman-Review's Northwest Passages community forums series -- which helps to offset the costs of several reporter and editor positions at the newspaper -- by using the easy options below. Gifts processed in this system are not tax deductible, but are predominately used to help meet the local financial requirements needed to receive national matching-grant funds.
Subscribe now to get breaking news alerts in your email inbox
Get breaking news delivered to your inbox as it happens.
---