News
Health Officer Dr. Bob Lutz's status unclear after administrator asks him to resign
Oct. 30, 2020 Updated Sat., Oct. 31, 2020 at 11:21 a.m.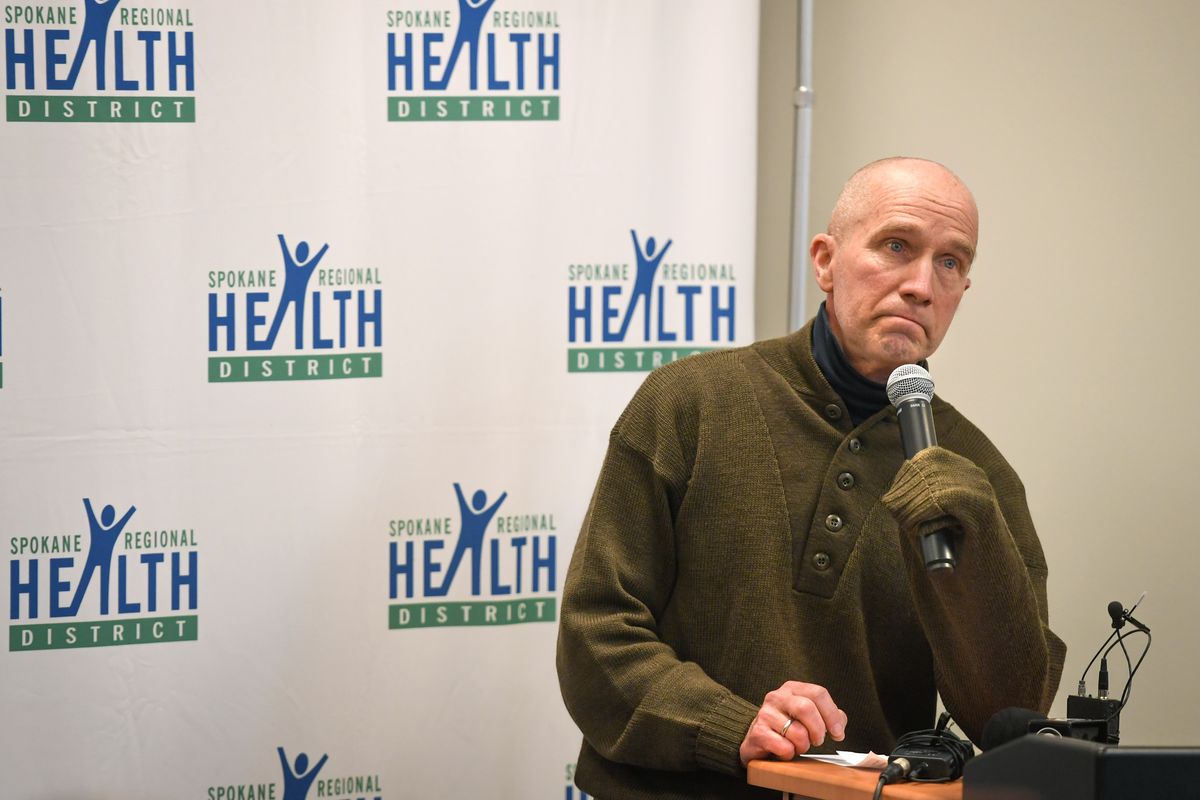 Spokane Regional Health District Health Officer Dr. Bob Lutz uses his sweater sleeve to hold the microphone on March 16 during a COVID-19 update press conference at the Spokane Regional Health District building. (DAN PELLE)
As COVID-19 cases continue to rise in Spokane County, the man leading the response to the pandemic is facing efforts to oust him from his job.
But officials aren't saying why.
The Spokane Regional Health District Board supported administrator Amelia Clark's decision to ask Dr. Bob Lutz to resign from his post as health officer on Thursday, said Health Board Chairman Ben Wick, the Spokane Valley mayor.
Health district officials said he would be fired if he didn't quit Friday, but he had not resigned as of the end of business Friday.
At least one member of the health board, Spokane City Council President Breean Beggs, said late Friday afternoon that he opposes the effort to force Lutz's resignation.
Lutz has not made any public statements since being asked to resign behind closed doors Thursday, and it's unclear whether he plans to resign or will force the health district to fire him.
At a chaotic news conference, Clark refused to say whether Lutz was fired or he resigned.
She also said there is not currently a health officer in charge of the district, and she would look for a contract worker to immediately replace Lutz.
"I am working to try to find someone who can help us via contract, but (they) would not be a permanent replacement," Clark said.
Former Spokane Public Health Officer Dr. Kim Thorburn called the decision "infuriating," "alarming" and a "disaster," saying it undermines public health during a crisis.
"It's really detrimental to what is needed to control the outbreak," said Thorburn, who was fired as health officer more than a decade ago without cause and without complaint after clashing with the Board of Health.
No answers
In a statement Friday after the press conference, Spokane Mayor Nadine Woodward did not say whether she supported Lutz's resignation or termination but stated: "Dr. Lutz has faced an extremely tough challenge over an extended time and gave everything he had to the community."
Woodward was one of several prominent local elected officials to advocate that Spokane be allowed to move to Phase 3 of the governor's reopening plan, only to be rebuffed by Lutz.
"This is a community health and economic emergency and it takes partnership and community to solve it; we will rally together as Spokane always does," Woodward said.
Despite repeated questions from multiple reporters during the press conference, Clark and Wick refused to elaborate on why Lutz was being asked to resign, calling it a "personnel issue."
While Lutz enjoyed widespread support among the medical community, he sometimes butted heads with members of the board who had pushed to loosen pandemic restrictions.
The decision to change health leadership in Spokane County coincides with another wave of COVID-19 infections. More than 200 county residents have died; dozens more are hospitalized; almost 10,000 county residents have had the disease; and the economy is balanced between a desire by many to reopen further and worries by others about spread of the virus.
The public is displaying pandemic fatigue with social distancing and masking, and tens of thousands of students are learning at home. Only kindergarten students are back in school so far in Spokane Public Schools.
Reaction on social media was swift and harsh as users began using the hashtag "#KeepBobLutz."
Many questioned the lack of information from the health district during its Friday news conference. Others noted the actions seemed to run afoul of the state's open meetings law. Still others urged fellow social media users to contact members of the board, the state Department of Health and Gov. Jay Inslee to express their displeasure at the news.
But Wick said the board supported Clark's actions.
"The decision was difficult and not made lightly," Wick said. "We cannot specify any details, but there was valid reasoning behind these actions."
In an email to staff, Clark said the executive leadership team is working with Dr. Mary Bergum, the district's medical director of treatment services, and community partners to lead the district's ongoing response to the pandemic.
In a statement released Friday evening, Beggs said a decision on Lutz's termination would have to be made in a public meeting. Earlier in the afternoon, Beggs said he opposed the attempt to force Lutz to resign.
"I look forward to the required public board meeting when I can address the merits of the situation as I see it from my perspective and on behalf of the City of Spokane which I represent on the Health Board," Beggs said.
Spokane City Councilwoman and board member Betsy Wilkerson was not at Monday's meeting, but implored the board to hold a public meeting to discuss the issue in public view.
Any concerns over Lutz's leadership had not been discussed at prior meetings and came "totally out of the blue," Wilkerson said. At this point, she could not say whether she would vote to terminate Lutz.
"I just want to know what grounds, what grounds do they have?" Wilkerson asked.
Wilkerson lauded Lutz's leadership during the pandemic. She was especially concerned with the plan for Lutz's replacement, wondering who would make decisions on matters like sending children back to school in person.
"He has been measured in his approach, he has not been swayed by the pressure," Wilkerson said. "He has had tons of pressure to open up, and he has stuck with the science."
Beggs echoed Wilkerson's concerns.
"I join those requesting prompt answers to how the district will fill the duties of those unique tasks granted only to an authorized local public health officer," Beggs said.
Spokane City Councilwoman and health board member Karen Stratton said she backs Clark.
"She is the boss; she has to run this health district," Stratton said.
Though she declined to discuss the specifics of the executive session, Stratton said the board received "information that there are issues that need to be dealt with."
"I support dealing with that issue," Stratton said.
Stratton said she will vote to terminate Lutz if asked to, something she said would be "painful" because she likes him personally. She is not concerned about losing the health officer during a pandemic because, "just knowing the kind of administrator (Clark) is, I'm not worried about it."
"She's given me no reason to not trust her judgment and her management style," Stratton said.
'It just fuels the polarization'
Thorburn, the former Spokane public health officer, said the county needs a clear, honest, straightforward public health message during a pandemic, and leaders who model good public health behavior. She said firing Lutz creates political division and distracts from the public health advice he has given.
"It just fuels the polarization," she said. "What we really need to be doing is give a straightforward message and draw people in by modeling behavior. This is the exact opposite of that."
At the health board meeting Thursday, board members went into executive session for nearly an hour and a half to discuss two items, including a review of a public employee. No public vote took place after the executive session about asking Lutz to resign.
Taking action to fire, discipline or hire an employee during an executive session is a violation of the Open Public Meetings Act. Those actions must be done in an open public meeting. According to the Health Board's bylaws, the Board of Health must also approve the hiring and termination of a health officer, and the health officer is under the authority of the health administrator.
When asked whether the board approved Lutz's resignation during the executive session, Clark said the decision didn't require a vote.
Wick said the bylaws only require the health board to "approve or concur with the administrative officer," and the Board of Health fully supported Clark's decision.
According to the bylaws, "the board of health shall approve the appointment and termination of a District Health Officer." Under previous versions of the bylaws, changed in 2016, the health officer ran the district. The administrative officer was put in charge in 2016 and now oversees the health officer. The attorney advising the health district confirmed that the health officer cannot be fired without the board's approval, which is a vote.
Millwood Mayor Kevin Freeman, a member of the Board of Health , said there was some confusion around the bylaws and he initially did not realize Clark needed the board's permission to fire Lutz. He said if or when the situation evolves to firing Lutz, the board will do so in open public meeting in the near future.
"I'm sure there will be soul searching amongst the elected officials," he said. "We represent the people who voted for us, and those who didn't vote for us."
Freeman declined to say how he would vote next week on Lutz's termination, saying he needed to weigh the issues brought up during the executive session with the good Lutz has done for public health and the community as a health officer. He said the potential firing had nothing to do with Lutz's character or his work as health officer and the board was considering it because of internal issues in the administration. He said the Board of Health will also be in a difficult position if they retain Lutz because they will be ignoring the will of the health administrator.
"If we as a district vote to retain Dr. Lutz, we are going against the will of the administrative officer, which is the person that we have directly hired to run the district," he said. "I guess at some point, we have to decide who are we going to put our faith in, the person who we hired to run the district, or the employee of the district."
The Board of Health is made up of elected officials, including County Commissioners Mary Kuney, Josh Kerns and Al French; Spokane City Council members Beggs, Stratton and Wilkerson; Spokane Valley City Council members Wick and Linda Thompson; and Freeman. County commissioner appointees Andrea Frostad, Jason Kinley and Chuck Hafner are also members of the Board.
Hafner said the Board of Health didn't vote to remove Lutz and declined to share what occurred in executive session beyond that.
County Commissioners Mary Kuney, Al French and Josh Kerns did not return requests for comment Friday.
When asked for details about that executive session on Thursday evening, Clark, who was hired last year, and several board members said they could not discuss personnel issues. But multiple board members said then that Lutz remained employed by the district.
Peers 'utterly shocked' by attempted ouster of 'levelheaded' Lutz
Lutz was first appointed to the Spokane Board of Regional Health in 2008 by County Commissioner Al French as an at-large representative. Lutz had been the clinical director of urgent care for Rockwood Clinic.
In 2017, he was selected as the new health officer following the departure of Dr. Joel McCullough.
Lutz also has served under a special contract as the public health officer for Asotin County, and remains in that position. Such an arrangement is common for smaller counties, said Brady Woodbury, administrator of the Asotin County Health District.
Woodbury said he was "utterly shocked" when he heard Friday morning of Lutz's removal. It won't affect the contract with Asotin County, he added.
"As long as he'll work with us, he'll be our public health officer," Woodbury said. "He's as levelheaded in his approach as anyone could be, especially with COVID."
Rep. Joe Schmick, of Colfax, the top Republican on the House Health Committee, heard about Lutz's removal from a reporter and said he was surprised.
"I would say he was very competent," Schmick said. "We may not have always agreed, but we were able to work together."
One area where they agreed: Local health officials should have more control rather than the state instituting a "one-size-fits-all" approach, such as when the state ordered all schools closed last spring after Lutz said Spokane-area schools would stay open.
Local public health officials "know where their problems are," Schmick said. "They have the overall public health at the top of their list."
Rep. Marcus Riccelli, a Spokane Democrat who also serves on the House Health Committee, said he was "very confused right now about what's going on" with the Spokane Regional Health District board. He hoped that Lutz's removal was not a result of "political considerations."
"We want our public health people to be doing right by public health," Riccelli said. "Undermining the confidence in the middle of a public health crisis is not a good thing.
Spokane County Democrats released a statement in support of Lutz, calling the decision "maliciously reckless," and Spokane County Republicans shared a story about the news on their Facebook page, but have not publicly released a statement on Lutz's departure.
Reporter Jim Camden also contributed to this report.
Local journalism is essential.
Give directly to The Spokesman-Review's Northwest Passages community forums series -- which helps to offset the costs of several reporter and editor positions at the newspaper -- by using the easy options below. Gifts processed in this system are not tax deductible, but are predominately used to help meet the local financial requirements needed to receive national matching-grant funds.
Subscribe now to get breaking news alerts in your email inbox
Get breaking news delivered to your inbox as it happens.
---