News > Spokane
Hundreds of runners take to streets of Spokane Valley for socially distant Windermere Marathon
Sept. 6, 2020 Updated Sun., Sept. 6, 2020 at 9:16 p.m.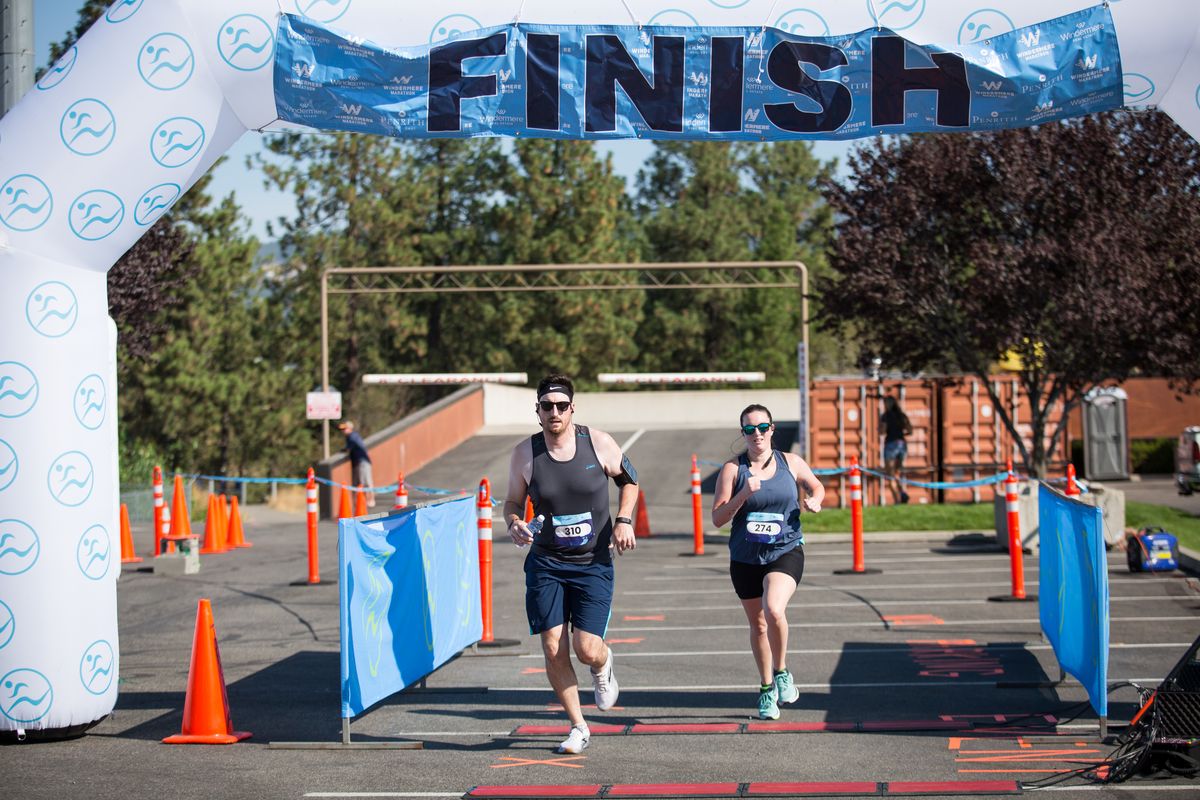 Tim and Kaylie Brown finish the Windermere Marathon together on Sunday, Sept. 6, 2020 in Spokane Valley, Washington. The event was divided between three days and three races, which included the full marathon, a half marathon and a 5K along the Centennial Trail. (Libby Kamrowski/ THE SPOKESMAN-REVIEW)
Albery Lockhart was met with signs made by his children and a big hug from his wife as the announcer called his name when he crossed the finish line of his first marathon Sunday morning.
While this finish didn't involve the fanfare that typically comes with a marathon, morale remained high and those organizing the Windermere Marathon made sure to make every runner feel special and appreciated as they crossed the finish line.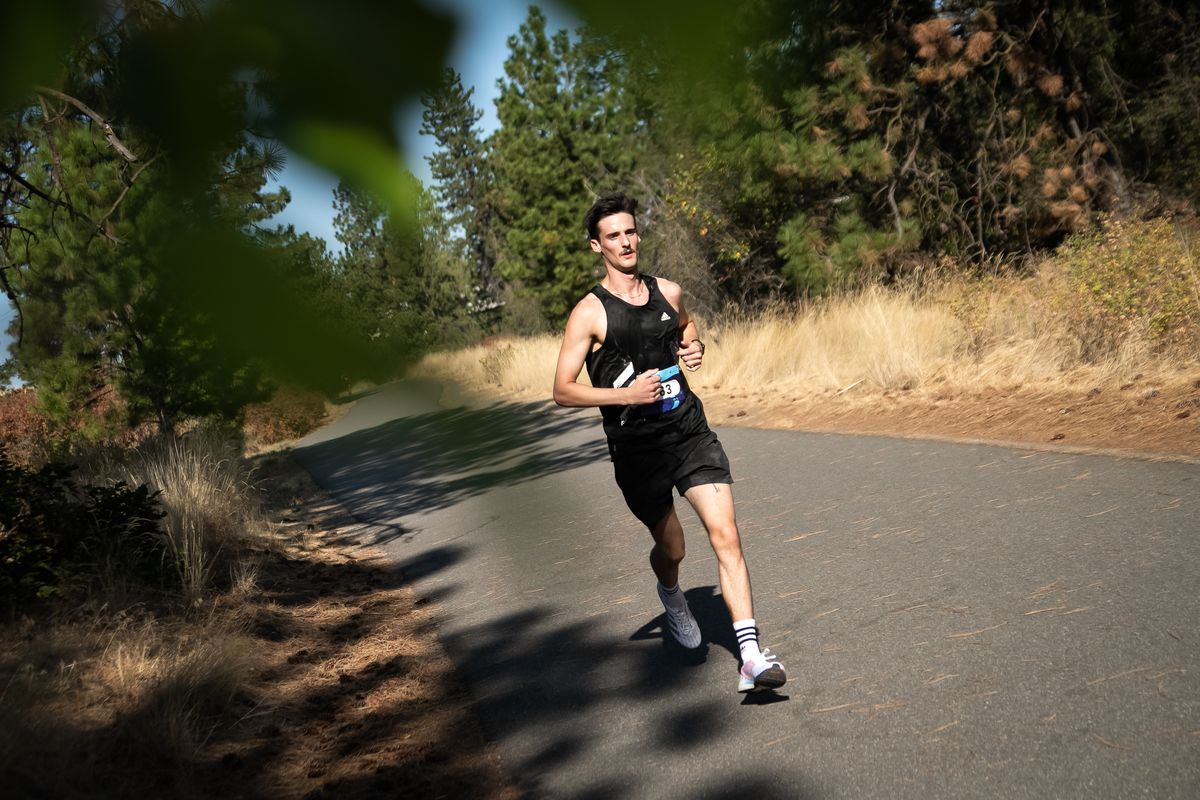 First place winner of the Windermere Marathon, Dennis McDuffie, runs the last quarter mile of the race on Sunday, Sept. 6, 2020 in Spokane Valley, Washington. The 24-year-old hails from Miami and completed the full marathon with a time of 2:52:00.0. (Libby Kamrowski/ THE SPOKESMAN-REVIEW)
"Everyone was so nice and really kept their distance, and when people passed you they let you know, and everybody handing out waters stayed really far away and were really cheerful," Lockhart said. "Everybody was supportive. It was a great atmosphere to be a part of."
Over the course of Labor Day weekend runners came to participate in a marathon, half-marathon and 5K, or participated in virtual races from their homes.
"Our plan as we set out on this journey was to make a socially distanced and responsible event through giving people options," said Ryan Hite, the race director of the Windermere Marathon and the owner of Negative Split, the company that organized the race. "Knowing that people had different comfort levels between virtual and in-person, even though it's socially distanced."
Hite said there were about 200 marathon runners out on the course Sunday and about 700 running the half-marathon and 5K. He added that they had another 500 people who decided to participate virtually from their homes.
"In general people are just excited to be out running," Hite said. "People have felt safe out here today. And people are excited that this is one of the few races this year that wasn't canceled, so they were able to come out and run and cross a real finish line."
To put the race on, Hite and his team had to put a lot of planning into developing and executing successful social distancing protocols during the pandemic.
This included having runners start individually in a staggered fashion to avoid congestion at the start line, socially distanced aid and nutrition stations on the course and at the finish line, hand-washing stations, encouragement of runners and spectators to not stay at the finish line for too long and no after-party.
"A lot of (the runners) like it," said Randy Schwaegler, the announcer at the race. "But it is a big change because it's such a big tradition to wait and hang out, because they want to start together, and they want to finish together. But they like it because they can come and run and get done and feel safe."
Schwaegler said that he made sure to wish every runner a good race as they began and to call out their names and congratulate them as they crossed the finish line since there wasn't the usual crowd of people there to cheer on the runners.
Another new addition to the organization of the race was implementing the smartphone app RaceJoy. Runners got instructions on the course, and spectators could track runners on the course through the app.
"For spectators, the app allows for live-runner tracking," Hite said. "So it allows them to track their runners on the course, and it keeps people from congregating at the finish line.
"And then secondly it reduces the volunteers we need on course because it provides some turn-by-turn and runner instructions out there so we don't have to have as much staff on the course, and we can keep everyone a little more spaced out that way."
Lockhart said that the app was useful during the race and also encouraging because he would receive messages from friends who were watching him run from the app.
"I kept getting texts from friends saying keep going, and my mom who lives in Virginia got to watch me so that was really cool," Lockhart said.
The race went well despite the execution being a bit different given the current state of the world, organizers said. Hite and Negative Split are excited that they could bring racing back in a semi-normal way.
"Obviously this is kind of a new style of racing so we're learning things along the way too," Hite said. "There is more to come and we're looking to expand this style of racing – even though we hope it's not around forever. We're trying to make it as good as we can in the near future."
Local journalism is essential.
Give directly to The Spokesman-Review's Northwest Passages community forums series -- which helps to offset the costs of several reporter and editor positions at the newspaper -- by using the easy options below. Gifts processed in this system are not tax deductible, but are predominately used to help meet the local financial requirements needed to receive national matching-grant funds.
Subscribe now to get breaking news alerts in your email inbox
Get breaking news delivered to your inbox as it happens.
---