Douglas County towns without power, under evacuation orders as wildfire closes in
Sept. 7, 2020 Updated Tue., Sept. 8, 2020 at 4:17 p.m. OKANOGAN, Washington – A wildfire threatened the towns of Bridgeport and Mansfield in Douglas County after it started Sunday night in Okanogan County, grew to 10,000 acres and jumped the Columbia River.
The Cold Springs-Canyon Pearl Hill Fire started about 3 miles south of Omak at about 9 p.m., according to the Mount Tolman Fire Dispatch Center.
By 12:30 p.m. Monday, both towns were without power after numerous reports of downed power lines, and authorities ordered residents to evacuate as a wall of smoke and dust towered over the area.
By 2 p.m. the fire had reached the South Jameson Lake drainage area and was progressing toward U.S. Highway 2. Bridgeport and Mansfield were under Level 3 evacuation orders, meaning "Get out now." Authorities were beginning to order evacuations for residents of the Moses Coulee and Rimrock Meadows areas.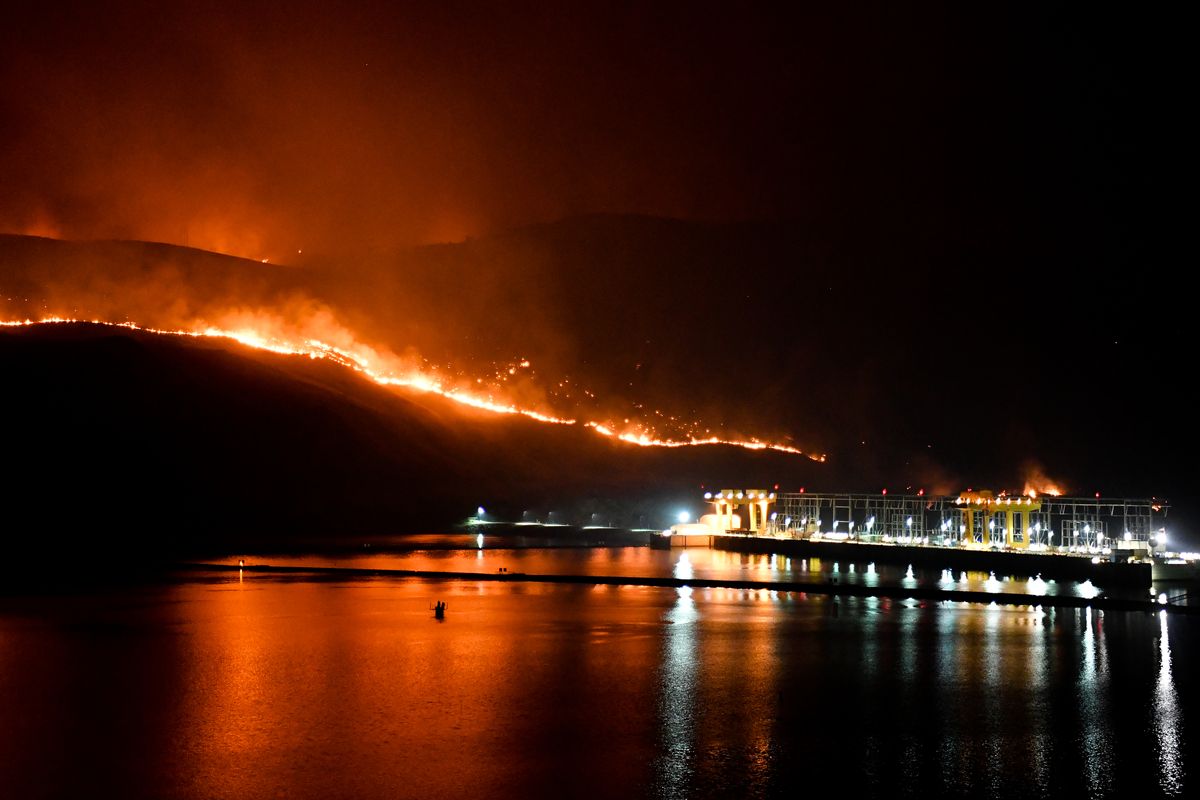 Flames from the Cold Springs Canyon Pearl Hill fire encrouch toward Wells Dam on Monday, September 7, 2020, near Azwell, Wash. Wildfires have knocked out of power in most of north central Washington. (Tyler Tjomsland/THE SPOKESMAN-REVIEW)
Residents were being told to leave toward Brewster and contact the Red Cross at (509) 670-5331 if they needed shelter assistance, according to the Douglas County Sheriff's Office.
Manthy Salcido, who lives 3 miles from Mansfield, said residents were asked to evacuate to the town's high school because it was too dangerous to flee. 
Salcido and her husband moved to Mansfield after they lost their home in Okanogan County in the massive Carlton Complex fire in 2014. The couple was visiting Colorado this weekend but was coordinating with their 22-year-old son, who was gathering their possessions and preparing to prevent the fire from entering the property.
"It has already surrounded two of our good neighbors," Salcido said early Monday afternoon.
She said area farmers were working with firefighters to build fire lines around Mansfield and other nearby homes.
"We have guys who go out and put everything on the line," Salcido said. "We have an amazing town and an amazing support system."
The Washington State Patrol closed state Highway 172 in both directions between Mansfield and McNeil Canyon Road west of the town. At the request of the Okanogan County sheriff, the WSP also closed U.S. Highway 97 from Malott to the Okanogan city limits, Trooper John Bryant said.
Troopers were urging motorists to avoid the roads amid numerous reported accidents because of poor visibility.
The Douglas County Sheriff's Office said farmers were helping local authorities dig a fire line around the eastern and northern boundaries of Mansfield.
The NCW Fairgrounds were open for residents to shelter livestock during the evacuations. The sheriff's office said those needing to shelter livestock should call (509) 745-8480.
The fire also moved south toward 12 Tribes Casino Resort in Omak, where it arrived at about 10 a.m Monday. Fire crews were able to stop the fire at the casino.
The last few years haven't been bad as far as wildfires go, Omak resident, Shane Grooms said. But he was worried this weekend. At about noon Monday, the fire turned back toward Grooms' home.
"I been tracking this thing for half of the day. It wasn't until noon until it started burning back towards my place," Grooms said.
Since then, he has been preparing to evacuate with his sons and dog, a boxer named Rocky.
Despite concern, Grooms said his sons are handling it well.
"They just kind of go with the flow," Grooms said. "They're going to do whatever dad does or whatever he tells them to do."
Grooms hopes to stay at his house as long as possible but is under no illusions that there will be resources nearby to save his house if the fire gets too close.
"I'm not opposed to letting it burn," Grooms said. "I think this fire has spread out so much between Bridgeport and Mainsfield that we're a little low on manpower."
Just a few miles away in Okanogan, Sara Cram was sitting in her house on the river and worrying. Late Sunday night the fire was lighting up the sky across the Okanogan River.
"The sky was red and the moon was up," Cram said.
Then Monday morning the fire crept over the ridge with visible flames.
"The sun was blood red," Cram said. "It was just a big ball of fire."
As the day wore on, the fire moved down the ridge toward the river and a pile of railroad ties on tribal land, just across the river from Cram's home.
"We just watched the fire jump the ridge, go down the hill, cross the highway," Cram said. "I said 'I wonder if it's going to get those railroad ties.' "
The fire ignited the railroad ties at the Okanogan River's bank minutes later.
"They just exploded. They were practically snap, crackling, popping like Rice Krispies," Cram said.
Cram and her partner, Mike Menalia, decided it was time to pack up just in case the fire jumped the river.
"Fortunately, the wind has been blowing predominately to the south," Cram said. "We're crossing our fingers. We've got everything packed to go if we need to."
As of 7 p.m. Monday, night flames were visible with trees igniting, but the fire had yet to jump the river.
Just before 2 p.m., the state Department of Natural Resources reported another fire, dubbed the Whitney Fire, had burned about 600 acres of timber, brush, grass and crops near Davenport. The DNR said the fire was still growing, and Level 2 evacuation notices were in place for about 100 threatened homes.
Jonathan Brunt contributed to this report.
This story was changed on Tuesday, Sept. 8, 2020 to correct the date that the fire in Okanogan County turned toward the home of Shane Grooms.
Local journalism is essential.
Give directly to The Spokesman-Review's Northwest Passages community forums series -- which helps to offset the costs of several reporter and editor positions at the newspaper -- by using the easy options below. Gifts processed in this system are not tax deductible, but are predominately used to help meet the local financial requirements needed to receive national matching-grant funds.
Subscribe now to get breaking news alerts in your email inbox
Get breaking news delivered to your inbox as it happens.
---