Sports
A Grip on Sports: The Cougars have lost more than just a legend with Bob Robertson's passing
Tue., Sept. 8, 2020 A GRIP ON SPORTS • There is no easy way to write about a legend. And make no mistake, Bob Robertson is a legend still. Bob's life ended Sunday, but the legend, and the stories, live on.
•••••••
• For five years after every home football game in the 2010s, Bob Robertson would rise from his chair, pull himself up the stairs in the Martin Stadium radio booth and head out, his work day done.
And I would sit in his chair.
That's it. That's all. Like Bob, I would sit and talk. But nowhere near how well as he did it. It was sort of like Abraham Lincoln rising from his monument and being replaced by Elmer Fudd. That was the drop off in talent.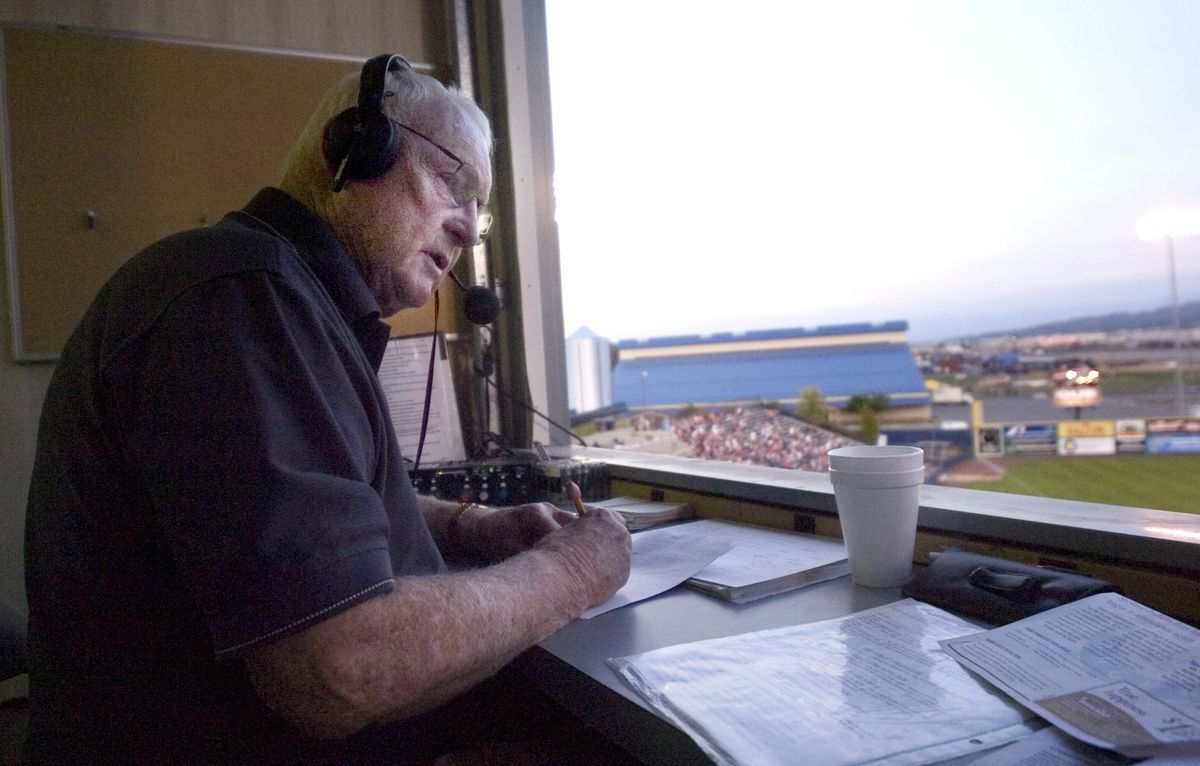 Bob Robertson was a professional. Not just a professional announcer, but a professional human being. And now, in the midst of the toughest year in our memories, he is gone. He died in his Tacoma-area home Sunday with his family at his side. He was 91.
Funny, I can't figure out how the entire Cougar fan base was able to gather in such a small space. Actually, I can. They were there in spirit. As they have been around Bob the past half-century.
That's what Bob was – part of the Cougar family – and had been for as long as most of us have been alive. He was the spirit of Washington State athletics. Oh, sure, he was called "The Voice of Cougar Sports" but there was more to it than that. He was the school's soul. "Always be a good sport; be a good sport all ways" defines it. Defines him. Defines his life.
His name may be on the Martin Stadium press box but it really doesn't need to be. His legacy permeates the place, just like his voice used to permeate Saturday afternoons in the Northwest. When Robertson began doing play-by-play on Cougar games in 1964, games were rarely on television. If you couldn't make it to Pullman (or Spokane or wherever the Cougars were playing that week), Bob's voice accompanied the action. Described it. Enhanced it. Put you on those hard aluminum benches from your living room or car.
It's his voice Cougar football fans remember. The players changed over the years. So did the coaches. Heck, Martin Stadium went from the smallest stadium in the Pac-8 to the smallest stadium in the Pac-12 and through it all, Bob sat in the press box and called the action.
He was already a legend when I first met him in person, in 2006. Of course, I knew him from his voice for almost 25 years, having first listened to him describe Cougar football games in 1983. But the first human contact came in a line for one of the two Martin Stadium press box restrooms available in those days. It wouldn't be our last encounter under those circumstances. It became a running joke. Though I have no specific memory of it, I'm pretty sure Bob let me jump ahead of him in line. That's just the way he was.
But don't think Bob was ever going to let anyone jump ahead of him as a Cougar broadcaster. He loved his job. He took pride, deservedly, in it. He held on to it until his body and mind told him he couldn't do it anymore. And no one begrudged him the honor. He was into his 80s when he gave up the play-by-play duties. He continued on for a few more years as an analyst. He earned the right to call it a night when he wanted. He did, retiring from the booth for good in October of 2018.
By then I was no longer occupying his chair after games. An hour call-in show had proved to be too much. After six years it was just too hard to be nice to people anymore. Bob did six times as many hours as that for 52 years and, all the while, continued to radiate good cheer on the air and off. How he did it is still a mystery to someone who watched it for more than a decade.
Bob Robertson, until the end, was always a good sport in all ways.
•••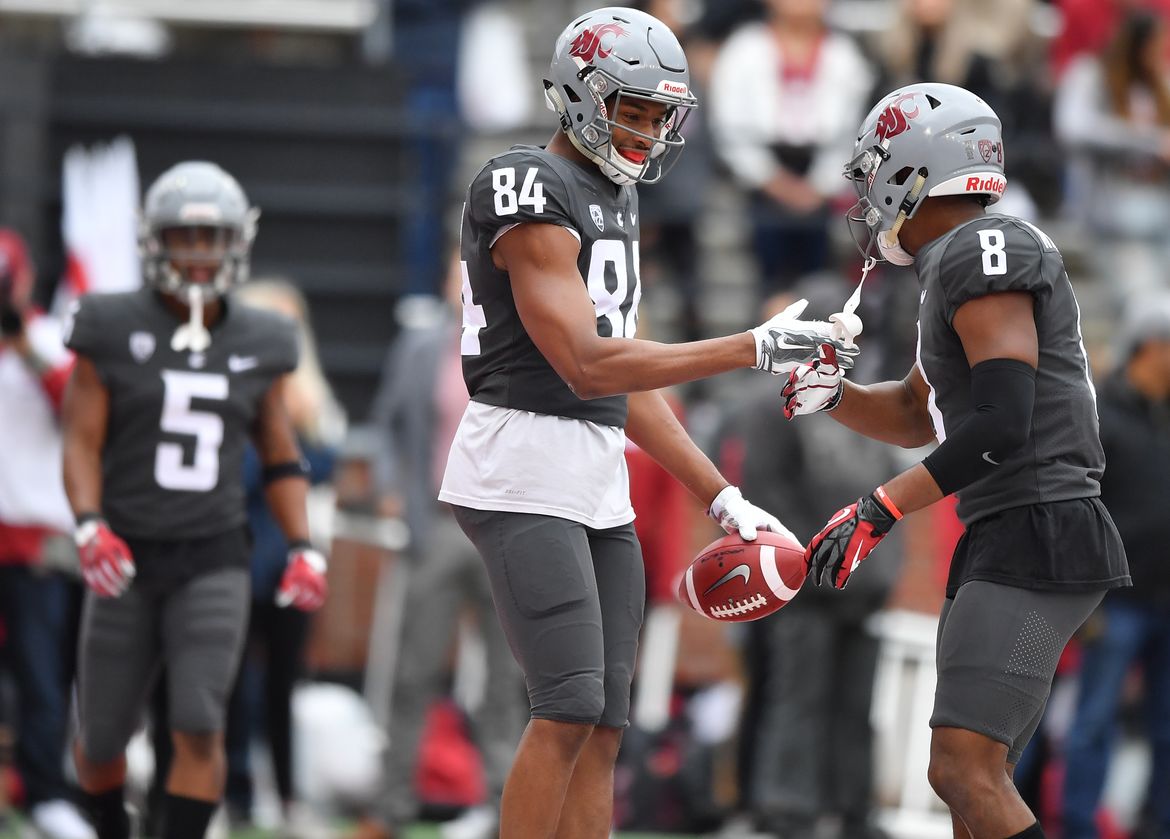 WSU: Writing obituaries isn't fun. But it's a necessary part of being a journalist. Theo Lawson had the assignment for the S-R on Monday and did a masterful job. He not only covered the touchstones of Bob Robertson's Washington State career, he allowed those who knew him as Cougars to talk about their friend. And to say goodbye. … There are a lot of tributes this morning, including this one from Larry Stone, and other news stories about Robertson's death. But we want to call your attention to John Blanchette's column written when Bob retired – and to the first letters of the first few paragraphs. … Bob's friend and longtime broadcast partner, Paul Sorensen, spoke with Larry Weir for a special Press Box podcast. … We also can pass along some pictures of Bob's career. … There was other WSU news yesterday covered by Theo, including Kassidy Woods putting his name in the transfer portal and women's basketball coach Kamie Ethridge being cited by Pullman police for a party not following COVID-19 restrictions. … Around the Pac-12, Oregon will be without its best player whenever the season begins. Penei Sewell is not going to play, instead preparing for the NFL draft. … It's still 2000 at Oregon State. … Former Colorado coach Rick Neuheisel has his thoughts about the Pac-12 and football. … In basketball news, a former USC star has died. … Remy Martin is ready to lead Arizona State to new heights. … One more Lute Olson tribute from Tucson.
Gonzaga: I'm putting this link here because of all the times I heard former GU coach Dan Fitzgerald talk about USF's Phil Woolpert.
Golf: We lost power in the early afternoon, so I missed Dustin Johnson's holding off a couple challengers to win the FedEx Cup Championship. Luckily, it aired later, so I was able to see how well he played.
Mariners: The M's sixth consecutive victory was also on my TV rotation Monday when the winds took down the power lines so I missed much of the 8-4 win over the Rangers. … Dylan Moore might be the surprise of the season.
Seahawks: Pete Carroll talked about Jadeveon Clowney and other things yesterday, but not Josh Gordon. … He also spoke about a few starting spots but not all. And some backups. … The defensive line didn't receive the offseason love it needed. … The team picked captains.
•••       
• No way I was giving in. As the temperature dropped throughout the day yesterday, some folks in this house braced their selves for the cold. Hoodies went on. But not for this guy. It is still summer, darn it, cold wind or not. Shorts it was and shorts it will be. Talk to me in October. Until later …
Local journalism is essential.
Give directly to The Spokesman-Review's Northwest Passages community forums series -- which helps to offset the costs of several reporter and editor positions at the newspaper -- by using the easy options below. Gifts processed in this system are not tax deductible, but are predominately used to help meet the local financial requirements needed to receive national matching-grant funds.
Subscribe to the sports newsletter
Get the day's top sports headlines and breaking news delivered to your inbox by subscribing here.
---