Lincoln County wildfire burned 100,000 acres; blaze still uncontrolled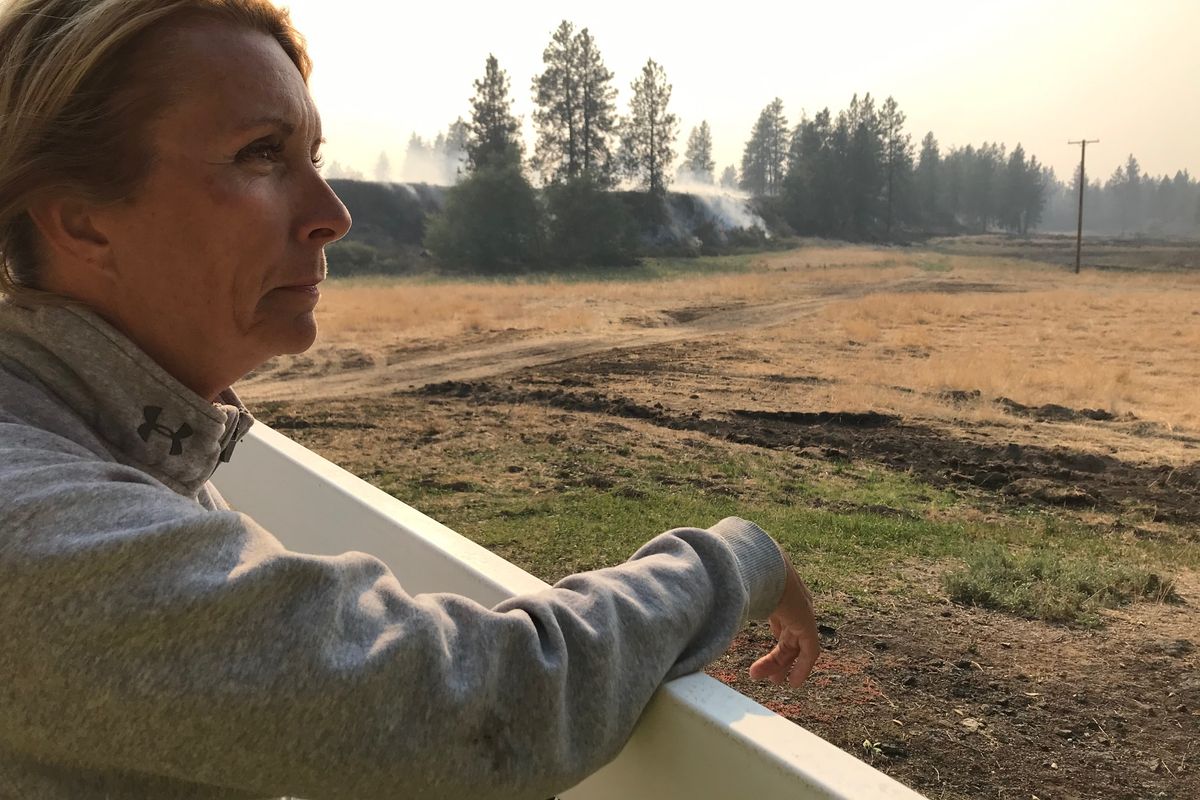 DAVENPORT – The scene in Lincoln County remained a smoldering mess Tuesday as crews struggled against the massive Whitney Road Fire.
It started Monday when high winds blew a snag into a power line on Hawk Creek Road. The sparks ignited flames which were whipped into a wind- fueled inferno that raced southwest across Highway 2 west of Davenport and took out at least four homes, and continued to grow on Tuesday.
The fire remains uncontrolled and there are no fire lines holding as of Tuesday evening, said Department of Natural Resources spokeswoman Isabelle Haygaard. After Monday's conditions kept aircraft grounded, crews were aided Tuesday by better weather conditions that allowed pilots to fly two helicopters, four Fire Boss aircraft and a four-engine jet tanker.
Haygaard still did not know how many outbuildings or livestock were lost.
"This occurred in a lot of ranches and grassland. It moved so quickly, sometimes all you can do is open the gate and find (the cattle) later," she said.
The fire started out in the timbered Hawk Creek canyon. "As soon as it got out of the timberland, it chewed right through the sage brush and bitter brush," Haygaard said.
The wall of flame raced southwest, crossed Highway 2, which prompted a closure because of zero visibility, and then continued south before the wind shifted the fire to the west. Estimates put the fire at 100,000 acres, but Haygaard said it could be even more.
Traci Cole was in her farmhouse Monday, 10 miles west of Davenport, when she noticed what she described as a poof of smoke in the distance. Then it turned white, making her think someone had put water on the fire.
Then the nightmare came racing directly at her family ranch. Her phone started blowing up.
"Around here, they are all firemen and family," she said. "They called and said get some sprinklers on the north side."
The driveway to her farmhouse turned into a staging ground for fire crews, bulldozers, ranchers with stock trailers and even a food service to keep everyone fed. Amidst all the activity, flaming chaos reigned around them.
Traci Cole was joined by her sister-in-law, Kim Cole, and Traci Cole's brother, Brad, who is a volunteer firefighter for Lincoln County Fire District 5 in Davenport. Brad Cole, who co-owns the ranch with Traci, brought a tinder truck to protect the home.
Crews bulldozed a line to the west of the house and shoveled a line around the main shed in case they had to light a backfire to protect the building.
Then the fire jumped the highway about 400 yards east of the house. Then wind pushed another line of fire that jumped the highway to the west. Once across the highway, flames turned and burned behind the house so that the farmstead was surrounded.
"Then it moved south, then it took out our barn and the hay pile," Cole said. "Then we had people on horses and four-wheelers show up moving cattle ahead of the flames."
The Cole family has about 200 head of cattle that had to be pushed, along with young calves, through the smoke and chaos.
"All you are doing is trying to find green meadows or water and shove them in," she said.
Cole talked about the ordeal late Tuesday afternoon even as fire continued to burn within 50 years of her homestead. She's sure the ranch lost several head of cattle, but the fire has prevented them from a thorough search.
"We are still trying to find fences. We're trying to find posts to build something temporary, but the stockpile of posts burned," she said.
At one point it got so bad that Traci and Kim Cole had to evacuate about a mile away to a taxidermy shop. But they were able to return to the home, which was being guarded by her brother and the tinder truck.
"We sat on the corral and watched and checked the wind," she said.
A similar fire in 2008 burned about 70,000 acres, but that fire came from the south – the opposite direction.
"So, this is the second time for the family," she said. "You learn really quick that you have to let fire burn and just save the structures."
Kevin Hupp, 48, lives east of Seven Mile Road, which for a stretch, parallels Hawk Creek. He drove Tuesday to get a generator because his home had lost power.
His home was behind a hill, but he could see a wall of smoke.
"It was scary," he said. "A lot of friends and family are right in the middle of it."
He grabbed what he could and threw it in his diesel pickup. He then drove to a high spot in the road where he could see the direction of the fire.
"If the wind had shifted, it would have been a whole different ballgame."
While ranchers and homeowners were fighting for their cattle and homes, firefighter Dan Moldrem, 21, spent Monday night on the front lines.
He and Lt. Chris Ruiz, from Lincoln County Fire District 5 were battling the western edge of the fire when their brush truck blew a tire.
"The wind brought (the fire) up Hawk Creek," Moldrem said. "It hit that flat scabland and took off like crazy."
Ruiz, 56, worked as a paramedic on an ambulance on Monday and responded to several collisions from motorists who were stopping on Highway 2 because of a loss of visibility.
One of the crashes involved a motorcycle versus a motor home.
The crews were not sure of the damage, as their counterparts radioed that the fire was approaching a nearby home.
They heard that the three homes and five outbuildings had been lost. They had not heard anything about injuries to homeowners of firefighters.
As they spoke, the air crews continued to hit the fire, which crept up over the canyon wall and presented as 30-to-40-foot walls of flame as it hit lines of sagebrush.
A helicopter made dozens of runs with a bucket that it filled from a pond, and four fixed-wing aircraft made runs into the billowing smoke after loading up with water from the Columbia River.
---