News > Local business
Sweet Annie's Artisan Creamery to open in Liberty Lake's River District
Wed., Sept. 9, 2020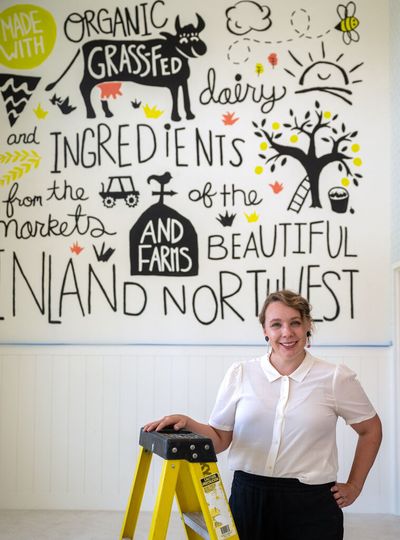 Fans of the delicious ice cream at Sweet Annie's Artisan Creamery will be heartened to know that owner Annie Stranger, who previously only sold her ice cream at local farmers markets, soon will be opening a store in Liberty Lake's River District.
On a recent afternoon, Stranger was painting a mural on the wall of her new shop while her staff unpacked the kitchen and construction workers put on finishing touches.
"It's pretty great, honestly," she said. "It's a dream come true."
When Stranger was growing up in Coeur d'Alene, she had no idea that one day she'd own her own ice cream shop. She was a graphic artist in New York City when she first got interested in food as more than fuel for the body.
"I really fell in love with food while I was there," she said. "I was always so taken by the care and consideration they all took."
Eating out was an experience and Stranger started getting into the idea of eating food grown locally. Eventually, Stranger made her way back to Coeur d'Alene in search of something new and challenging. That's when her hobby of making ice cream with her mother started to take center stage.
"For a couple years, we'd host ice cream socials with just our friends and family and make a whole bunch of different flavors," she said.
She was a regular shopper at local farmers markets and noticed there was never anyone selling ice cream, and got the idea to do it herself.
"It seemed like a no-brainer," she said. "It gives an outlet to that creative spirit in me."
She quickly learned the reason no one sold ice cream at a farmers market was because of the many requirements that came with serving a dairy product. Still, she was determined to move forward.
"You have to meet a lot of rigorous standards," she said. "It took six months just to get the paperwork done."
In 2016, she started selling her ice cream at the Perry Street Farmers Market and the Fairwood Farmers Market. For the past couple of years, she's been selling at Perry and the Liberty Lake Farmers Market, but Stranger said opening a shop was always her goal.
"Farmers markets are a way for us to get our name out there," she said.
She's been looking for a location to open a store for years but never found anything that suited her. Greenstone Homes is developing the River District, and Stranger said one day she cold-called Greenstone owner Jim Frank and told him she was interested in opening an ice cream shop in his development.
"I had seen what Greenstone did in Kendall Yards," she said, referring to the development of homes, apartments and businesses in downtown Spokane. "It just seemed like they were good at building community."
Frank was interested in her proposal and suggested a location on Harvest Parkway across from the new Orchard Park in Liberty Lake. Stranger was sold.
"This space, when I first started talking to him, was just sketches. There was nothing here," she said.
Now, homes are taking shape on Harvest Parkway, and children can be seen and heard playing in the park.
"It just feels very comfortable," she said.
Stranger was planning her new store when the pandemic hit the area in March, but she decided to move forward.
"We've been working toward this for so long," she said. "I just decided there was never going to be a perfect time."
She had made some changes, however, including getting tables and chairs that can easily be moved outside. The shop also has a walk-up window, and a menu will be posted on the front door so people can make their ordering decisions before they come inside.
Stranger had planned to open in mid-September, but delays in the landscaping means she could not have her final inspection. Stranger said she'll announce a new opening date on her Instagram as soon as she knows when it will be.
When the shop opens its door, hours will be 11 a.m.-8 p.m. Tuesday through Sunday. It will be open later during the summer months. In addition to ice cream, the shop will sell a limited number of beverages and ice cream floats.
Stranger plans to have 16 ice cream flavors on the menu, including Bees Knees, her top seller. It's butter-flavored ice cream with ribbons of local honey and homemade honeycomb candy.
She plans to add a couple of new flavors, pistachio and popcorn. She's partnering with Roast House Coffee to create a coffee ice cream and plans to bring back her vanilla flavor. People will be able to order scoops or cones or use a topping bar to make their own sundae.
Almost everything in the shop is handmade from local ingredients.
"Everything here is from scratch, except for the sprinkles," she said.
Local journalism is essential.
Give directly to The Spokesman-Review's Northwest Passages community forums series -- which helps to offset the costs of several reporter and editor positions at the newspaper -- by using the easy options below. Gifts processed in this system are not tax deductible, but are predominately used to help meet the local financial requirements needed to receive national matching-grant funds.
Subscribe to the Coronavirus newsletter
Get the day's latest Coronavirus news delivered to your inbox by subscribing to our newsletter.
---