News > Local business
Avista's Latisha Hill selected for 2020 YWCA Women of Achievement award for business and industry
Thu., Sept. 10, 2020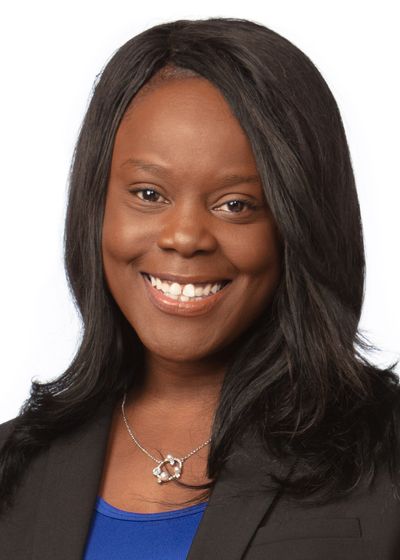 Businesswoman Latisha Hill's roots are in Spokane and she returned to Spokane to do the community work that has led her to be recognized as this year's YWCA Women of Achievement award recipient in the business and industry category.
The annual YWCA Women of Achievement awards are typically honored during a fundraising luncheon, but this year there will be a virtual celebration on Oct. 1. The virtual event is free, but people can purchase a take home meal from Masselow's Steakhouse and other Northern Quest Resort and Casino Restaurants for $125. Registration information is available at ywcaspokane.org.
Hill's parents met at a dance hall on Fairchild Air Force Base, and Hill spent her early years in Spokane before moving to the Seattle area with her family in elementary school. When she was in high school she came back and graduated from Rogers High School. She attended Pacific University in Oregon, but came home when her mother became ill. She took classes at Spokane Falls Community College and earned a bachelor's degree in communications from Washington State University with a minor in rural sociology.
"I studied a lot of things," Hill said. "I could never make up my mind."
While her path seems like a straightforward path toward success for a young woman, it almost never happened. There was one night and one person who set her straight. When she was living in Tacoma with her family, she would often hang out with her friends until all hours of the night and didn't spend much time at home.
One night, while she was out, she was spotted by her school counselor. He told her she was too smart to be roaming the streets of Tacoma. In the days after, he recommended she get involved in her school and community.
It was an event Hill said was pivotal in her life.
"He saw me as a person," she said. "He had me in clubs I didn't know existed. I became very, very active in community service projects."
Sometimes in life people feel lost and not seen, like Hill was when her counselor spotted her. She said she appreciates receiving the award from the YWCA because she thinks they're on the same mission her counselor was.
"The Y provides opportunities to be the village for each other," she said. "I feel an obligation to pay forward a lot of stuff that's been put into me. I think a lot of grace has come into my life. My goal is to try and make that happen for other people, too."
After Hill graduated from college, she worked in the Toys R Us management program for a time before realizing it wasn't the place for her.
"It was all about the bottom line," she said. "I felt I was missing a part of myself, the generosity component."
She worked for the Spokane nonprofit AHANA, which offered assistance to minority business owners. That included helping them get access to capital.
"That work really opened my mind to the disparities in economics," she said.
She went back to school and earned a master's degree from Eastern Washington University in urban and regional planning. That's when Avista Utilities began recruiting her, and she agreed to work there a few hours a week as an intern.
"I was so blown away by how many things Avista touches," she said.
She was hired on as the special projects coordinator in 2006 and kept moving up. She's been Avista's vice president of Community and Economic Vitality since January.
Hill said her job is to identify ways Avista can be a good community partner in the cities and towns it serves in its sprawling service area. She also manages the Avista Foundation.
She also is still continuing her community work. She's heavily involved at her church, Bethel AME, and serves on the boards of the Group Health Foundation, the University District Public Development Authority and the Northeast Public Development Authority.
But Hill said that people shouldn't worry if they can't serve on boards and commissions because that isn't the only way to serve the community. Serving the community can be something as simple as caring for an aging relative. "We should serve where we are," she said. "Sometimes the richest things aren't getting the limelight."
Hill said she felt grateful to be named a YWCA Women of Achievement awards honoree but even now isn't sure she belongs in such a group of women.
"I know the caliber of women the YWCA honors," she said. "I just felt so incredibly humbled. It's kind of like when you're at Thanksgiving and you're at the kiddie table and someone calls you over to the big table. You're sitting there and your feet are dangling, but you're there. That's what it feels like."
Local journalism is essential.
Give directly to The Spokesman-Review's Northwest Passages community forums series -- which helps to offset the costs of several reporter and editor positions at the newspaper -- by using the easy options below. Gifts processed in this system are not tax deductible, but are predominately used to help meet the local financial requirements needed to receive national matching-grant funds.
Subscribe now to get breaking news alerts in your email inbox
Get breaking news delivered to your inbox as it happens.
---