News > Idaho
Fulcher faces challenge from Democratic and Libertarian newcomers with military backgrounds
Sept. 12, 2020 Updated Thu., Oct. 8, 2020 at 12:12 a.m.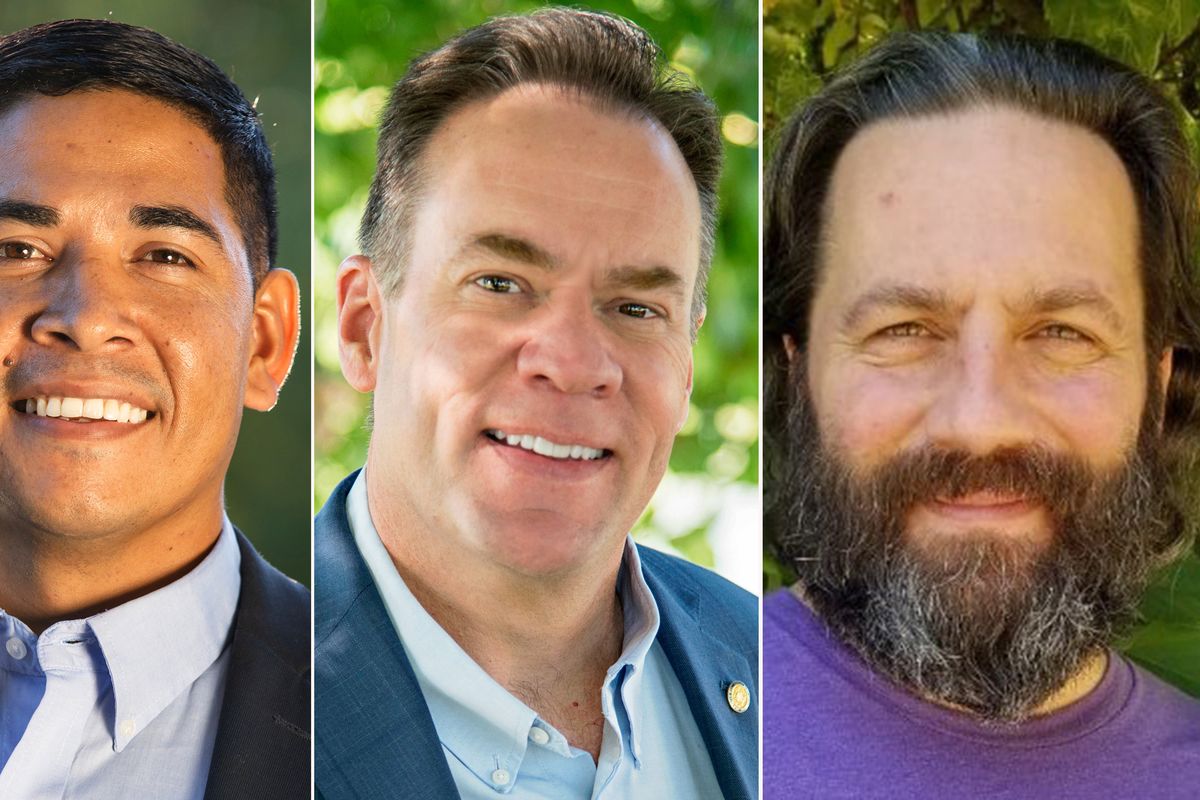 Democrat Rudy Soto, incumbent Republican U.S. Rep. Russ Fulcher and Libertarian Joe Evans are running for the Congress in Idaho's First District in the November 2020 election
Rep. Russ Fulcher has a law-and-order message in his first bid for re-election to his seat in Congress representing western Idaho.
He faces Democrat Rudy Soto and Libertarian Joe Evans, who both hope their military backgrounds will help them win in one of the nation's most Republican-leaning districts.
Mirroring President Donald Trump, Fulcher has made support for police a centerpiece of his re-election campaign. Soto is pitching himself to voters as a centrist "uniter, not a divider" focused on issues like health care, education and the economy. Evans, an Army veteran, wants to bring U.S. troops home from wars overseas and reform the criminal justice system.
The 1st congressional district includes all of North Idaho and Boise's western suburbs and runs the length of the state to the Nevada border. The district is heavily Republican, with a Cook Political Report rating of R+21, meaning voters favored GOP candidates by 21 percentage points more than the national average in the past two presidential elections. Fulcher received more than twice the votes of his Democratic opponent, Christina McNeil, in 2018.
Fulcher, who traveled the world selling Idaho tech products before entering politics, overcame a primary challenge from fast-food entrepreneur Nicholas Jones earlier this year. Fulcher represented parts of Ada County in the Idaho Senate for a decade before succeeding Republican Raúl Labrador, who stepped down for an unsuccessful run for governor.
Soto, a former congressional staffer who served for nine years in the Army National Guard, bested University of Idaho law student Staniela Nikolova in the Democratic primary. Evans was unopposed for the Libertarian ticket.
In his first term in Congress, Fulcher has found a home for himself in the House Freedom Caucus, a bloc of conservative Republicans that pushes for limited government. He voted against his party just 5.7% of the time, according to a ProPublica vote tracker. One of those few exceptions came in December 2019, when he split with the majority of GOP lawmakers to back a limited immigration reform bill, joining every other House Republican in the Northwest.
In an interview with The Spokesman-Review, Fulcher credited the rest of the Idaho delegation – veteran Rep. Mike Simpson and Sens. Mike Crapo and Jim Risch – with helping him get up to speed in Washington, D.C. He has co-sponsored more than 100 bills since beginning his term, but acknowledged that most will go nowhere in the Democratic-majority House.
"I'm not naive," Fulcher said. "Most, certainly, are not going to move. Not in this environment. It's way too partisan."
He cited two bills dealing with health care saving accounts and flexible spending accounts as possible exceptions to this rule, modest reforms that he supports in hopes they could help families pay health care costs during and after the COVID-19 pandemic.
Fulcher said his first term in office has taught him that being an effective lawmakers is all about building relationships with his colleagues, but he said a polarized environment at the Capitol has made that difficult.
"It is so hard right now to have the rapport you have to have to be successful," he said. "I'm told by the old veterans that there's more conflict in Congress now than probably any time since the Civil War era. We are going farther and farther apart philosophically."
Soto sees Fulcher as part of that problem, pointing out that Georgetown University and the Lugar Center's Bipartisan Index rated Fulcher as one of the most partisan House members. In contrast, Soto said he would join the bipartisan Problem Solvers Caucus and pledges to limit himself to three terms in office, a restriction he wants to see imposed on all representatives.
"I've never aligned myself with extremes," Soto said. "I come from a conservative community and I've always identified myself as a middle-of-the-road Democrat. I see Congress as an unpopular institution because they put their own personal politics ahead of what people want and need."
Fulcher said he spent time over the House's summer recess talking with mayors and law enforcement leaders in Idaho to express his support and "make sure that we aren't having some of the same trends as has happened in Portland or Seattle, where there is seemingly a very small appetite to resist lawless protests."
"We're not immune to that and we're not far away," Fulcher said, emphasizing that he supports the right to protest peacefully and calling the armed civilians who showed up in response to racial justice protests in Coeur d'Alene and elsewhere in Idaho "a stabilizing force."
In June, Fulcher introduced a nonbinding resolution calling for cities that cut police funding to loosen gun restrictions.
Evans, a Meridian native who returned home after multiple tours in Iraq and Afghanistan as an Army intelligence analyst, found himself in the middle of that debate when he was assaulted by white supremacist counterprotesters, the Idaho Statesman reported, at a Black Lives Matter protest in Boise in July.
The Libertarian candidate said said he was driven to run for office after returning home from his military service, an experience he said imparted important lessons but left him disillusioned and convinced the U.S. should end its military engagements overseas.
"I want to see global peace. I want to see our troops coming back home," Evans said. "I don't want to see my fellow veterans and future veterans put in a situation where they can risk injury and death because of political failures on a global scale."
Evans said another big priority is decriminalizing what he called "victimless crimes," including drug use, sex work and "basically anything that involves a consenting adult making their own choices with their own body."
Soto, the son of a Mexican immigrant and a member of the Shoshone-Bannock Tribes, has focused his campaign on kitchen-table issues like education – Idaho ranks last in the nation in per-student spending – and economic development, including improving broadband internet access in rural areas and tribal reservations.
The Nampa native, who moved to Portland for high school and college, said the issue of health care drove him to enter the race. After his father died of cancer in 2014 after getting laid off and losing his health insurance, Soto got involved in the effort to and expanding Medicaid in Idaho.
He said that experience – the initiative passed with over 60% of the vote – showed him Idaho voters are willing to defy partisan politics.
"That was part of my healing process," Soto said. "In 2018, things changed with the passage of Medicaid expansion by such an overwhelming margin. That made me feel really good about the people where I come from."
All three candidates said the pandemic has made campaigning difficult. Soto recently embarked on an "every county, every community" tour in an RV to reach out to voters across the district, and he said his campaign will rely heavily on online outreach.
Fulcher said the restrictions on large gatherings forced him to reach voters through Zoom meetings and tele-town halls.
"How I typically campaign is an endless string of meet-and-greets or town hall meetings, in person" he said. "There's nothing quite like interacting with people face to face. You can see if they agree or disagree, and learn and tailor your attention to areas where you see concern."
Despite those limitations, Fulcher looks primed for re-election in the ruby-red district. Evans and Soto hope voters are ready for change after just one term from the Republican.
Idaho voters must register to vote by Oct. 9 and can request absentee ballots until Oct. 23. Early voting begins Oct. 19. Election Day is Nov. 3, and Absentee ballots must be received on or before Election Day, Nov. 3, in order to be counted.
Local journalism is essential.
Give directly to The Spokesman-Review's Northwest Passages community forums series -- which helps to offset the costs of several reporter and editor positions at the newspaper -- by using the easy options below. Gifts processed in this system are not tax deductible, but are predominately used to help meet the local financial requirements needed to receive national matching-grant funds.
Subscribe now to get breaking news alerts in your email inbox
Get breaking news delivered to your inbox as it happens.
---