News > Spokane
In race for 3rd LD House seat, Timm Ormsby supports mandates aimed at slowing COVID-19; Bob Apple doesn't
Sept. 15, 2020 Updated Wed., Oct. 7, 2020 at 11:16 p.m.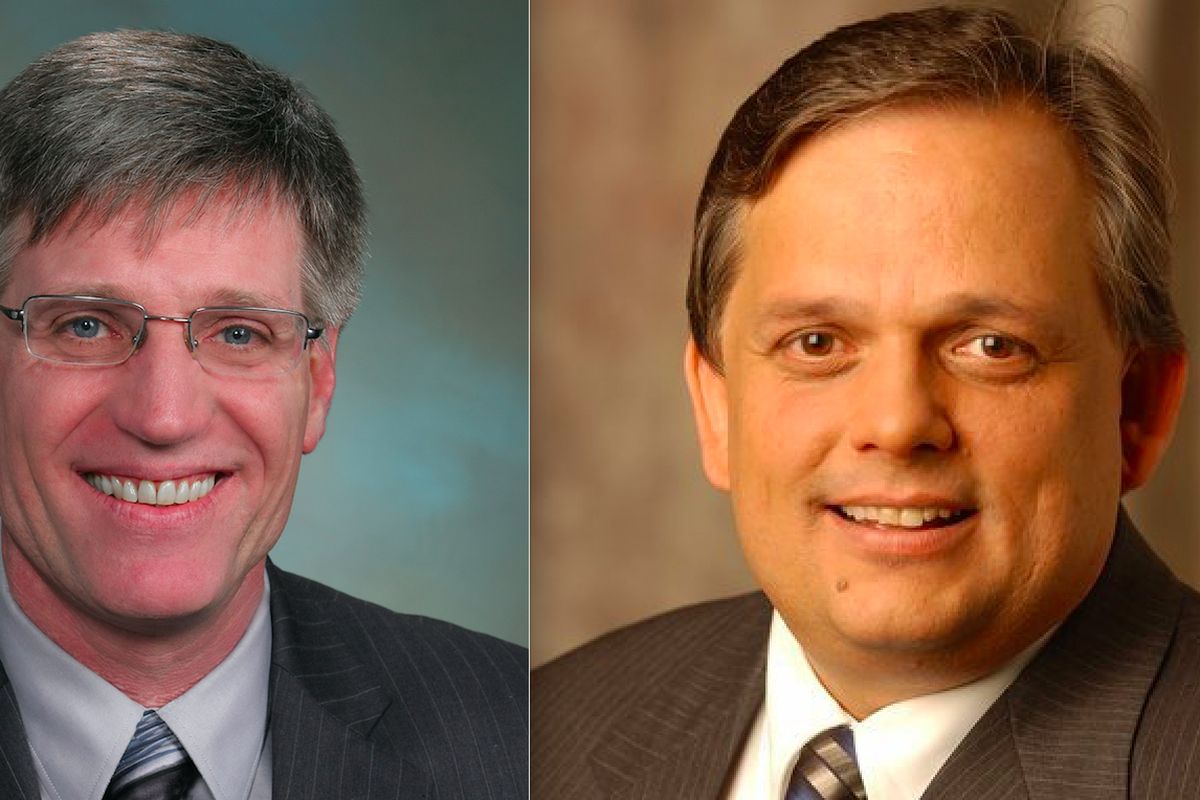 Incumbent Democrat state Rep. Timm Orsmby, left, faces former Spokane City Councilman Bob Apple, a Republican, in the November 2020 election in the race for state House position 2 representing Washington's 3rd Legislative District.
Former Spokane City Councilman Bob Apple and longtime state Rep. Timm Ormsby disagree on many of the biggest issues facing the state, leaving a clear choice for voters in central Spokane to make in November.
The two are running for state representative position 2 in the 3rd Legislative District.
Apple is best known for his time on the Spokane City Council from 2003 to 2012 and his ownership of the Comet Tavern in Hillyard for 17 years. His party affiliation has switched over the years, from Republican to Democrat and back to Republican.
"The parties have changed," he said. "After Reagan, the party turned really bad. Now it's switched again."
He also supports Republicans in state and national offices, including candidate for governor Loren Culp and President Donald Trump.
"I think Trump is doing a great job," he said.
Ormsby is a long-time Democrat, and is the chairman of the powerful House Appropriations Committee. He said he's proud of the work he did to get the state's budget passed in March. It was approved on March 12, the day before Gov. Jay Inslee closed schools because of the pandemic.
"I offer a wealth of experience in the legislative venue," Ormsby said. "I know how legislation evolves."
Apple disagrees with how Ormsby, the Legislature and Inslee have handled the COVID-19 pandemic. He questions why some small businesses were forced to close while larger retailers like Walmart were allowed to stay open.
"Things like this are irresponsible on the part of the governor," he said. "I've watched a lot of small businesses go under. I don't like our governor. I think he's the worst we've ever had."
Ormsby said he knows that times have been tough for businesses but said shutting down was necessary.
"Public health leads on this policy question," he said. "We know that unconditional interaction between folks are leading to a worse scenario. We know the spread on this can be exponential."
Apple believes a mask mandate should have been approved by the Legislature in a special session, not mandated by the governor without public input.
He's not even certain if a mask mandate is necessary.
"They claim COVID is all that bad," he said. "The statistics don't bear that out. If you want to say COVID is bad, it really isn't."
He acknowledges that people have died from COVID-19, but said they likely would have died anyway.
"You know what, people die from a cold," he said. "It's going to happen."
People wearing masks are an important part of working to stop the spread of a serious disease, Ormsby said, and he believes a mask mandate was appropriate.
"When you're putting others at risk, that becomes a public policy question, not an individual rights question."
While the U.S. has suffered more than 210,000 deaths from COVID-19, Ormsby said the high number of deaths isn't the only consideration. There are also the largely unknown long-term health effects for those who survive, including heart, lung and brain damage.
"We can't afford for everyone to experience first hand how bad this is," he said.
Apple said the Legislature needs to focus on helping small businesses and said efforts to help those businesses have been inadequate.
"Most of the small businesses didn't get anything," he said. "We have to really knuckle down and get business going again."
He's critical of Inslee for not calling a special session to deal with the state's budget issues.
"Times are tough," he said. "You're going to see a huge foreclosure rate. You're going to see evictions. Is anybody dealing with that? No."
Ormsby said he was in favor of a special session and Democrats prepared for one in June and again in August, but nothing materialized. He said he believes it is important to get ahead of the curve on the state's budget issues caused by decreased sales tax revenue because many businesses were closed. But there aren't any special rules in effect right now that allows the Legislature to do that themselves, he said.
"The Legislature actually cannot call itself in under the current circumstances," Ormsby said. "It's the governor's lone prerogative right now."
It's also hard to make budget plans when Washington and other states don't know if more financial assistance is coming from the federal government. "The federal uncertainty is galling, frankly, the inaction of the federal government," he said. "It's a challenge. There are more things uncertain than there are known."
Apple also opposes the recent bill approved by the Legislature to mandate sex education in schools. He said it's wrong to teach children that.
"This teaching toddlers and grade schools about sex is insane," he said.
The legislation, which now must be approved by voters in Referendum 90 on the November ballot before it can be enacted, does not call for teaching toddlers sex education. Instead, the curriculum includes teaching social and emotional skills to young children and basic growth and human development in fourth or fifth grade.
Ormsby said Spokane Public Schools previously approved a new comprehensive sex education program that complies with the new requirements.
"There is no change to Spokane Public Schools' accurate sexual health curriculum," he said. "There was a well-vetted local conversation."
Apple said he believes it's time for a change in the district.
"The guy's been there too long," he said. "He doesn't do anything for the people who live here anymore. I've represented the public. I'll listen to their wishes and I will follow them. If you think there's problems and we need change, support Bob Apple."
Ormsby said he thinks of himself as a staff member, someone who laces up his boots, puts on his tool belt and shows up to do the work.
He plans to increase his campaigning efforts this month, but said the decision on whether he returns is up to the voters.
"I will leave it to the good people who cast their vote to determine their self- interest in this election," he said. "I place my faith and trust in them."
Local journalism is essential.
Give directly to The Spokesman-Review's Northwest Passages community forums series -- which helps to offset the costs of several reporter and editor positions at the newspaper -- by using the easy options below. Gifts processed in this system are not tax deductible, but are predominately used to help meet the local financial requirements needed to receive national matching-grant funds.
Subscribe now to get breaking news alerts in your email inbox
Get breaking news delivered to your inbox as it happens.
---