News > Pacific NW
100 years ago in Spokane: High school dances 'a big problem' for parents
UPDATED: Wed., Sept. 16, 2020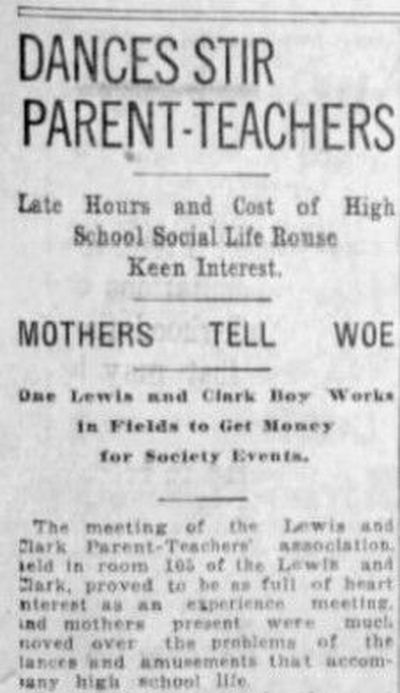 A group of parents at a PTA meeting bemoaned the effect that high school dances and other social events were having on their children.
One mother stood up and complained that her boy was spending all of his time and money on dances.
"This is a big problem," she said. "I need, and we all need, help. That boy is now working in the harvest fields of the Big Bend at $6 a day so he can keep up his high school activities. He is ready to live up to what high school means to him, and it does not mean study, either. He has not lived up to any ideals of scholarship."
The Lewis and Clark High School principal responded by saying, "I think 100 of the parents would have the same story to tell if they knew the amount of school activities that take a student's attention."
Some parents wanted to stop the dances, and others wanted the dances to end earlier in the evening.
One parent demurred, saying that if they stopped the dances earlier, the students "would go somewhere else to the public dance halls, and would not get home any earlier."
From the aviation beat: Pilot N.B. Mamer of Spokane set a speed record when he made the trip from Spokane to Lewiston in 55 minutes.
He was flying a new 160-horsepower, three-passenger Lincoln-Standard plane. He was carrying two passengers, Miss Bernice Webb and Harold Hahn, a Spokane auto dealer.
Also on this date
(From the Associated Press)
1787: The Constitution of the United States was completed and signed by a majority of delegates attending the Constitutional Convention in Philadelphia.
Local journalism is essential.
Give directly to The Spokesman-Review's Northwest Passages community forums series -- which helps to offset the costs of several reporter and editor positions at the newspaper -- by using the easy options below. Gifts processed in this system are not tax deductible, but are predominately used to help meet the local financial requirements needed to receive national matching-grant funds.
Subscribe to the Coronavirus newsletter
Get the day's latest Coronavirus news delivered to your inbox by subscribing to our newsletter.
---