Farmer's markets join federal government in delivering hundreds of boxes of food A 3-year-old boy started "screaming and dancing" at the sight of blueberries last week.
He was looking into a free, 30-pound box of food his family picked up at the Emerson-Garfield Farmers' Market, said Lizette Alent, Executive Director of the Inland Northwest Farmers Market Association.
He learned blueberries are his favorite food and he hadn't had them in months, she said.
With so many families struggling to make ends meet, Alent said it isn't uncommon for families picking up food to get emotional.
"They're able to access these bountiful boxes seeing the reactions when people get the boxes," Alent said. "Some people actually started to cry."
In response to record unemployment due to COVID-19's impact on the economy, the U.S.Department Agriculture launched Farmers to Families Food Box program, which provides free produce, dairy and meat to people in need.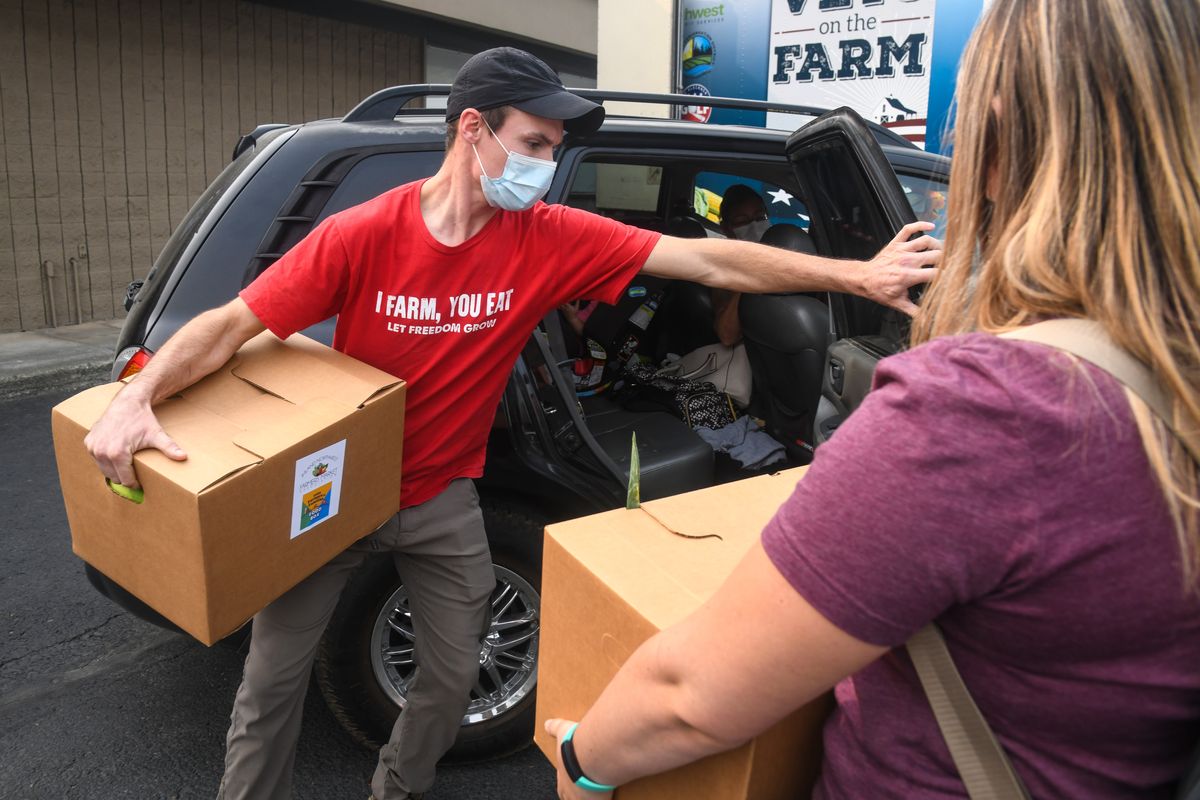 Through a contract with the USDA, the farmers market program started delivering boxes to families, with its first trunk-to-trunk distribution last week in Emerson-Garfield, said Rob Allen, president of the association.
"It's a win-win," said Karol Widmer, manager of the Fairwood Farmers Market, where volunteers began handing out 150 boxes of food at 3 p.m. Tuesday despite thick smoke cover.
Farmers' sales are hurting from closed restaurants and schools, Widmer said. Farmers markets are hurting from social distancing, and many families are hungry, she said.
The USDA program supports local farmers, farmers markets and families, Widmer said.
As families pick up food, many have also learned from volunteers that they can use Electronic Benefit Transfer (EBT), or food assistance, cards at eight of Spokane's 10 farmers markets, Alent said.
Local farmers markets also participate in SNAP Market Match, which allows Washington welfare recipients to save on fresh fruits and vegetables. In the program, for $10 an EBT or SNAP recipient spends on produce at a farmers market, EBT or SNAP will give them a bonus $10, Allen said.
The boxes, with around 20 to 30 pounds of fresh, local produce, one dairy item and one pre-cooked meat item, would cost a family $50 or more to buy at the grocery store, Allen said.
At the Emerson-Garfield market last week, families picked up 270 of the 350 boxes the association brought in a refrigerated truck borrowed from nonprofit Vets on the Farm. The remaining 80 boxes went to Mead Food Bank.
The next food box distribution will be Wednesday from 3 to 6 p.m. at Millwood Farmers Market with 75 boxes, followed by Friday's distribution point at Spokane Valley Farmers Market from 5 to 8 p.m. with 100 boxes. Families who need emergency food boxes can get them online at inwfma.org.
Though farmers markets will wrap up at the end of October , the farmers market association plans to continue distributing boxes at the familiar market locations, Alent said.
---